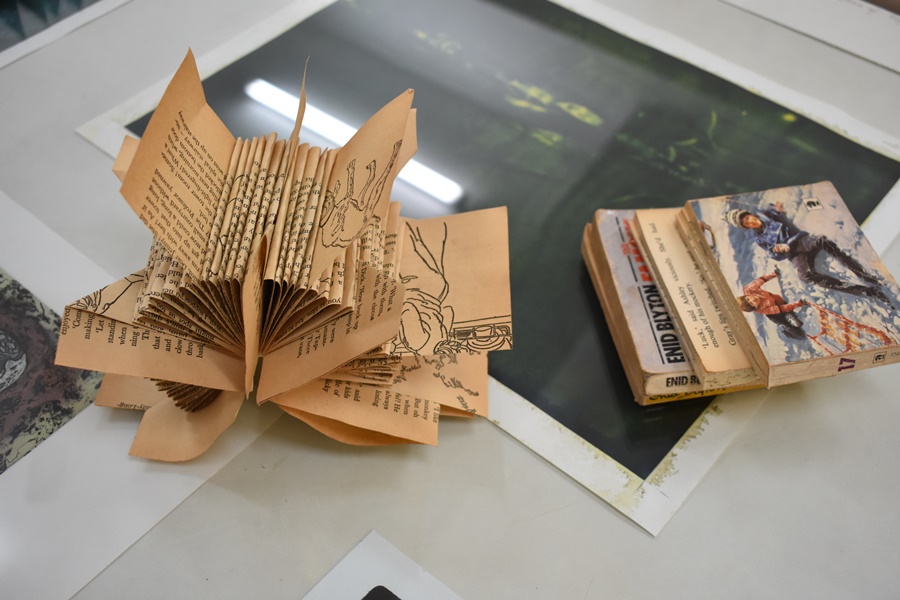 Press Release
As a part of the printmaking workshop series, a 5 day 'Book Making Workshop' being held at the Graphic Studios of the Jawahar Kala Kendra (JKK), concluded on Tuesday. 10 participants took part in the workshop. It was being facilitated by Ms. Aditi Babel.
Ms. Babel informed that India was one of the pioneers in making books but we stopped innovating and kept to what we knew, thus gradually this craft was forgotten. This workshop aims to revive the forgotten craft and to explore the idea of a book through multiple mediums, techniques and materials.
She further added that over five days, the participants were taught about the history, background and various techniques of book making. The workshop focused on innovation in book craft, creating a wide range of handcrafted notebooks with innovative bindings like Accordion fold, limited edition artist books, altered books and paper sculptures. While artist books are creatively done books in terms of their appeal, the altered books change the way you look at books completely — they can be a tree, a piece of paper folded artistically, a wall, etc.
It was also noted that the ace print making facilities and equipment at the Graphics Studios of JKK also facilitated the use of print making techniques for the design of the book covers.