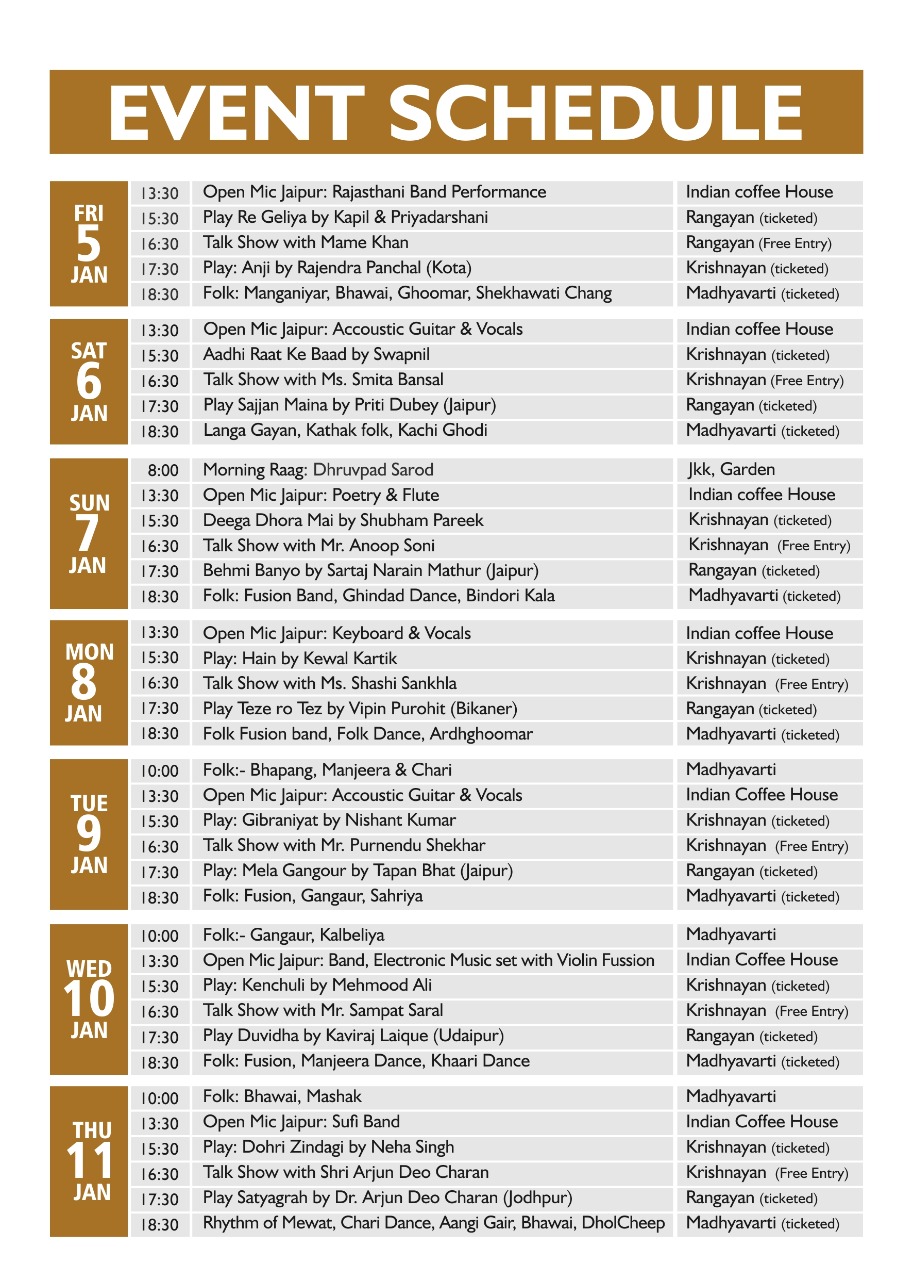 Press Release
The 4th edition of the Rang Rajasthan Theatre and Art Festival will be organized from 5 January to 11 January at Jawahar Kala Kendra (JKK). Curated by Rang Mastaaney and presented by JKK, the festival offers 14 main stream productions, 7 Rajasthani folk performances and 7 celebrity talk shows. Also in store are 7 young directors' plays, school outreach programme, open mic sessions and morning ragas this season.
The festival is solely dedicated to promote Rajasthani language theatre on a national as well as international level. The idea is to preserve the state's cultural roots and folk art for generations to come.
Over the course of the day, there will be several theatrical and cultural activities. The day will begin with Open Mic sessions from 1.30 pm to 3.30 pm. This will witness performances by several unknown artistes of Jaipur. This will be followed by staging of theatrical productions by young and aspiring directors of Rajasthan from 3.30 pm to 4.30 pm.
Later in the day from 4.30 pm to 5.30 pm, there will be celebrity talk sessions. Well known personalities like Purnendu Shekhar, Mame Khan, Anoop Soni and Smita Bansal, among others will share their success stories with the audience.  The sessions will be moderated by eminent theatre personalities of Jaipur such as Ravindra Upadhaya, Anita Pradhan and Chirmi Acharya, among others.
In the evening there will be staging of mainstream theatre from 5:30 pm to 7:00 pm. The highlights include Satyagrah by Arjun Deo Charan, Duvidha by Kaviraj Laique, Bahmi Baanyo by Sartaj Narayan Mathur, among others.
The festival visitors can also enjoy the folk evenings from 6.30 pm to 8 pm that will feature performances by a folk fusion band by Pt. Ramswaroop Rao from Tonk , Langa Gayan by Bundu Khan Langa of Barmer, Bhawai by Murari Lal Saini and group and Rhythm of Mewat, among others.