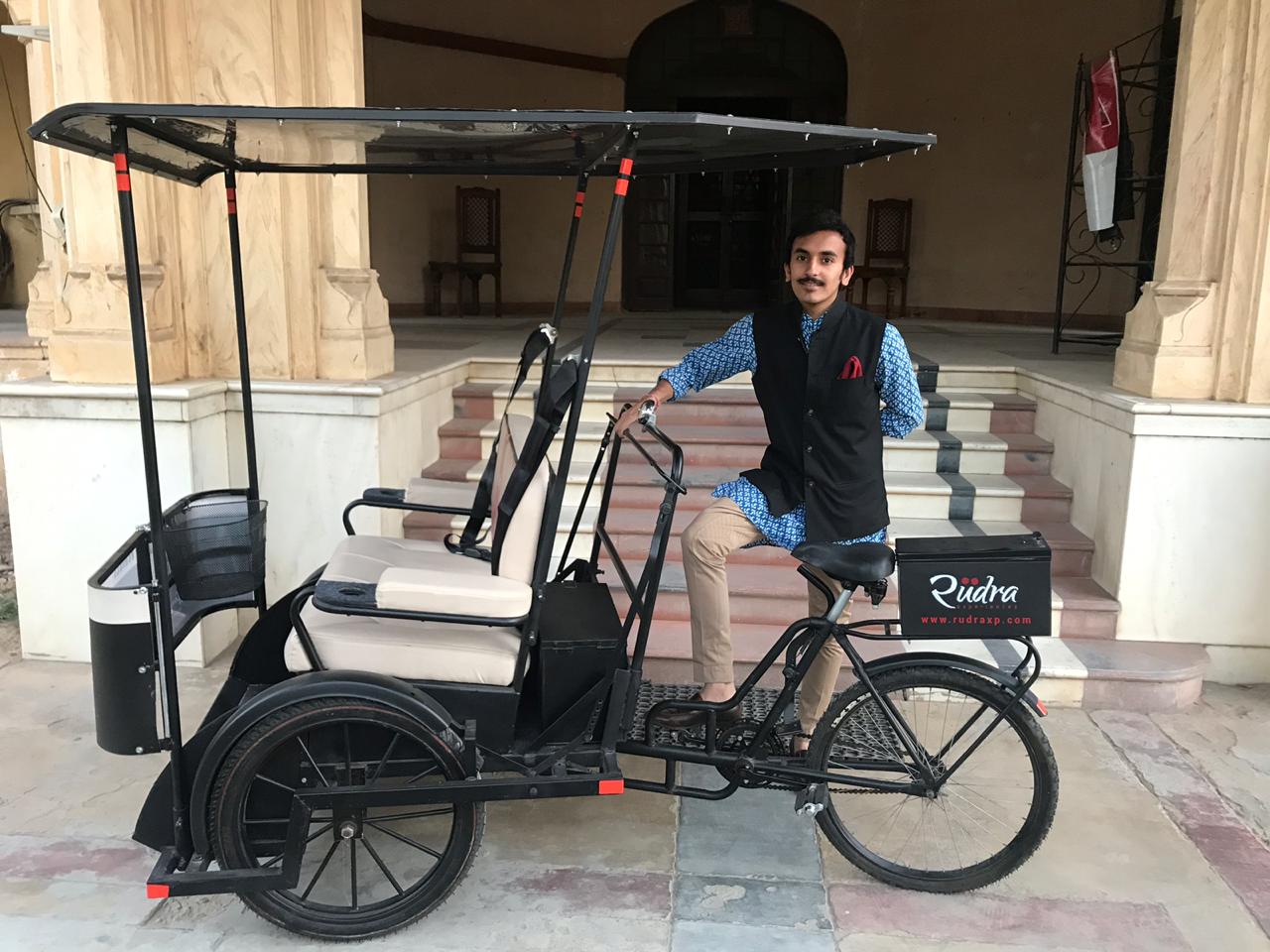 Press Release
The first-of-its-kind indigenously designed 'Experience Vehicle' (EV) is now an eco-friendly commute option for the tourists of Jaipur. The mechanically driven vehicle has a unique seating arrangement where the travellers are seated in the front. The vehicle offers a 270-degrees-front-view with premium seating, right lumber comfort, seat belts and heavy duty wheels. For easy mounting, EV also has low-floor footboard and a safety leg guard. The vehicles are an initiative to introduce tourists to the original 'Mahak' of Jaipur, by infusing traditional and modern worlds.
The vehicle was recently launched by Minister of Tourism, Government of Rajasthan, Mr. Vishvendra Singh. He was accompanied by Former Minister of Tourism, Government of Rajasthan, Ms. Bina Kak.
Regional Head, Rudra Experiences, Jaipur, Mr. Jairaj Singh said that even before the EV was launched numerous queries were received from the travel trade fraternity and locals alike. Safety has always been a major concern for most foreign tourists and the EV makes a serious effort to address that.
Regional Head, Rudra Experiences, Jaipur, Mr. Rahul Raj Singh, said "Shri Rajvir Singh, our grandfather who passed away recently, did pioneering work in tourism in our State from its earliest days. He always believed in creating one's own path. The launch of the vehicle is dedicated to his memory."
"The EV will also help in improving the lives of the rickshaw pullers who deserve dignity and better income. Rajasthan especially Jaipur, has much to offer in terms of intangible heritage, local flavours and untold stories, and the EVs are way to explore and unravel this rich bounty said Chairman and the Principal Architect of the EV, Maharaj I.S. Wahi.
About Rudra Experiences:
Rudra Experiences is a start-up, registered with DIPP (Department of Industrial Policy and Promotion, Government of India), providing innovative, unique, first of their kind experiences to enthrall its audience and give them a memorable time. They launched Ghungroo, the first and only Dinner Theatre of the country in Delhi, 2.5 years ago and are now in Jaipur with a patented design of Experience Vehicles, again first of their kind across India.