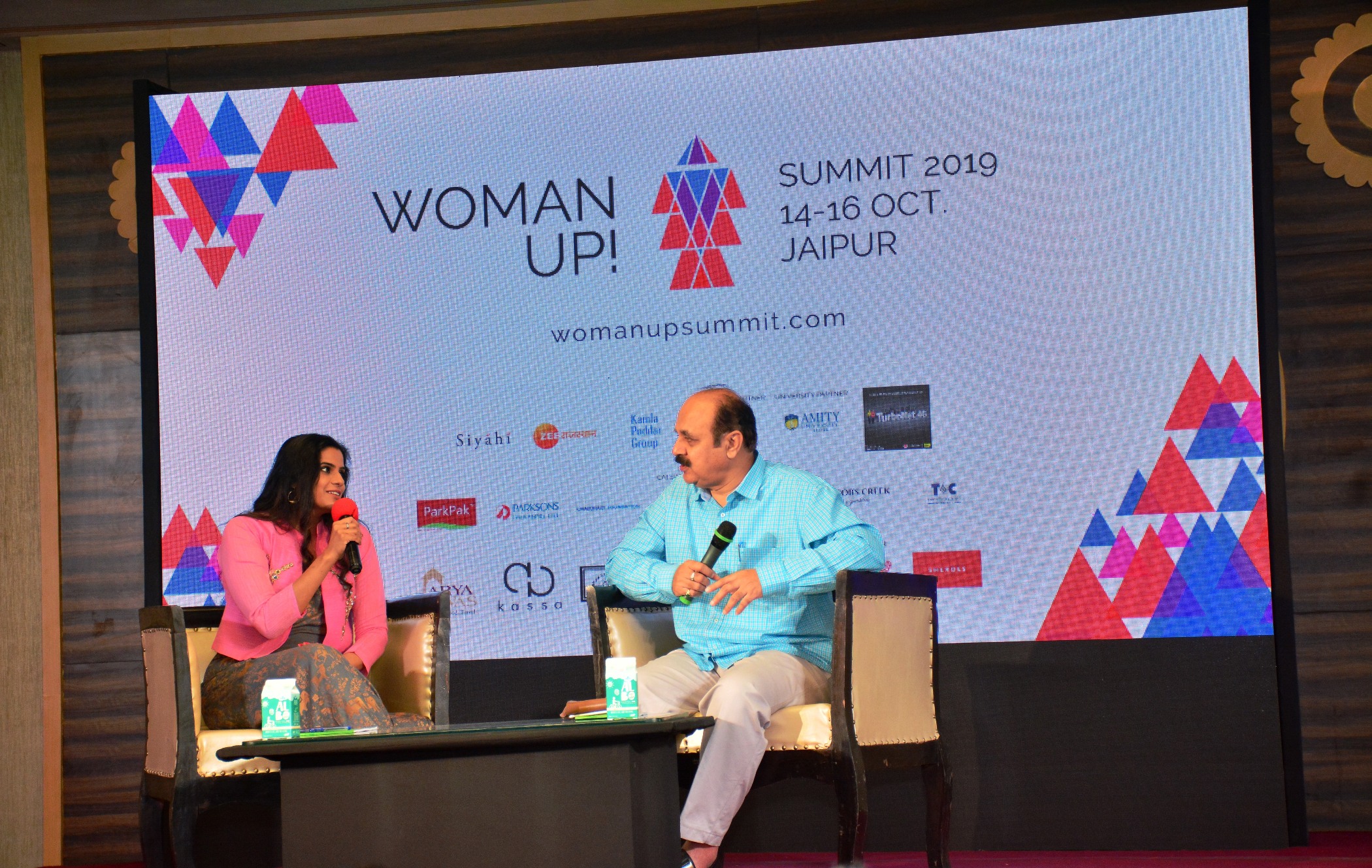 Press Release
The second day of the 3-day Woman Up! Summit witnessed a series of enriching sessions by inspiring speakers from diverse backgrounds. The day began with the 'Woman Up Brunch' which was sumptuous spread of traditional 'Jaipuri Naashta'. Two mentoring session by Sairee Chahal and Kamla Poddar were also held. Visitors also thronged the first-ever 'Woman Up Pop-up' featuring a wide range of sustainable products by local and regional artisans, women entrepreneurs and craft persons. An initiative of Siyahi, the Summit has been conceptualised to kick-start conversations around the need for women to be financially independent.
Opening Address by Rajiv Arora
After 70 years of Independence it is shocking that we are having to talk about 'Woman Up'. I have been fortunate to have the influence of strong women in my life. The world consumes so much which is related to women even after that we have to think about how to include women in the country's economy. This was stated by Chairman, Jaipur Citizen Forum, Mr. Rajiv Arora. He was delivering the opening address on the second day of the Woman Up! Summit 2019 at Hotel Grand Uniara.
He further said that "We are the youngest nation of the world which means that India has the largest number of literate youth at the age of 35-40 years old. However, women only contribute 17-18% to the GDP of the country's economy. In rural India, 40% women are working in agricultural fields but only 9% of the agricultural lands are allotted to women. If all women in the country start working then by the year 2025 our country's economy will be at an unimaginable state. The need of the hour is getting the entire youth to start working so that the productivity and strength of our nation can increase exponentially."
Session 'Awaaz Ki Taakat'
In the Hindi-Marwari session 'Awaaz Ki Taakat', folk singer, Bhanwari Devi and Vinod Joshi discussed the singer's musical journey. Bhanwari Devi was accompanied by her son, Kishan Kumar. The duo also performed some famous Rajasthani songs and ballads.
Talking about her musical journey, she shared that she grew up in the Bhopa community, listening to her parents perform 'Phad narration'. By the age of 5, she began singing and narrating Phad all night long. At the age of 12, she was married and began singing Phad with her husband. After her husband passed away, she gave a new life and meaning to her music. She introduced her son, Kishan to music, promoted him and trained him in harmonium. She went on to become major sound of Rajasthan in national and international festivals. Bhanwari Devi and her son also performed 'Pabuji ki Kahta', 'Kesariya Balam' and 'Sawariyon Ghat Mai'.
Session: An Artist on a Mission
In the session 'Artist on a Mission', professional actor and Kathak dancer, Shashwita Sharma was in conversation with eminent TV journalist, Dr. Rajan Mahan. Shashwita shared her creative life journey and experiences with the audience. She grew up in Kota with her mother who was a college professor. Her mother's artistic talent had a very big influence in her life. She learned the significance and discipline of Riaz (practice) from her mother who was a trained classical singer. Shashwita went on to train in Kathak dance with the legendary Pandit Birju Maharaj in Delhi. However, her dream of dancing shattered after her back injury. She then went on to train in classical singing with her mother. She realised then that she was and always would be an artist. She moved to Bombay and joined a theatre training group. After she was spotted by a director, she began her acting career with theatre and moved onto television.
Session: Femme and Fierce
In the session, 'Femme and Fierce' by founder of SHEROES, Sairee Chahal shared her life journey and enlightened the audience about her app 'SHEROES', the women-only social networking platform. Sairee broke the conventional traditions of her life and went to study in Delhi at the age of 17, started working at the age of 19 and went on to build 4 companies.
Talking about 'SHEROES', she said that it is a women's only social networking site which is perfect for first time internet users. It is the largest social network for women with 16 million women users. Internet is the most fascinating thing in the modern world and is currently running our lives. It is about time that women make the most out of Internet.
Session: Bunaai is not Ordinaree
Founder of the label 'Bunaai' and former fashion blogger Pari Choudhary was in conversation with Nandita Devraj on her ideals and success mantra. In the session, Pari shared how with a seed investment of only 53,000 rupees which she had earned through fashion blogging, she started her fashion label 'Bunaai'. "I started with just one machine and one tailor and launched my first collection with 18 dresses in three sizes each. Thanks to my strong presence on social media because of fashion blogging, I sold out the entire collection in a week's span. Today I have 250 machines and a workforce of 1000 people out of which 150 are women", shared Pari, a firm believer of digital advertising.
Talking about career choices, Pari said that her parents, especially her father, wanted her to become a civil servant. However, her heart was always with fashion and when she decided to launch her label she received immense support from her family. "Parents should guide and mentor their children but they should be given the freedom to explore their interests and pursue their career accordingly", added the 26 year old fashion entrepreneur.
Pari also raised the significant issue of mental health and peace of mind during her session. Talking about her future plans, Pari said that she is now planning to expand in the international market and aims to open 32 stores worldwide in the next financial year.
Session: Marrying Science with Entrepreneurship
Highlighting the significant need for the harmonious conjoining of Science and Entrepreneurship, Secretary, Science & Technology Department, Government of Rajasthan, Mugdha Sinha said that the early economists listed four classical factors of production – land, labour, capital and entrepreneurship. In today's times, there are two other factors as well which are inevitable for production – ideation and technology.
Ms. Sinha also informed about one of the important schemes of the Department of Science and Technology – 'Nidhi Prayas'. The scheme works towards enabling translation of an innovative idea to a prototype, provides a platform for faster experimentation as well as aims to build a vibrant innovation ecosystem by establishing a network between innovators, academia, mentors and incubators.
Session: Shining Through
In the session 'Shining Through', Sanju Verma shared her life journey of how she pursued her dream of education overcoming social and familial obstacles in her life. She was accompanied by social entrepreneur, Major Dr. Meeta Singh. The duo were in conversation with journalist, Namita Bhandare.
Talking about her life, Sanju said she was married at the age of 17 and lost her husband in a road accident a year later. Her father-in-law passed away after a year of her husband's death. Her mother-in-law sent her back to her maternal home with her father. Her father motivated her and told her to study and move ahead with her life. Sanju went on to pursue a computer programme and finish college education. She remarried in 2016 and her husband continues to support her education even though he has only studied till class 8.
Dr. Meeta Singh said that child marriage is a major roadblock in girl education. Although child marriage has reduced, it is still prevalent in certain sections of the society. We need to teach our sons to respect women and give them the stature they deserve.
Session: Parched, She Wove Her Own path
In the session, 'Parched, She Wove Her Own Path', President of Gramin Vikas Chetna Sansthan (GVCS) in Barmer, Ruma Devi was in conversation with founder Principal of Maharaja Sawai Bhawani Singh School, Vaidehi Singh. Speaking about her childhood, Ruma Devi said at the age of 4 she lost her mother. She stopped going to school after class 8 and got married at the age of 17. She learned applique and patchwork from her grandmother and motivated other women to join her in converting it into a career. She went to the 'Gramin Vikas Chetna Sansthan' asking for work. After creating a self-help group she managed to purchase a second hand sewing machine and began delivering orders to the Sansthan. Today, Ruma Devi is a well-known name in the fashion industry and has exhibited her work in several national and international exhibitions and participated in fashion shows.
Tomorrow, 16 October, there will be as many as 8 sessions by speakers such as Khatoon Begum, Anil Verma, Bhavna Toor, Zeinorin Angkang, Eika Banerjee, Shagun Mehra, Viji Venkatesh and Achint Kaur. There will also be a performance by Shashwita Sharma based on a short story by Ismat Chughtai and a mentoring session by Bhavna Toor.
About Woman Up! Summit
Siyahi, a literary agency, is all set to host the 3rd edition of the 'Woman Up! Summit at Hotel Grand Uniara from 14 to 16 October. Organized by an all-woman team under the leadership of Siyahi's prolific Founder, Mita Kapur, Woman Up! is an inclusive platform that was born out of an idea to create a conversation around the need for women to gain financial independence as the only viable means for empowerment. This idea also led to the birth of the campaign #WomenAtWork that focuses on inspiring organizations to not only increase the number of women in the workforce but also ensuring the re-integration and re-employment of women who often wish to take up work after a hiatus.