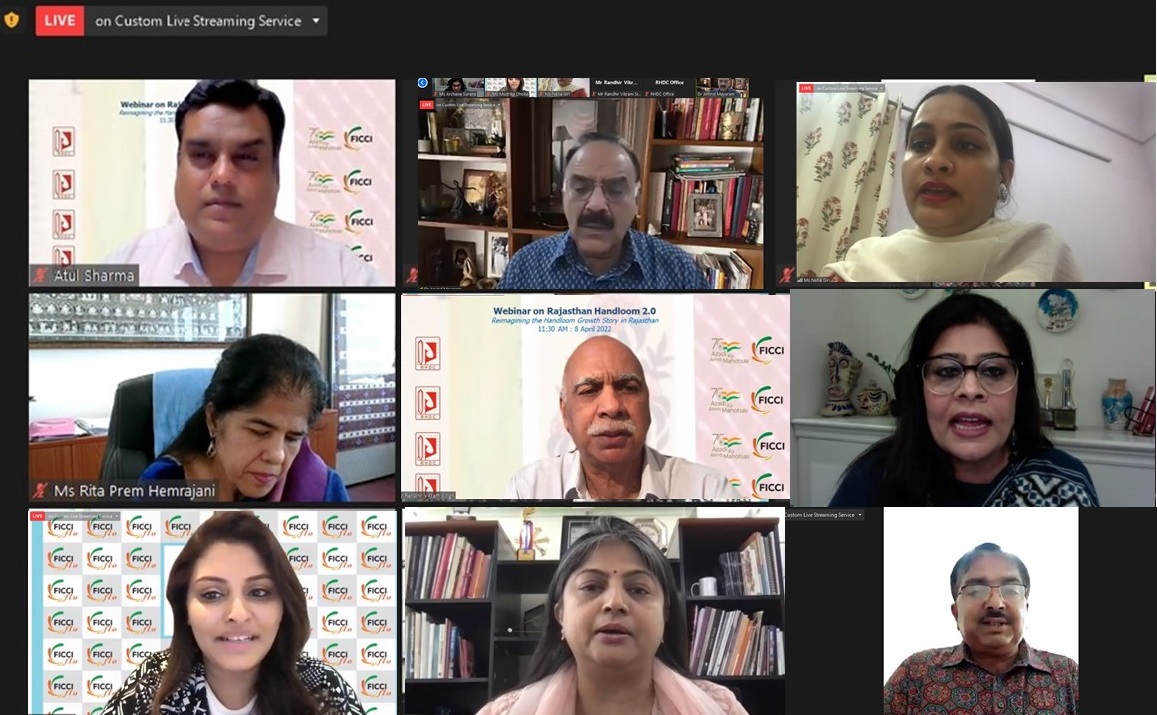 There is a need to relook at policies and regulations in close conversation with all stakeholders, conduct a real mapping of infrastructure requirements, create financial models specific to each craft and capacity building for the growth of the handloom industry. This was shared by Economic Advisor to Chief Minister of Rajasthan & Vice Chairman, Rajasthan Economic Transformation Advisory Council, Dr Arvind Mayaram. He was speaking as the Chief Guest during the webinar on Rajasthan Handloom 2.0 themed 'Reimagining the Handloom Growth Story in Rajasthan. It was organised by Rajasthan Handloom Development Corporation (RHDC) and FICCI Rajasthan State Council on virtual platform. The webinar was moderated by Head, FICCI Rajasthan State Council, Mr Atul Sharma.

Managing Director, National Handloom Development Corporation, Ms Rita Prem Hemrajani said that a host of young people want to go back to their roots and learn these arts. The young generation is also doing well in terms of design innovation and displaying a commendable entrepreneurial spirit. Rajasthan is doing a good job in terms of fixing prices for handloom products and purchasing from artisans. Assured income to the weavers will go a long way in preserving this sector. Apart from this, technological intervention, quality management, and marketing need to be taught to weavers.

Chairman & Managing Director, RHDC, Ms Neha Giri said that handloom is the oldest and largest cottage industry in India. In Rajasthan, more than 30000 weavers are registered with State Department. RHDC plays a vital role in promoting the welfare of the weavers by supporting their activities and giving their art a platform for the larger market. There is a need to preserve the handloom sector so that it may become a self-sustaining phenomenon and give back to the weavers so that they continue the tradition and take it to newer heights.

Master artisan, Barmer, Mr Ranamal Khatri said that earlier 350 families were engaged in Ajrakh work and now it is mere 10-12 families. School children should be educated about the crafts so that they may feel encouraged to continue the tradition. New designs and patterns can be created like stoles, sarees, tops, etc. to promote handloom.

Founder & Director, ARCH College of Design & Business, Jaipur, Ms Archana Surana said that looms can be set up in schools for the youth to appreciate textiles and handmade fabrics. Value for handloom will only come when people value the fabric. A design culture must be inculcated by conducting a need assessment at a deeper level for the weavers. Government should develop handloom parks to bring new-age entrepreneurs into the sector. Government should invest closely with design institutions to make the youth feel pride. Research needs to be done on blended yarns, new fibre extractions, etc.

Director, Indian Institute of Crafts & Design, Jaipur, Dr Toolika Gupta said that market support, design & technical support and innovation by utilizing different materials and skills are needed for handicrafts to do well. Institutions need to focus on innovation in craft, design intervention for domestic and export markets as well as avenues for marketing. Craft is not a pastime; it is an industry in which each product is unique.

Joint Director, Handloom Export Promotion Council, Mr M Sundar said that India has a variety of handloom products to attract consumers from across the globe. Buyers want genuine products for which the Union and State Government can step in to create genuine products for luxury and the global market. The image of handloom is getting diminished due to unethical practices. Methodologies must be created by stakeholders to differentiate between real and fake products.

Earlier, during the welcome address, Co-Chairman, FICCI Rajasthan State Council & CMD, Mandawa Hotels, Mr Randhir Vikram Singh said that the handloom sector plays a crucial role in generating employment and revenue. The pandemic has affected the sector harshly. There is a need to leverage technology to connect with national and international buyers and for stakeholders to introduce new energy to the sector. The concluding remarks were delivered by Chairperson, Jaipur Chapter FICCI Ladies Organisation, Ms Mudrika Dhoka.