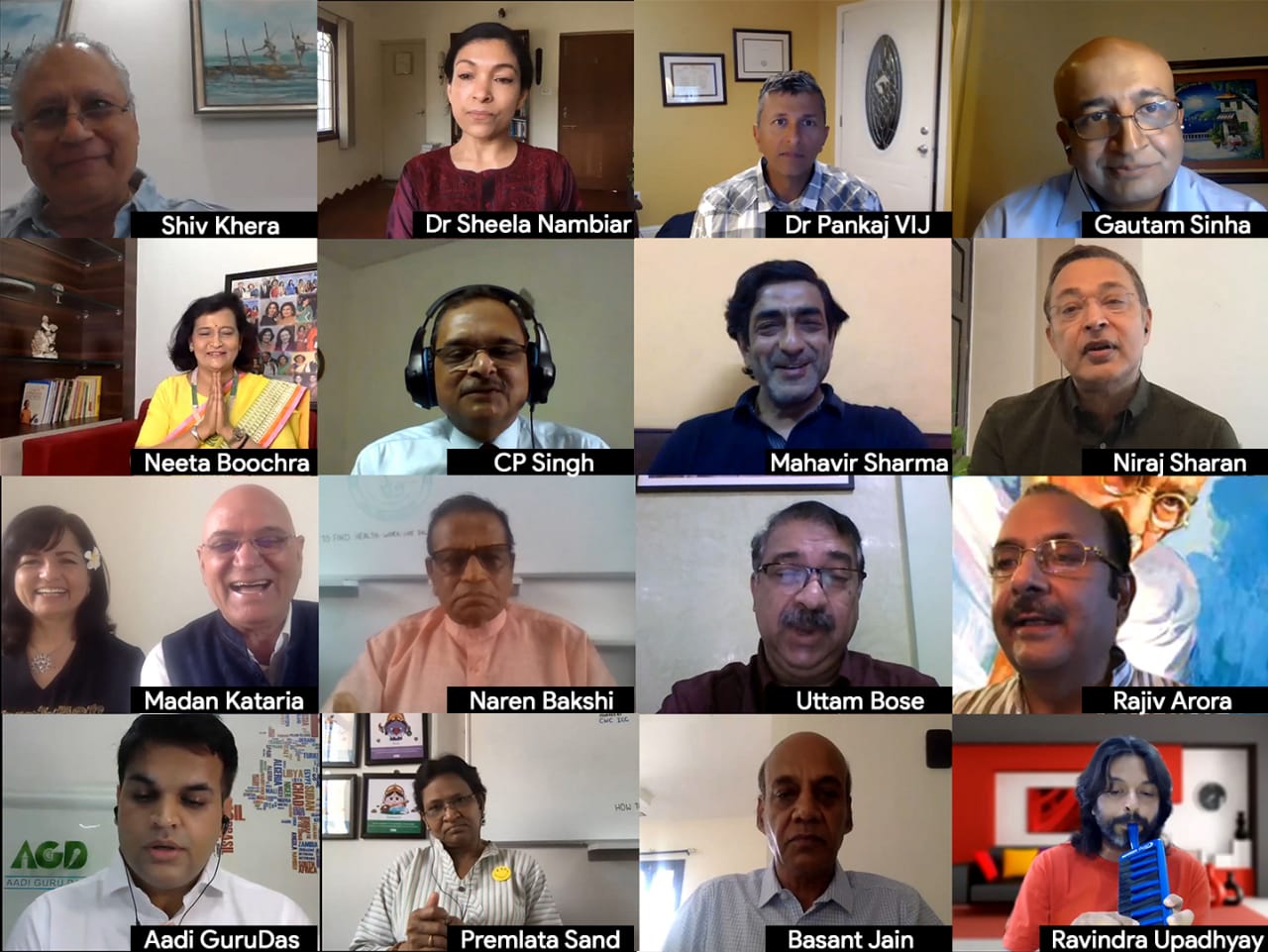 Press Release
Work-life balance is a matter of priorities which is subjective. The amount of time-saving devices one has today has never been had in history, yet people complain of not having enough time. Because somewhere mankind messed up their priorities. When one messes up their priorities they forget to distinguish between what is urgent and what is important. When one ignores what is important, it converts into an urgency. This was stated by Motivational Speaker, Mr. Shiv Khera. He was speaking at the inaugural webinar 'How to find Health-Work-Life Balance Amid Pandemic?'. The webinar marked the initiation of a wellness movement in India called 'Pehla Sukh- India Wellness Initiative'. The webinar was moderated by CEO, Times Internet, Mr. Gautam Sinha and Founder, Lifeshiksha LLP, Mr. Adi Guru Das. The seminar witnessed over 2000 registrations worldwide and attracted over 800 questions from the viewers. This initiative is powered by India Community Center, Crack the Wellness Code (CWC), Silicon Valley and managed by Indifamily Foundation.
On behalf of Rajasthan Chief Minister, Shri Ashok Gehlot – Vice President of Rajasthan Pradesh Congress Committee, Mr. Rajiv Arora said that to fight COVID one needs to take care of their health. Based on the concept of 'Pehla Sukh Nirogi Kaya' (Health is Wealth), 'Pehla Sukh- India Wellness Initiative' will help provide health and wellness knowledge to people over the next 5 years.
Chief Mentor, Pehla Sukh, Mr. Narendra Bakshi said that 'Pehla Sukh-India Wellness Initiative' comes at a very crucial time when the entire world is fighting a global pandemic. Following the vision and mission of the Rajasthan Chief Minister, Shri Ashok Gehlot the movement has garnered not only his support but also the support of the entire Silicon Valley. The initiative is consistent with the Chief Minister's vision to streamline the fight against COVID-19 with immunity building and disease prevention.
Director of Global Alliance of LifeStyle Medicine, Dr. Pankaj Vij said that the 6 pillars of Lifestyle Medicine are feet (exercise), forks (diet), fingers (whether we smoke or drink excessively) as well as sleep, stress and love (social connections). In the face of COVID, chronic problems that were earlier dangerous in the long-term, have now become short-term dangers as weakened immunities are at the highest risk of contracting COVID-19.
TFL -Training for Life, Dr. Sheela Nambiar said that large amounts of sugar, processed food and oils combined with less exercise, heightened stress and anxiety affect our metabolic health which can lead to chronic diseases like diabetes, overeating, eating addictive foods and much more. More vegetables and lesser whole grains and cereals should be consumed. Similarly, a holistic exercise routine should be developed keeping in mind the 4 pillars of exercise – stamina strength, flexibility and endurance.
Several guest panellists like – Past National President, FICCI FLO, Ms. Neeta Boochra; President, BITOSA NCR, and Chairperson Aura Inc., Mr. Niraj Sharan; Major General CP Singh (Retd); Chairman, TiE Global Board of Trustees, Mr. Mahavir Sharma and Group CEO, CK Birla Hospitals, Mr. Uttam also posed their questions to the panellists. Co-Chair, Indifamily Foundation, Mr. Basant Jain was also among the organisers. Earlier, there was an evocation programme which featured a live music session by singer, Mr. Ravindra Upadhyay and live laughter yoga by Mr. Madan Kataria.
It is to be noted that Brand Ambassador of 'Pehla Sukh', Ms. Premlata Sand has committed Rs. 2 Lakhs as seed fund for the initiative. She is fighting cancer for the second time.
About Pehla Sukh – India Wellness Initiative
Pehla Sukh – India Wellness Initiative's objective is to support the health and wellness of all living beings. The primary focus is to bring the best of east and west lifestyle practices to impact millions of Indians in the next 5 years. The practices and knowledge they share are evidence-based, research-driven and with the personalities from Behavioural, Business, Spiritual, Lifestyle and Medical Industries. To make it relevant, they use digital media, Indianize vernacular content, experiences of wellness ambassadors and craft tailor cut programs for the specific groups and needs.