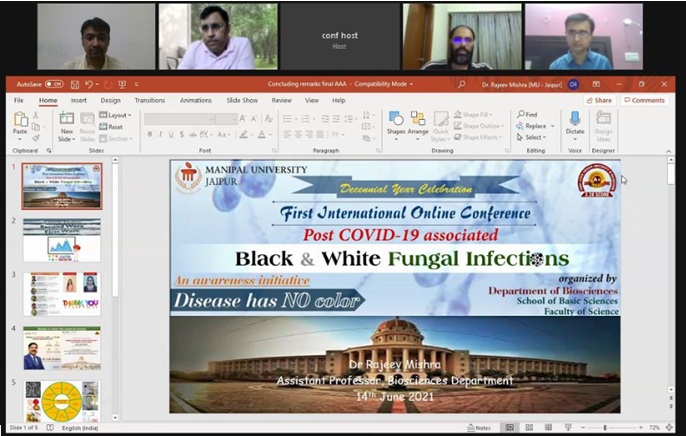 Press Release
The Department of Biosciences, School of Basic Sciences, Faculty of Science, Manipal University Jaipur (MUJ) organized the first international online conference on 'Post COVID- 19 associated Black & White Fungal Infections – an Awareness Initiative: Disease has no Colour' on Monday. Leading Indian and global scientists, health professionals and Infectious disease experts discussed the post Covid-19 associated epidemic Mucormycosis, its risk factors, distinctions, medications and solutions to combat this disease.
Dr. Rajiv L. Gaur, Cepheid Inc, Sunnyvale, California, USA talked about the basics of fungal infection during COVID-19. Dr. Mohnish Grover, Convener, Mucormycosis Board, SMS Medical College, Jaipur, discussed some cases and talked about the actual prevalence and strategies to treat this deadly disease. Dr Pawan Kumar Godatwar from National Institute of Ayurveda, Jaipur, highlighted the importance of immunity boosters and a combined therapy to fight against Mucormycosis. Dr Saroj Kumar Yadav from Akash Health Care, New Delhi discussed the diagnostic and preventive measures, while Dr Surendra Kumar, Department of Neurology, RIMS, Ranchi discussed the epidemiology and etiology of the fungal infection. Dr Sanjay Kumar, Central University of South Bihar discussed the COVID-19 vaccines and its possible effect and interaction in immune compromised conditions.
This online conference thus explored the possibilities, which could assist in creating awareness of this fungal epidemic, the risk factors, prevention, available medications, and alternative medicines have also been discussed by the subject experts. The take-away from this conference was how to distinguish between black, white and yellow fungal infections and how they can be differentiated from other fungal infections. In this event more than 900 participants registered. As it has always been the prime target of Manipal University Jaipur to help, educate and research for the betterment of mankind and society in general and specifically to utilize Biotechnology for combating extremely dangerous diseases let it be current pandemic like COVID-19, epidemic like Mucormycosis and similar situations.