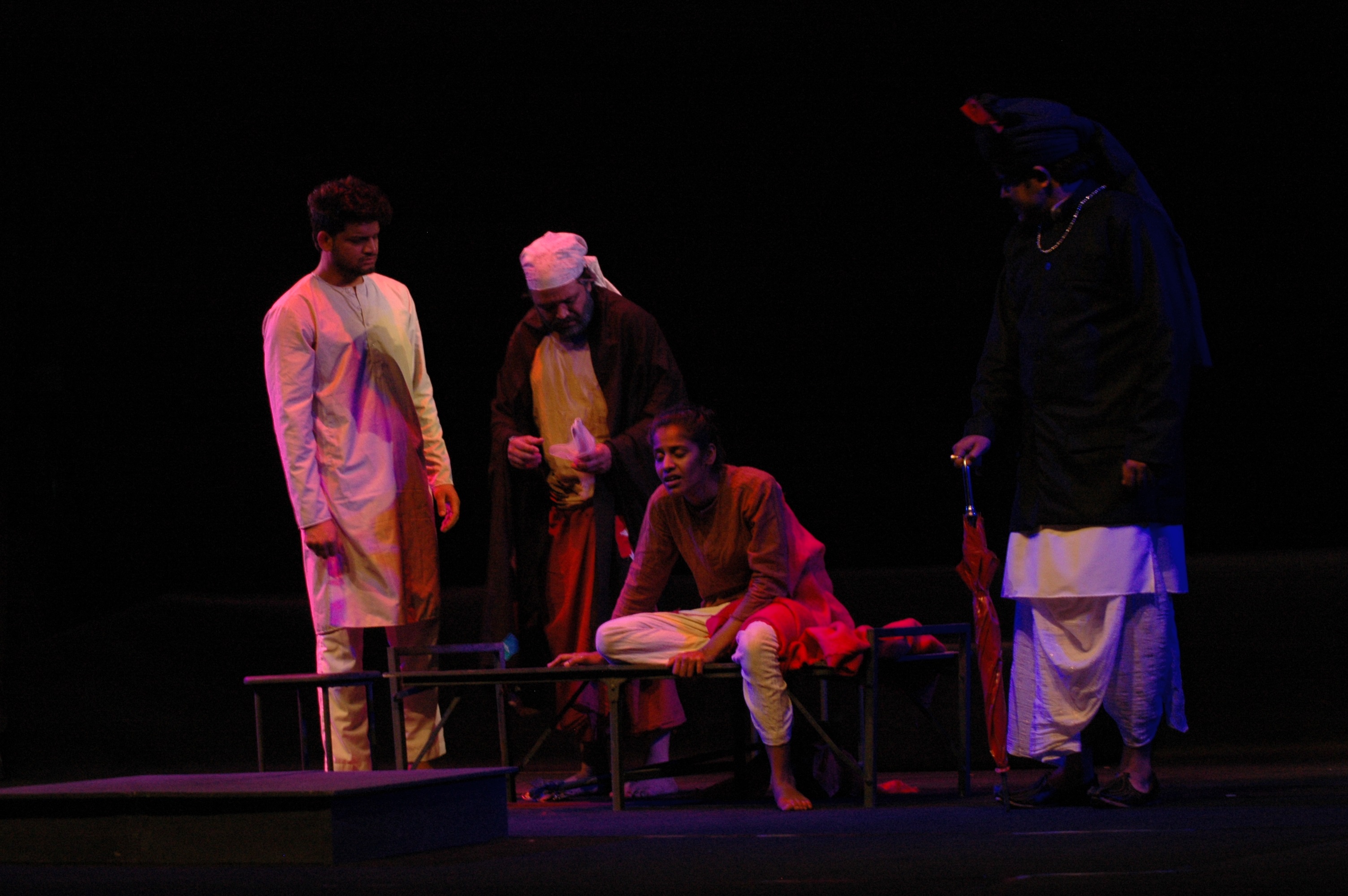 Press Release
As a part of the ongoing 5-day 'Young Directors Theatre Festival', 'Dak Ghar' directed by Sanket Jain was held at Rangayan in Jawahar Kala Kendra (JKK). This was followed by play 'Kirtan' directed by Ambika Kamal at Shilp Gram. Both the plays were commissioned by JKK.
Dak Ghar directed by Sanket Jain
The first play of the evening was 'Dak Ghar'. The gentle and moving play is based on a story written by Rabindranath Tagore. The play was set in the early 20th century of rural Bengal. The story revolved around a young boy, Amal, who has been affected by an incurable illness. The boy has been confined to his room due to his illness as instructed by his doctor. Amal begins to interact with people passing outside the window. One of these people is the flower girl Shudha who brings him fresh flowers every day.
Meanwhile, Amal becomes elated at the news of a post office coming up in his neighbourhood. The young boy desires the King to write a letter to him. When the village headman learns of Amal's desire he decides to make a fool out of Amal by showing him a fake letter from the King's own physician. This letter states that the King will come at midnight to meet Amal. The play ended with the death of Amal and Shudha arriving with the flowers for him telling the Royal Physician to let Amal know that she has brought him flowers like any other day.
Kirtan directed by Ambika Kamal
The second play of the evening was 'Kirtan', a devised piece in which the actor's body was the mode of communication. The plot of the story revolved around women who experience separation, tragic love and desire. The plot revolves around a woman who lives on the street and earns money by showing 'Tamasha' with her husband Kantu and his friend Barmu. The story takes a turn when Kantu disappears one night after he has a fight with his owner for not paying his share. The woman's life suddenly changes after her husband's disappearance.
The cast of the play included – Debina Rakshit, Pradeep Singh Cheema and Madhusudan. Other members of the team were – Chaman Bansal (Light Design) and Raam (Music).
Tomorrow the 5-day festival will conclude with play 'Mumal-Mahendra' (Ek Prem Katha) directed by Priti Dubey at 7.30 pm at Rangayan.