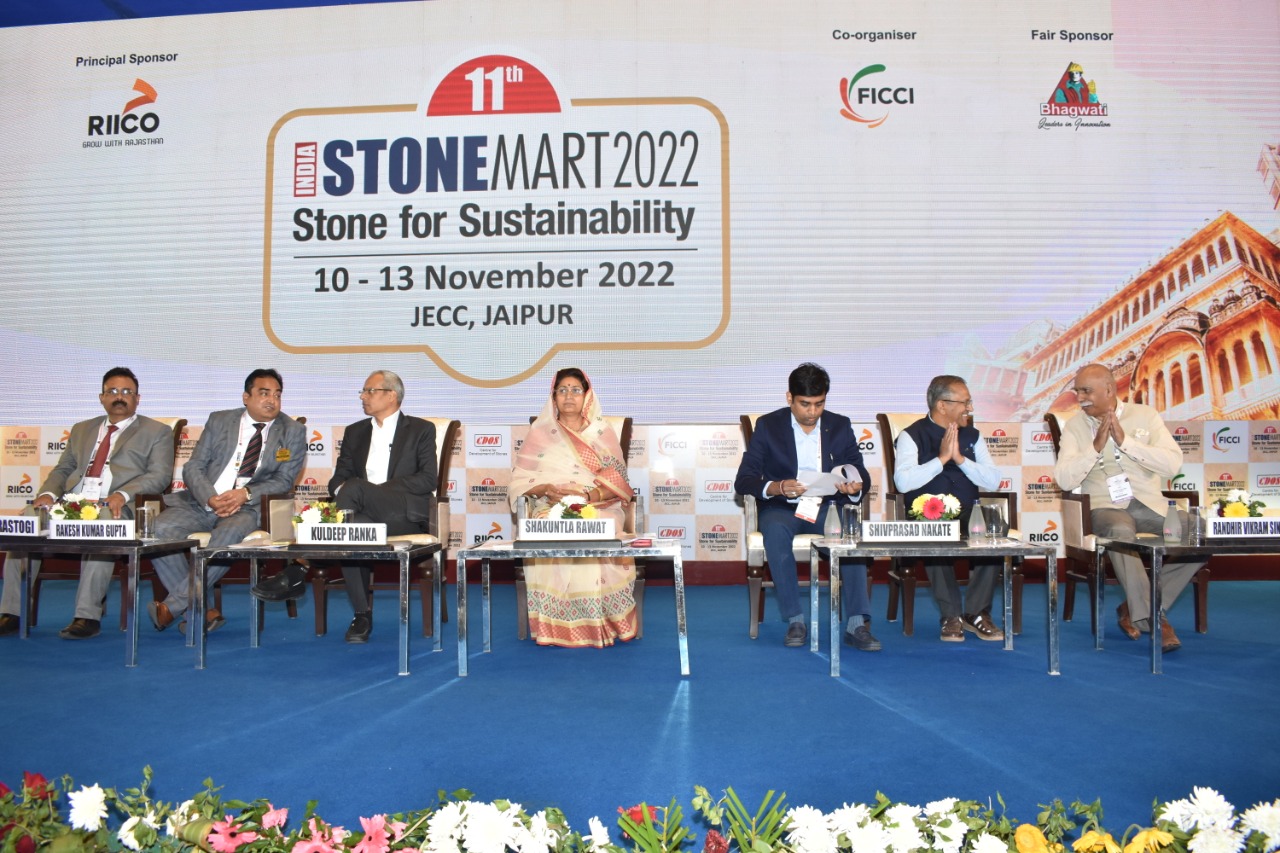 Press Release
The 11th edition of India Stonemart 2022 ended with a sense of euphoria and enthusiasm for the stone industry. Speaking at the Valedictory session, Rajasthan Industries Minister, Mrs. Shakuntla Rawat said that like in the past editions, the 11th stonemart has been fruitful in exchange of ideas, creation of direct business links and growth of stone market for both buyers and sellers. She announced that the 12th edition of India Stonemart will be held from 1 to 4 February in 2024. The 11th stonemart was jointly organized by Rajasthan State Industrial Development & Investment Corporation Ltd. (RIICO), Centre for Development of Stones (CDOS) and Federation of Indian Chambers of Commerce and Industry (FICCI).
The Minister further said that the future of Rajasthan's stone industry is bright. It has a distinct identity of its own and is in huge demand both in India and abroad. The Rajasthan stone is even being used for the construction of the Ram Mandir. The demand for sandstone and granite from Rajasthan is increasing by leaps and bounds.
Chairman RIICO & CDOS, Mr. Kuldeep Ranka said that owing to path breaking policies in Rajasthan, there is a whopping growth rate of 535 % in industrial investment in the State. Together the States of Rajasthan, Maharashtra and Gujarat account for 75% of industrial investment in the country. Even though Gujarat and Maharashtra have an advantage of coastline over Rajasthan, the latter still attracts huge industrial investments and has become a role model for other states. Mr. Ranka further said that Indianisation of machinery has helped in reducing the cost and expanding the industry. This is a testament to the technological advancement in our country. Stones have a huge role to play in preserving our history and keeping our culture alive, he added.
Managing Director, RIICO, Mr. Shivprasad Nakate said that business and trade inquiries worth a whopping INR 1200 Crores have been generated. As many as 1400 B2B meetings were held with 116 buyers from 19 countries and 30,000 visitors coming in the past 4 days. Despite Covid-19, we have seen encouraging participation from exhibitors and trade visitors with total exhibit area of 13832 sq. m. There were 348 exhibitors, 3 country pavilions of Iran, Portugal and Turkey as well as 2 state pavilions of Gujarat and Odisha. Stonemart also witnessed good participation of machinery and tools and earth moving equipment manufacturers and technology providers as well. This will result in technology tie-ups and adoption of newer and latest techniques and technologies in mining, processing, value addition etc. The 4th Jaipur Architecture Festival also attracted speakers from all over the country and abroad. Their interaction with the entrepreneurs will also result in growth of stone trade.
Earlier, Co-chairman, FICCI Rajasthan State Council, Mr. Randhir Vikram Singh, in his welcome address, said that the event has grown bigger and better over the years and has established itself as the leading Stone exhibition not only in the country but across the globe. All our forts, palaces, havelis monuments and heritage hotels are made up of different kind of stones and form the core of our tourism and heritage.
On the occasion, the Vote of Thanks was proposed by Vice Chairman, CDOS, Mr. Rakesh Kumar Gupta who expressed his gratitude to the State Government, RIICO, FICCI, CDOS and all the logistic support vendors. He also profusely thanked the participants from pan India and abroad for making this stone fair a monumental success.
The Minister also gave away 37 Awards in 19 Categories for Best Display as well as Innovative Handicraft Products in different categories. The Award for the best overall display was bagged by Suzuki Industries.
Also present on the dais were Commissioner, Industries, Mr. Mahendra Parakh and CEO, CDOS, Mr. Mukul Rastogi.