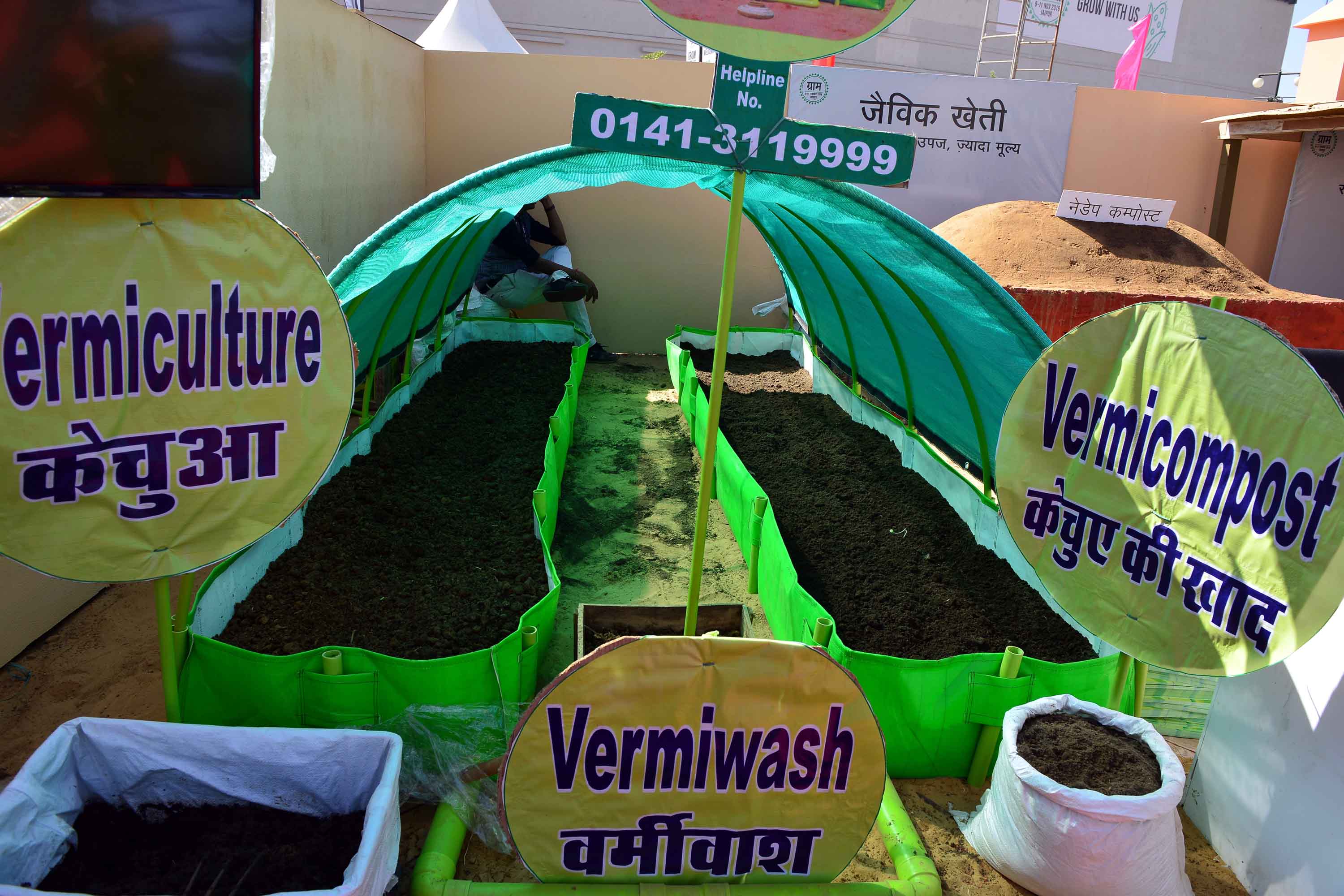 Press Release
Live demonstrations and live plantations to be displayed 
Jaipur, 17 May: 'Smart Farm' will be one of the major sources of attraction at the Divisional level GRAM Kota being held at RAC Grounds Shivpura in Kota from 24 to 26 May.  Spread over an area of 1800 sq. meters the Smart farm will exhibit the finest agro technologies to the visitors.
With one week left to GRAM Kota, Principal Secretary Agriculture, Government of Rajasthan, Ms. Neelkamal Darbari will be visiting Kota tomorrow to review the preparations of the mega agro-event. On the occasion senior officials of Agriculture, Horticulture and Animal Husbandry Departments will also be present.
The Smart Farm will also be responsible for highlighting the various agri-policies and existing and emerging agricultural strengths of Rajasthan. Live demonstrations of irrigation techniques like mini sprinkler, sprinkler irrigation, drip irrigation and usage of solar pumps, among others will also be displayed here. Other than these visitors will also witness live plantation of various crops like coriander, mushroom, olive, citrus fruit, dragon fruit, among others. These demonstrations will attract and motivate many farmers to adopt the finest agro-technologies.
Other areas which will be highlighted at Smart Farm are – SRI: Systemic Rice Intensification, garlic processing machines, camel milk products, beekeeping, modern mandis, fish farming, crop insurance, bio gas plant, aromatic oil – spice oil, pearl culture, crop insurance and Soybean processed food products will also be showcased in the Smart Farm.
Similarly, techniques of – unseasonable farming through greenhouse, high quality production through shade net house, mobile soil testing van, water conservation, prevention of weed through plastic mulching will also be displayed at the farm.
=================================================================
About 'Global Rajasthan Agritech Meet 2017, Kota' (GRAM)
GRAM Kota will be held from 24 to 26 May 2017 at RAC Parade Ground, Shivpura, Kota in Rajasthan. The event is being jointly organised by the Government of Rajasthan and Federation of Indian Chambers of Commerce & Industry (FICCI) .
Government of Rajasthan looks forward to replicate GRAM 2016's accomplishment at Kota in Rajasthan. One of the core objectives of GRAM Kota would be to expose the farmers of the Kota Division to best agriculture practices and define the next qualitative leap in Kota's agriculture growth story.
The event will bring all stakeholders – farmers from in and around Kota, academicians, technologists, agribusiness companies and policy makers.