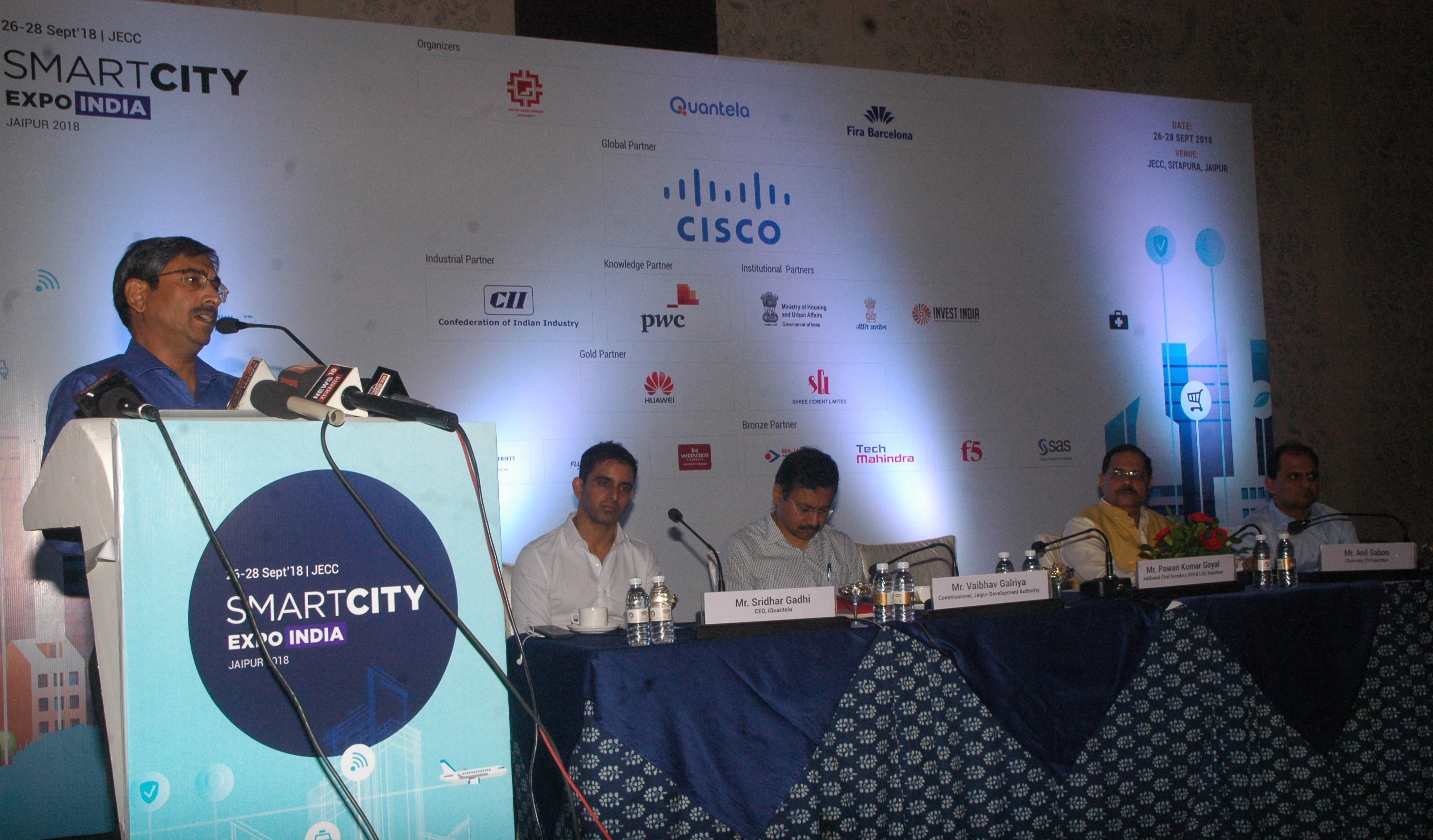 Press Release
  'Smart City' has been a buzzword since the Prime Minister, Narendra Modi launched the 'Smart City Mission' launched in 2015 in 100 cities. The 3-day 'Smart City Expo India 2018' in Jaipur from 26 September will be the largest event of its kind in India. It will position Jaipur on the international map with an even mix of international and national participants. This was stated by Additional Chief Secretary, UDH & LSG, Mr. Pawan Kumar Goyal while addressing a curtain raiser press conference for the Expo today in Jaipur.
Mr. Goyal further said that even though smart city has numerous definitions, people judge whether a city is smart by the level of comfort they experience in their daily lives. Delegates from across 20 countries will be taking part in the Expo. The participants will include global companies, decision makers, policy makers, researchers and influencers, he added.
Commissioner, Jaipur Development Authority, Mr. Vaibhav Galriya said that the delegates will also be taken around the city. They will be shown the progress of the various aspects of smart city in Jaipur.
Earlier CFO, Quantela, Mr. Karthik Krishnan gave a presentation on the forthcoming event. The Expo will focus on tracks like – the future of mobility and urban planning; clean tech and circular economy; social development; smart destinations; innovation, technology and digital governance and ease of living. There will also be an exhibition in which 120 exhibitors including large technology companies as well as emerging companies will participate. World's renowned industry experts will attend the event.Chairman, CII Rajasthan, Mr. Anil Saboo and CEO, Quantela India, Mr. Sridhar Gadhi were also present on the occasion.
The event is being organised by Quantela, Jaipur Development Authority (JDA) and Fira Barcelona International, with CII as the industrial partner. The Institutional Partners are – Ministry of Housing and Urban Affairs, Government of India, NITI Aayog, Government of Rajasthan, Invest India and Startupindia. The Global Partner for the event is CISCO.