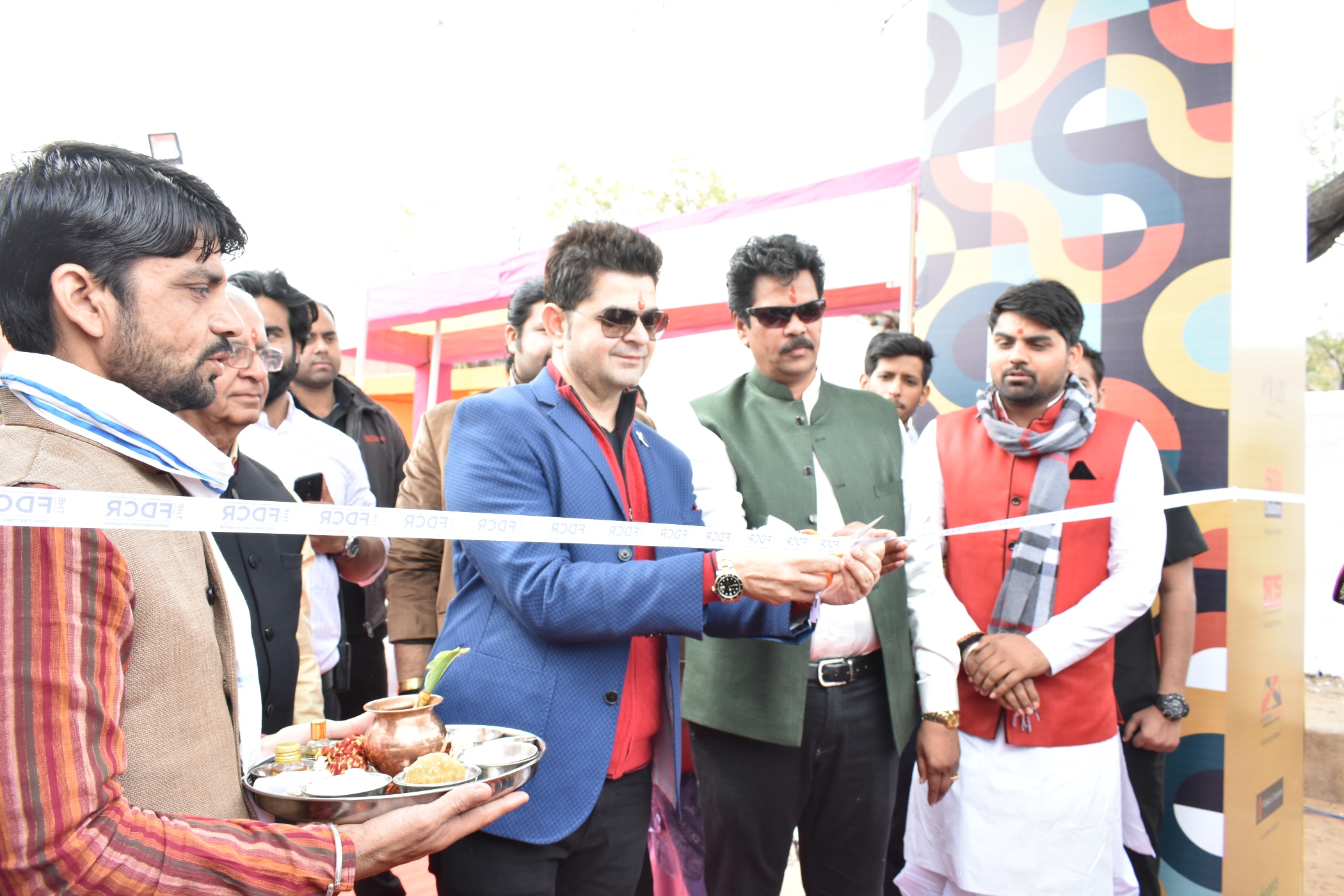 Press Release
"SHOOT BETTER AND EDIT LESS TO CAPTURE STRONGER IMAGES"
– Dabboo Ratnani
Dependence on post-processing of images captured during a photoshoot has become increasingly popular in today's time. A photographer needs to inculcate an attitude wherein the focus more on the shoot and its elements such as composition, lighting, backdrop, costumes and concept rather than depend on various picture editing softwares like Photoshop to make their pictures look better. This was stated by fashion photographer, Dabboo Ratnani. He was addressing a session on 'What Camera Loves' on the inaugural day of the fashion festival – 'Laconic 2019' at Jawahar Kala Kendra. The festival is being organised by Fashion Design Council of Rajasthan (FDCR). Later he also inaugurated  'Photographia', a photography exhibition showcasing the works of illustrious photographers at Shilpgram.
Inaugural Ceremony
Earlier the festival was inaugurated by Minister of Tourism, Government of Rajasthan, Mr. Vishvendra Singh; Minister of Women and Child Development (Independent Charge), Government of Rajasthan, Ms. Mamta Bhupesh; Justice, Mahesh Bhagwati and Chief Managing Director, First India News, Mr. Jagdish Chandra.
On the occasion, Mr. Vishvendra Singh said that it is for the first time a festival of such magnitude is being organised in Jaipur it will help bring a fresh start in the city for the industry. Ms. Mamta Bhupesh said that the local women artisans would like to be associated for the purpose of skill development, entrepreneurial and networking opportunities that the festival brings. Mr. Jagdish Chandra said that 'Laconic' is an impressive initiative to promote the local talent in fashion and entrepreneurship. Justice Mahesh Bhagwati said that fashion is a representation of culture, occasion and style of a person.
Session: Fashion Revolution by Krishna Mehta
Talking about the value of crafts in the country, fashion designer Krishna Mehta said that crafts are a luxury in India and its value is unparalleled to any other. Textile is the base of fashion. One needs to understand how certain fabrics drape on the body, cuts the human figure and mould the shape to create a final look. It is important to innovate and work with dedication to shock one's audience with different fabrics, styles, cuts, colours, designs and textures.
Session: 'How to Make it Big in the Fashion Industry' by Candice Pinto
Sharing her experience in the fashion industry, supermodel Candice Pinto said that it takes much discipline to survive and achieve success in any field, be it modeling as well. One should give the work a time of 2 to 3 years to understand the industry, then decide if they are fit for it or would like to pursue something else. She also highlighted that the important qualities for achieving success are patience and humility which help one go a long way.
Session: 'Fashion through the Ages' by James Ferreira
Addressing the concerns of the fashion industry, Mr. James Ferreira said that India is a cradle of crafts and textiles and that there is yet so much more to be explored with an immense need to conserve and promote the traditional crafts and textiles. He further said that along with training the designers we need to finely train the tailors, models and other stakeholders of this industry. He also emphasised on the need to provide better infrastructure for the skill development and introduce courses like handloom and embroidery in the institutions and promote them as professions.
Session: Music and Fashion
Talking about the evolution of fashion over the years, fashion consultant, Mr. Aslam Khan said that that earlier there were no backstage helpers or manager and the remuneration was quite low as compared to the present scenario. He further added that with today's audience being very observant, the model cannot afford to make any mistake onstage. Giving a piece of advice he said that designers should consider working on natural textiles and implement on it.
Highlighting the trends in the music industry, Lyricist, Kunal Verma said music in films is not only limited to the music composer but also directors and actors involved in the film project. Furthermore, being multilingual also acts as an added advantage in the music industry. Music keeps changing just like fashion, it is important to adapt to this change in order to connect with the youth.
The session was moderated by supermodel, Candice Pinto and model, Pia Trivedi.
Music Performances
During the day there was a musical performance by Bollywood playback singer, Priya Andrews who presented popular Bollywood numbers.