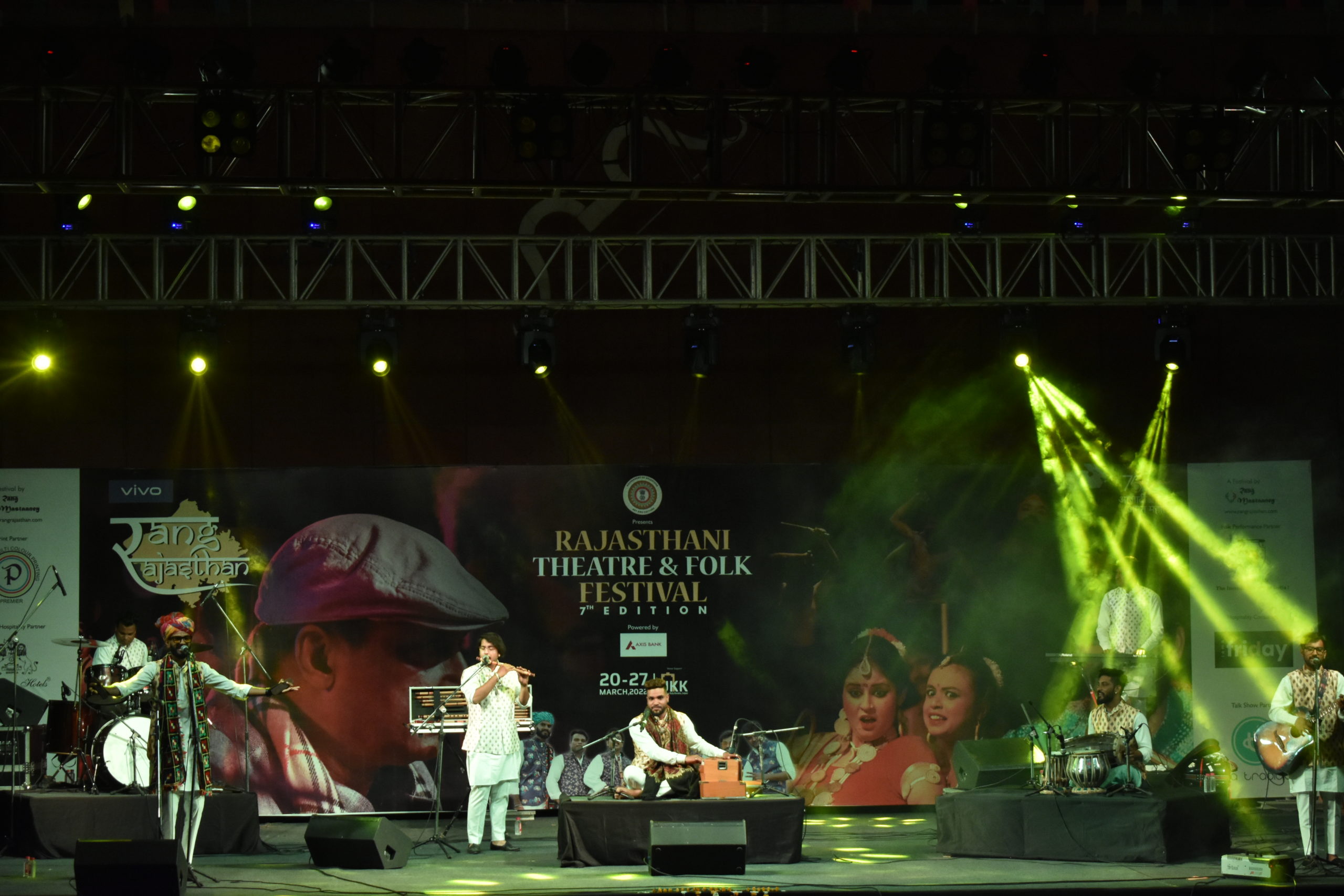 The seventh edition of Rang-Rajasthan Festival organised by the Rang Mastaaney Sanstha, Department of Art, Culture and Archaeology, with support of Tourism Department, Rajasthan and Jawahar Kala Kendra was inaugurated by the Minister of Education and Art-Culture, Dr. B.D. Kalla at Madhyavarti of JKK.
On this occasion, Honourable Minister B. D. Kalla said that the atmosphere of continuous art and literary events has been created in the state. Art and Culture Department is also constantly organising and supporting aspiring and professional artists from across all the cities. Many brilliant artists and theatre teams from across the country are coming to Jaipur in the Rang-Rajasthan Festival to entertain the audience with their performances. This kind of art and folk festival is a worthwhile attempt to connect common men with arts and theatre.
The festival director of Rang Rajasthan Festival , Abhishek Mudgal welcomed the guests and told about the journey of Rang Rajasthan from the first edition to the seventh edition. He expressed his gratitude to the Honorable Minister, Art & Culture Department, Jawahar Kala Kendra, Tourism Department and all the supporters for their contribution and cooperation.
Indian Idol fame singer Sawai Bhatt was presented with Rang Rajasthan Award. Raagdhani Band and Sawai Bhatt set the rhythm for the evening with their enthralling performance.
Raagdhani Band sang Sufi and Folk fusion songs. The band welcomed the audience with the famous Rajasthani folk song "Kesariya Balam Padharo Mhare Des". Then he enthralled the audience by singing Bollywood Punjabi song "Sanu Ek Pal Chain Na Aawe" in Sufi style. Band performed around 4-5 songs and the excitement could be seen in audience cheering. Indian Idol fame Sawai Bhatt also performed the songs which he performed in Indian Idol. Indian Idol fame Sawai Bhatt ji was honoured with Rang Rajasthan Award by B.D. Kalla ji.
Earlier, Honourable Art & Culture Minister B.D. Kalla also inaugurated the photo exhibition 'Rang-Navras' organised by photographer Rajesh Kumar Soni. In the exhibition, stills of famous plays staged in Jaipur were showcased which showed colorful gamut of emotions. Dr. B. D. Kalla ji appreciated Rang Mastaaney Sanstha's efforts to keep the folk art and culture of Rajasthan alive through theatre.