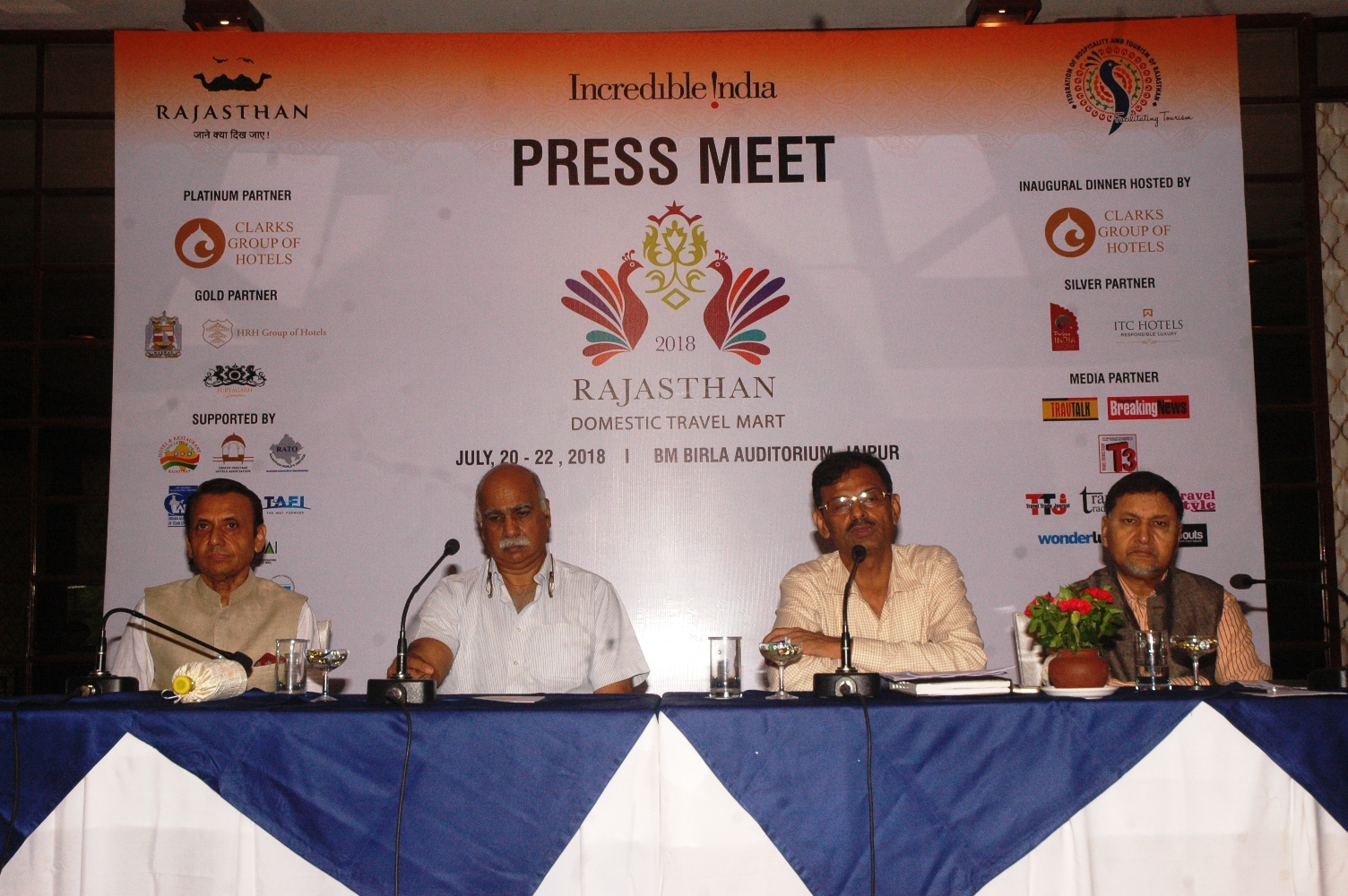 Press Release
"THE TARGET OF 50 MILLION TOURIST ARRIVALS IN RAJASTHAN BY 2020 IS LIKELY TO BE MET BY END OF THIS YEAR"
— Mr. Pradeep Kumar Borar
Director (Tourism)
Government of Rajasthan
The target of 50 million tourist arrivals by 2020 in Rajasthan is likely to be met by the end of this year. The State has already witnessed over 47 million tourist arrivals by the end of 2017. This was informed by the Director Tourism, Government of Rajasthan, Mr Pradeep Kumar Borar. He was addressing the Press Conference organized by Rajasthan Domestic Travel Mart (RDTM) in Hotel Clarks Amer, in Jaipur. RDTM will begin from 20 July to 22 July in Jaipur. While the inaugural session will be held at Hotel Clarks Amer on 20 July, the pre-scheduled B2B meetings will be held on 21 and 22 July at the BM Birla Convention Centre.
Mr Borar further said that Rajasthan has witnessed more than 20% growth in domestic and foreign tourists in the first quarter of this year. The hotel industry had occupancy of almost 65% in the State in 2016-17. Palace on Wheels, Rajasthan's famous luxury heritage train, has also registered the highest occupancy of over 60%. The aggressive and creative marketing campaign of Rajasthan Tourism has translated into impressive increase in tourist arrivals. The State Government is focusing on tourism which gives a big economic boost.
Senior Vice President, Federation of Hospitality and Tourism of Rajasthan (FHTR) Mr Randhir Vikram Singh said that as many as 200 Domestic Tour operators and travel writers from 29 States and 7 Union Territories will be participating in the travel mega event. 'RDTM 2018' will witness a whopping around 6900 pre-scheduled, structured B2B meetings over two days. He further added that RDTM is focused on developing and promoting the lesser known destination categories like Shekhawati, Bikaner, Khimsar, Luni, Jaisalmer and Kumbhalgarh.Throwing light on the organizers of RDTM, Mr Singh said that RDTM has been organized by the Department of Tourism in association of Federation of Hospitality and Tourism of Rajasthan (FHTR). The Domestic Mart is being supported by numerous industry associations of Rajasthan like – Hotel & Restaurant Association of Rajasthan (HRAR), Indian Heritage Hotels Association (IHHA) and Rajasthan Association of Tour Operators (RATO) and National Associations like – IATO, ADTOI, TAAI, TAFI, ATOAI, ICPB, ETAA.
Secretary General, FHTR, Mr Gyan Parakash said that special preference is being given to the MSME sector. New tourism products will be unveiled during the RDTM which is a first-of-its-kind event being organized in India. FAM Tours have also been organized post the Mart for tour operators to lesser known destinations of Rajasthan. Participants have shown interest in this initiative which will further boost tourism in the state.