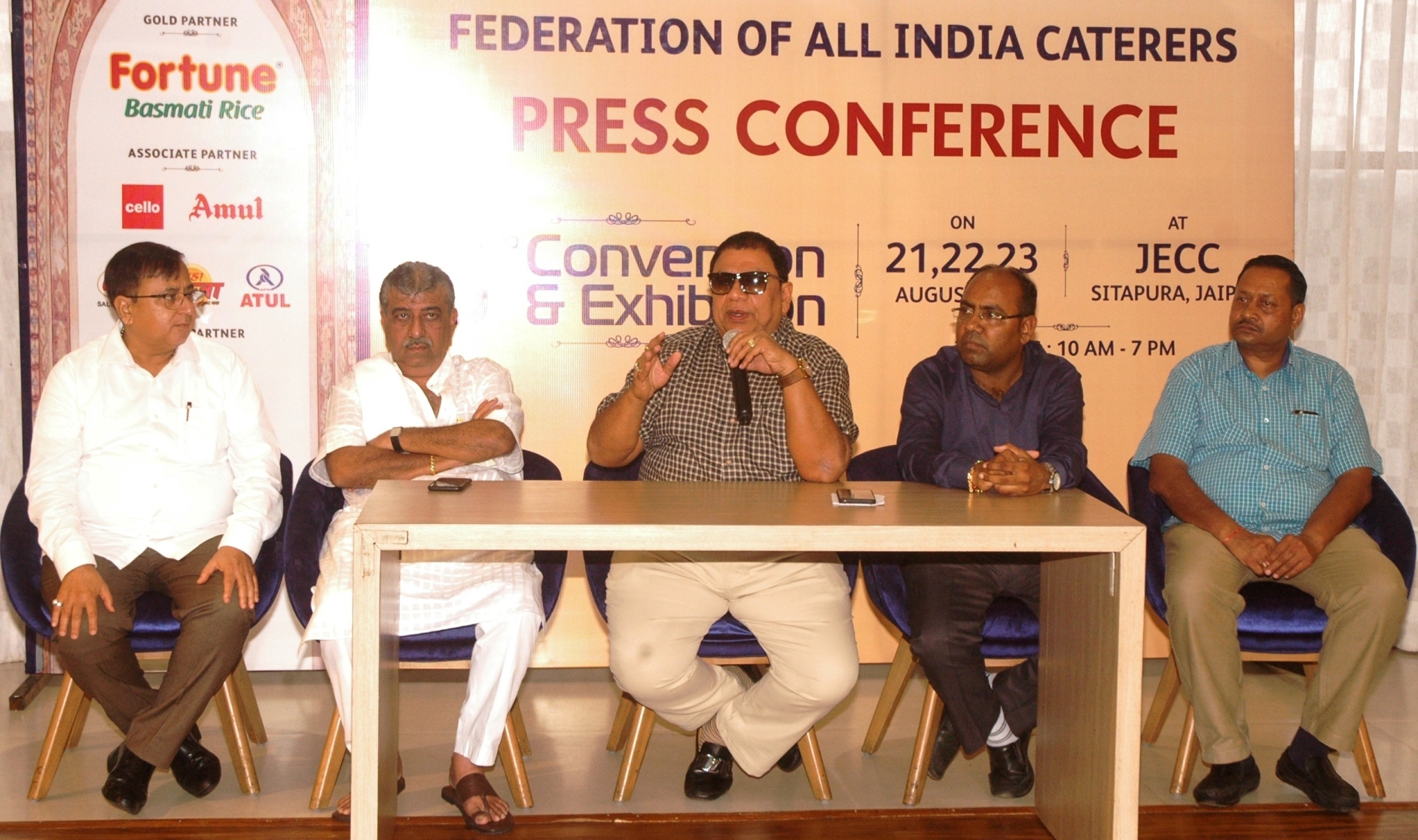 Press Release
"5000 CATERERS FROM 18 STATES TO PARTICIPATE IN FAIC CONVENTION AND EXHIBITION"
– Narendra Somani
(President FAIC)
As many as 5000 caterers from across 18 States will participate in the 3rd Convention and Exhibition by the Federation of All Indian Caterers (FAIC). Out of these caterers 750 are from Rajasthan. The 3-day Convention will begin from 21 August at JECC, Sitapura. The mega event will witness seminars, presentations and workshops. The objective of the exposition is to convert the unorganised sector of caterers into an organised sector and create a platform for manufacturers, traders, service providers, exporters and importers to meet caterers, hoteliers, banquets owners, among others.  This was informed by the President of FAIC, Mr. Narendra Somani on Monday at a Press Conference.
The West Zone Chairman of FAIC, Mr. Sunil Sonkhiya informed that there will be as many as over 300 stalls of catering equipment, kitchen equipment, hospitality products, crockery, furniture, food products and uniforms. Some stalls will also be about marketing and strategy. Companies from States like Gujarat, Maharashtra, Rajasthan, Uttar Pradesh, Bangalore, Chennai, New Delhi, Uttarakhand, Haryana, Madhya Pradesh, Punjab  are participating in the event. The visitor categories will comprise of caterers, hoteliers, restaurant owners, banquet owners, F&B professionals, Chefs, wedding & event planners, decorators, among others.
The Secretary of FAIC, Mr. Kirit Budhdev said that the inauguration of the event will be at 11 am on 21 August. The Chief Guest for the opening ceremony will be the Union Minister of State for Law & Justice, Mr. PP Chaudhary. The Guests of Honour of the ceremony will be well-known Bollywood actress, Karishma Tanna; Chef Ripu Daman Hada; Chef Priyanka Mallik and Director, Cello, Mr. Gaurav Rathore. He further stated that the event will give a networking opportunity to vendors, outdoor catering and event industries.
On day 1 (21 August), after the inaugural session there will be workshops on 'Masters of Supply Chain' by Dr. Pawan Agarwal as well as on Food-Recipe by Chef Ripu Daman Handa.  During the day there will also be presentations by different companies like Fortune Basmati, Cello, Naman's and Catch Masala.
Day 2 (22 August) will also witness workshop on Food-Recipe by Chef Ripu Daman Handa as well as the Cake Craft Competition on 'Pink City' theme.  The attraction of the day will be the Talk Show by renowned Caterers of India. Furthermore, 2 motivational speeches during the day will inspire the delegates. The first one will be entitled "Oonchi Rahe Udan, Safar Rahe Aasan" by Dr. Raeesh Maniar from Surat and the second one entitled  "Eh Bhai, Jara Dekh Ke Chalo" by RJ Devaki. The company presentations during the day will be by Atul Auto, Waah! Mazaa, Mad Aqua.
The third day (23 August) will witness the felicitation ceremony. Bumper Lucky Draws will also be taken out.