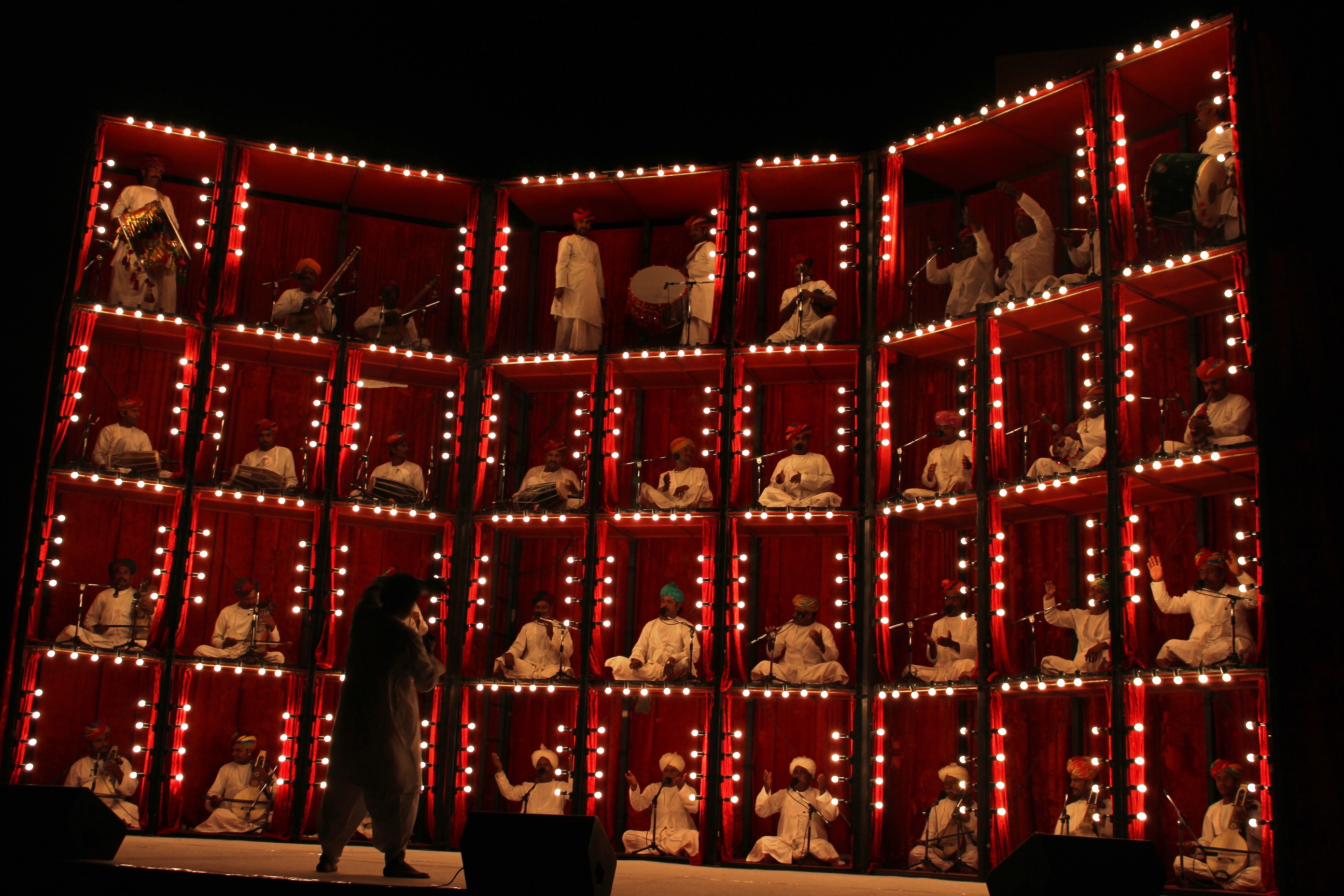 Press Release
Participation of 360 Rajasthani artistes
Participation of 197 national artistes
Participation of 29 international artistes
Moving Image Exhibition first time in the country
Special programmes for children
Jaipur, 11 May: The multi arts center of Pink City — Jawahar Kala Kendra — organized a vast number of high quality programmes in the last one year. These programmes ranged from various performing arts like theatre, music and dance as well as visual arts and literature.
The series of programmes began with a 8 day Performing Arts Festival —  'Navras' (15 -22 March). The festival saw enthralling performances like Manganiyar Seduction designed and directed by Roysten Abel, Fusion Music by Maati Baani, Nagamandala by Neelam Mansingh, Sharira by Chandralekha Group, among others. Navras received huge appreciation from the people of Jaipur and all shows witnessed more-than-capacity audience to attend the show.
Some programmes were also curated keeping in mind the interests of the children. For instance, the 2-day Children's Literature Festival – Bookaroo (30 April to 1 May) saw the participation of around 9000 children from both government and private schools. These children attended 50 interactive sessions with 17 authors, poets and storytellers like Ajay Das Gupta, Jerry Pinto, Arefa Tehsin, Wendy Cooling, Bina Kak, among others.
The month long Junior Summer Programme (15 May to 20 June) witnessed the enthusiastic participation of over 700 children who were trained by experts in different workshops like theatre, photography, painting, calligraphy, creative writing, elocution, classical and contemporary dance as well as vocal and instrumental music.
Similarly, a 2-day German Film Festival (9 to 10 July) was also organized in collaboration with Goethe Institute in which various films like Cinderella, Sleeping Beauty, Rapunzel, among others were screened.
Furthermore, the Kendra also introduced for the first time in Jaipur an overnight musical concert – 'Raag' (11-12 November) – an overnight recital of Indian classical music. It was based on the unique concept of the different ragas sung at different times of the day and night.
Renowned musicians of the country including Padmabhushan Rajan Sajan Mishra (vocals), Padmashree Gundecha Brothers (Dhruvpad), Kaushiki Chakraborty (vocals), Padmashree Vishwa Mohan Bhatt and Padmashree Moinuddin Khan with their many accompanists were a part of the concert. The programme began at 10 pm on 11 November and went on till 7 am on 12 November.
The cultural programmes in the past one year witnessed the participation of around 360 artistes from Rajasthan, 197 artistes from all over the country and 29 international artistes.
The visual arts arena witnessed a major breakthrough with a one and a half month long moving image exhibition 'तह-सतह: A Very Deep Surface, Mani Kaul and Ranbir Singh Kaleka: Between Film and Video' (20 January to 04 March). This was a first of its kind exhibition not just in the city but also in the country. The exhibition included film screenings, curated walkthroughs as well as interesting talks and discussions by renowned personalities.
Besides this there were several film screenings, music, dance and theatre programmes as a part of the weekend programme series of Jawahar Kala Kendra from July onwards. This year will also witness diverse programmes for performing and visual arts as well as literature.
About Jawahar Kala Kendra
Jawahar Kala Kendra (JKK) was designed in 1993 by renowned architect Charles Correa. It is a multi-arts world class centre focusing on the preservation and promotion of the various genres of performing as well as visual arts and literary activities. It provides a platform to talented artists from the state, the country as well as overseas. The Kendra's initiation has induced a multidisciplinary movement towards the understanding, dissemination and propagation of art practices, extending from traditional to the contemporary. The programmes held here are designed not just for entertainment but also to increase awareness about different forms of art among the people.