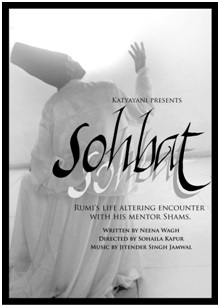 As a part of the 3 day South Asian Jaipur Sufi Festival
Depicting Rumi's life altering encounter with his mentor Shams

Jaipur, 12 October: As a part of the forthcoming 3 day South Asian Jaipur Sufi Festival, a play – 'Sohbat' directed by Sohaila Kapur will be staged at Diggi Palaceon Saturday (15 October).
'Sohbat', which means 'companionship' or 'conversation', is the story of the encounter between the renowned poet and philosopher Jalaluddin Rumi and an itinerant mystic, Shams who became Rumi's mentor. The bruising encounter between them led to 40 days of discourse and meditation, which changed Rumi forever. The man who emerged from behind those closed doors after the 40 days, was not the husband she had known, according to Rumi's wife, Gauhar.
The play is written by Neena Wagh and the music will be rendered by Jitender Singh Jamwal. The character of Rumi will be portrayed by Neeraj Yadav, Shams by Arun Prakash, Gauhar by Lotty Alaric and Dastango by Arti Nayar.
'Sohbat' will be staged at 7.30 pm on Saturday (15 October) at Diggi Palace. The entry to the play is through passes which can be obtained from Diggi Palace between 11 am to 4 pm.
It is to recalled that the 3 day South Asian Jaipur Sufi Festival will be held at Diggi Palace from 14 October to 16 October. It is being organised by the prestigious Foundation of SAARC Writers and Literature (FOSWAL) spearheaded by Padmashri Ajeet Cour in collaboration with Ministry of External Affairs and Rajasthan Tourism.