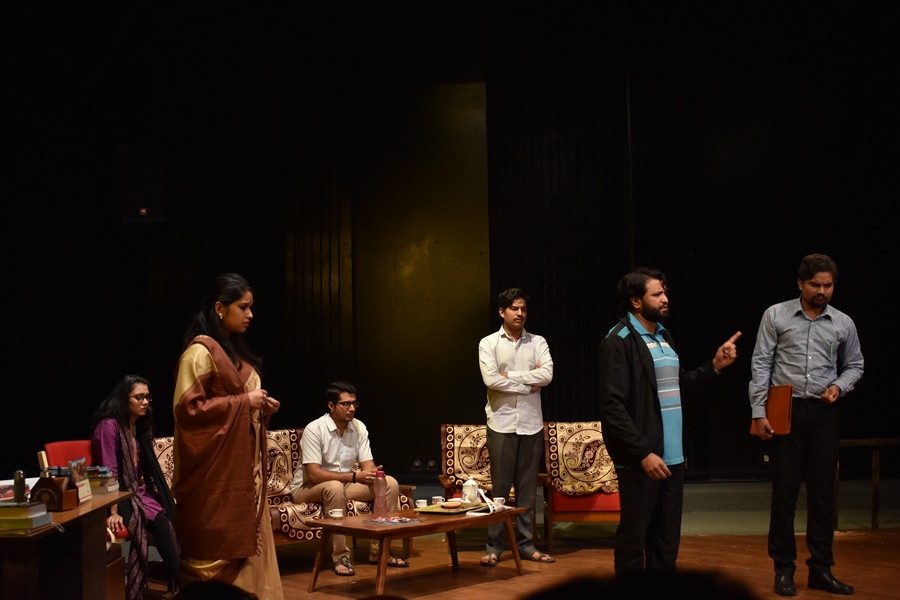 Press Release
The 3 day 'Young Director's Theatre Festival' at the Jawahar Kala Kendra (JKK) concluded with staging of the play 'An Enemy of the People' by Yogendra Singh Parmar. Originally written by Henrik Ibsen, the two hours long play was based on an adaptation by the renowned poet and writer, Nemi Chandra Jain. 
The satirical play revolved around Abhay Kumar, the protagonist, an honest man dedicated towards the good of the society and the country. He did a research on the water that comes in his locality and learnt that the water was contaminated. When he tried to bring this to the eye of the public, his brother Amalindu Kumar trapped him into the vicious circle of politics and media, declaring him the 'Enemy of the People'. 
The play gave a strong message that the road to honesty and goodness is not easy. And if one wishes to live with truth and honesty in this world, he has to live every moment as an 'Enemy of the People'. This is the bitter truth of the play and the society. 
The cast was played by Mahmood Ali, Sanket Jain, Aayushi Dixit, Pooja Sahay, Maan Madan, Rajesh, Nikhil Sharma, Sandeep Mishra, Kamlesh Bairwa, Gaurav Soni, Nirav Vishnoi, Vipin Chaudhary, Dharmendra Prajapati, Sagar Khan and Virendra Solanki. 
It is to be recalled that the festival was a platform for the recipients of the Rs 1 Lakh theatre grant awarded for theatre production by JKK. These grants were allotted after screening a number of proposals and applications by an esteemed jury and thorough processes. The plays presented were 'Mira' by Sahil Ahuja, 'Ek Aur Durghatana' by Chitrarth Mishra and 'An Enemy of the People' by Yogendra Singh Parmar.