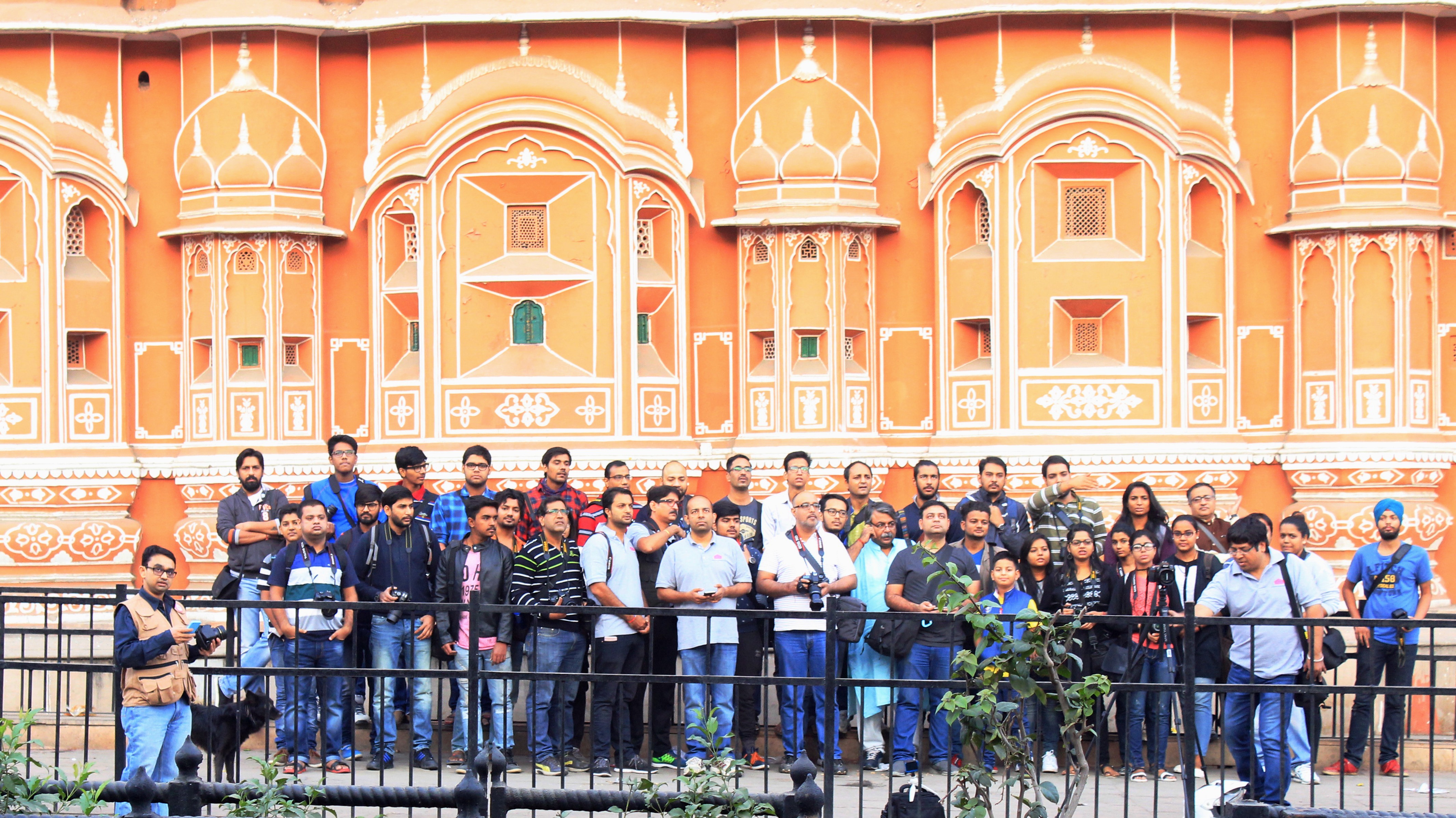 In collaboration with Jaipur Photographers' Club
On the theme 'Colours of Life'
Over 50 photo enthusiasts participated
Jaipur, 06 November: A 'Photo Walk' was held today for Au- Jairangam's ongoing Online Photography Contest "Khushboo-e-Rajasthan" in association with Jaipur Photographers' Club (JPC) in Jaipur. The walk began from Hawa Mahal and covered areas like Ramganj, Govind Dev Ji Temple and Chaura Rasta etc.
Based on the theme 'Colours of Life', over 50 photo enthusiasts participated in the two-hour walk.
The walk was organized keeping in mind that anyone who wishes to participate in the online photography contest of Au-Jairangam — "Khusboo-e-Rajasthan" — may use the opportunity of the walk to click pictures under the guidance of the senior members of Jaipur Photographers' Club, said President, 3 M Dot Bands, Mr. Narendra Gour.
The participants were given tips about the basic principles of photography and the subjects they can choose to click in the area.
It is to be recalled that "Khushboo-e-Rajasthan" online photography competition is open for all across the globe and the last date for submission of entries is 10 November 2016. The theme for the competition is "Colors of Life".
Said President, JPC, Mr. Anil Khubani : " 'Khushboo-e-Rajasthan' has received a tremendous response from all over the country and more than 500 photographs have already been submitted for the contest. In fact, there are some entries from outside India as well."
There are two segments for this competition Camera (SLR, DSLR & Point n Shoot) and Mobile. An entrant can submit 5 photographs online by visiting the official Jairangam page(https://www.facebook.com/JairangamOfficial/)
Two best photographs from today's walk will get a chance to have dinner with the celebrities during Au-Jairangam festival. Best 3 photographs in each segment will be awarded and 2 consolation prizes in each segment will also be given. Top 100 Photographs from the competition will be displayed in the exhibition at Jawahar Kala Kendra, Jaipur during the Theatre festival from 21 November to 27 November. The best photographs will be selected on the basis of number of likes on Facebook (25%) and by a panel of esteemed judges (75%) of national and international repute.