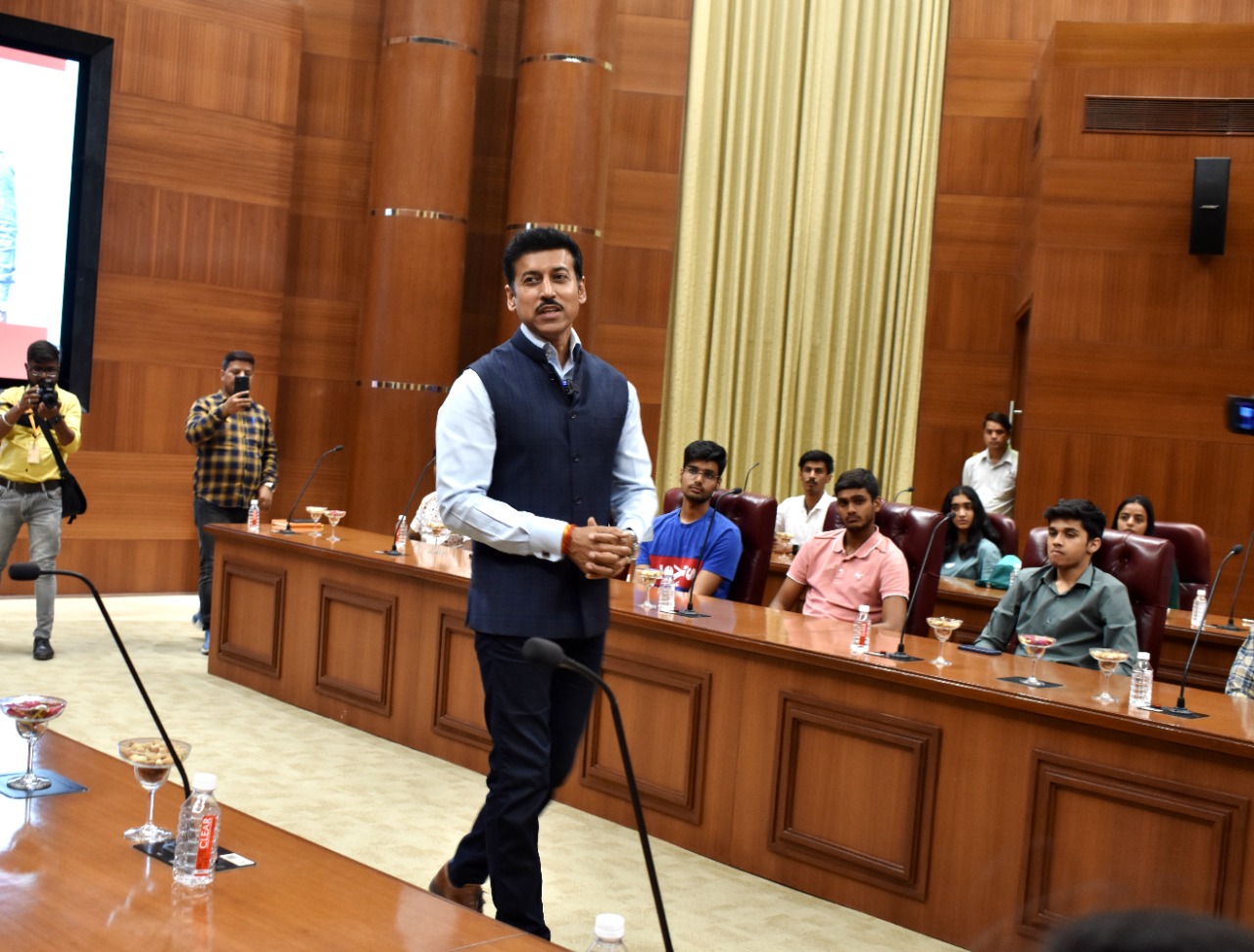 In a hugely interactive session with the students of Manipal University Jaipur (MUJ), former Union Minister, MP Jaipur Rural and Olympian shooter, Colonel Rajyavardhan Singh Rathore, interacted with the students in a free wheeling discussion at the university campus. Right from the beginning, Rathore made it absolutely clear, that he was not going to make a formal speech or deliver a motivational lecture. He invited the students to ask him questions and in his answers, he deftly included the motivational element which received thunderous applause from the students.
Recalling his winning the silver medal in the 2004 Olympics in shooting, Rathore said that when he was preparing for the Olympics his focus was total. From morning to night, it was only about training for the Olympics. His rigid schedule, the food he ate, and the friends he kept, were all focused only on one aspect – participation in the Olympics and winning a medal. He said that he was determined to not just be called an Olympian because he participated, but to be called an Olympic medal winner. And he managed to achieve it. Addressing the students, he said that each one of them has to remain totally focused on their goals and not be distracted. Choose friends wisely, interact with those who send positive vibes and avoid negativity at all costs. Refuse to listen to those who gossip and try to distract you.
Further recalling that he was a backbencher earlier, he later became a frontbencher and came to realise that he could imbibe his lessons better once he was sitting in the front. With as many as 7 generations in the armed forces, Rathore said that he knew he would join the army. Reminiscing about his first transfer to the border in Jammu & Kashmir as a young Captain at the age of 22 years, he said, that he was commanding 126 men, all older than him. He said that his name was discussed among the militants for being ruthless and they were advised not to cross his area. He said this fear and remark of the militants was even more valuable to him than any award or medal. He also advised the students to not be scared if one has to change fields. However, one should be sure of the new responsibility one takes up and not get distracted once one decides on the course of action. He said to achieve success one has to overcome many failures. Within the army, if he had focused only on the armed forces career, he would have been on much a senior rank. However, he participated in the Olympics, so he remained only a Colonel but he won the country a silver medal. When he was joining politics there was a huge uproar in the family. He , however , gets huge satisfaction in serving the people of his constituency, Jaipur Rural.
Earlier, he interacted with aspiring sports students and planted a sapling in the MUJ campus.
On the occasion, President, MUJ, Dr GK Prabhu, threw light on 'Vision 2025'. He said that during the Covid pandemic, because of MUJ's NAAC+ ranking, the University was allowed to conduct online classes. Today 10,000 students are participating in online classes. MUJ had begun its journey with 300 students and today it has over 10,000 students and 500 faculty members of whom 70 are PhD holders.
Pro President, MUJ, Dr NN Sharma along with Director, Brigadier Ripu Soodan also welcomed the chief guest on the occasion. The vote of thanks was delivered by Registrar MUJ, Dr Neetu Bhatnagar.