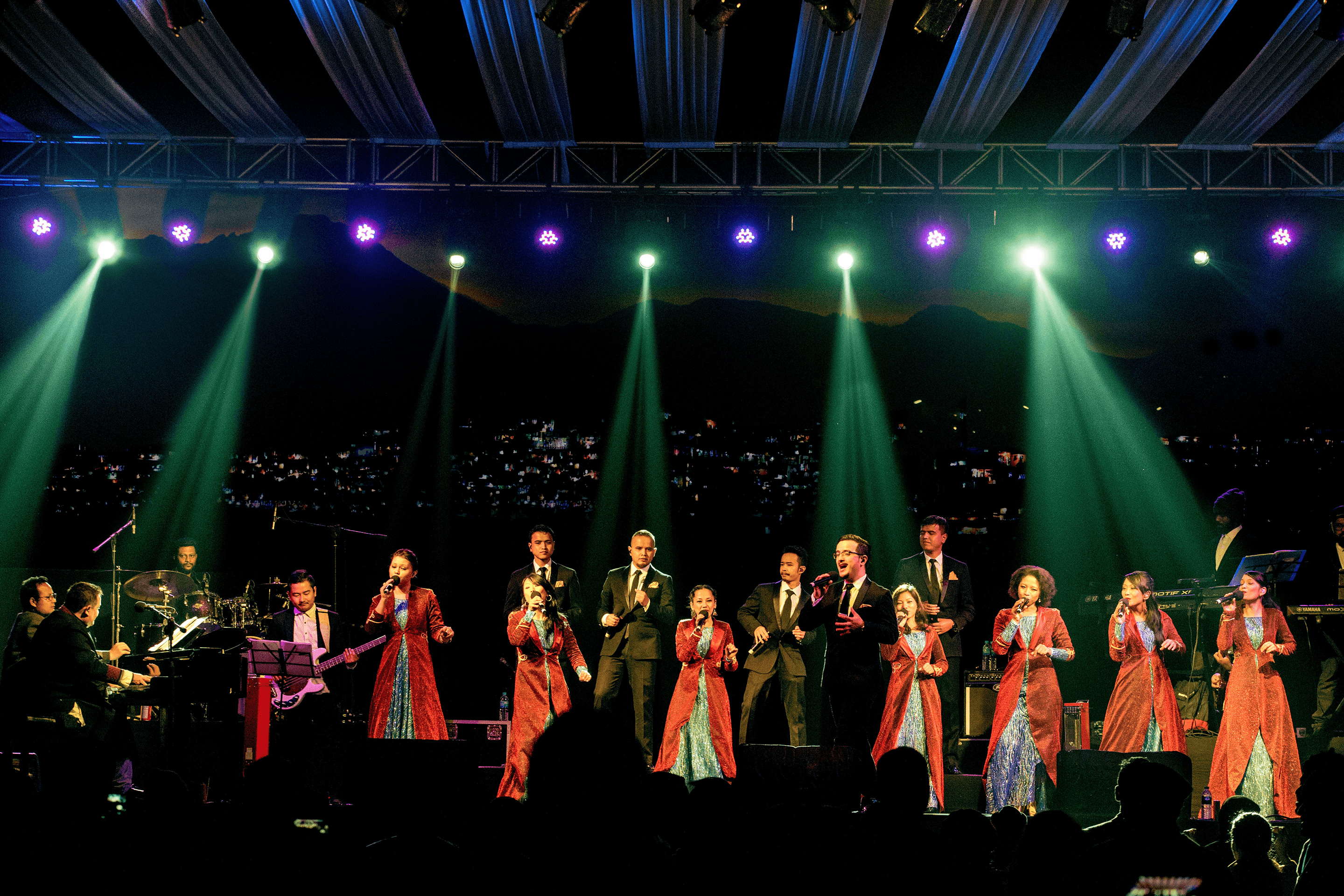 Press Release
It's that time of the year again andMusiconceptsis back to celebrating India's rich and diverse musical heritage through conversations on everything musical at the 3rd edition of the Raymond MTV India Music Summit 2019at The Fairmont in JaipurfromOctober 4thto 6th 2019.
For this edition of the Raymond MTV India Music Summit 2019 #EkSachhaSur, over 50 sessions of rich musical experiences have been planned by Musiconcepts. Starting with classical highlights to morning divinity, from musicians' jam to keynote addresses, from conversations to baithaks, from choirs to taleem, and more, the repertoire brings the finest talentsin India,with a range and diversity that encompasses all genres of Indian music, including Devotional, Classical, Jazz, Ghazal, Folk, Instrumental, and Contemporary.
Aficionados of Indian music will have an opportunity to learn, discover and immerse oneself in music and musicality and engageinsessions with artists such as:
· Indian cinemaplaybacksingers-Asha Bhosle, Sunidhi Chauhan, Javed Ali
· Classical instrumentalists Shiv Kumar Sharma, Rahul Sharma, Shujaat Khan, Vikku Vinayakram, Shashank Subramaniam, Ajay Prasanna, Purbayan Chatterjee, Taufiq Qureshi.
· Vocalists Uday Bhawalkar, Aruna Sairam, Sunanda Sharma, Prabh Deep, Rajan-Sajan Mishra, Venkatesh Kumar, Aslam Sabri, Radhika Chopra.
· The inimitable Shillong Chamber Choir; the Little Maestro -the World's Fastest Piano Player-Lydian Nadhaswaram.
According to the co-founders of Musiconcepts–Ambika Srivastava, Mala Sekhri, and Aparna Joshi, The India Music Summit aims to bring together the diverse musical heritage of India. Presented in a unique and inimitable style, it dissolves the distance between the stage and the audience, allowing the energy of the music, musicians and music lovers to become one. Musiconcepts has curated and created a magnificent setting for artists to explore new sounds and content, get out of their comfortzones, disrupt the existing myths surrounding genres and showcase themselves the way the world hasn't seen or heard before.
The three-day Summit in partnership with Raymond and MTV, India's No. 1 Youth Brand, is set amidst the stunning Fairmont, Jaipurand hosted sessions ranging from rare, meditative, peaceful, and intimate morning baithaks.
From the soulful Ajay Prasanna and Shashank Subramanyam, Uday Bhawalkar –the voice of Dhrupad, toa special dedication to Benares the city of Moksh, by the brilliant Benares duo Pandit Rajan and Sajan Mishra to the carrier of Girija Devi's Legacy — Sunanda Sharma.
Among thekeynote attractions, will be a conversation between Playback Maestro Asha Bhosle and the wizard of words Prasoon Joshi —Her Music, Her Life, Her Journey, Her Inspiration–thatis bound to enthrall.
Be captivated in the celebration of love by the stalwarts of music with the riveting narrative of Saif Mahmood to a special performance called Junoon — a journey through desire — presented by Vikku Vinayakram, Shujaat Khan and Taufiq Quereshi to the soulful voice of Javed Ali in a special unplugged set to the love of the Supreme by Aslam Sabri and troupe.
Or experience the Genius of Harmony with the much celebrated Shillong Chamber Choiras the Summit reverberates with their magical lilt; to attending Masterclasses where the masterslikeShujaat Khan, Aruna Sairam, Ustaad Mazhar and Jawaad Khan, Shashank Subramanyam, and Radhika Chopra will demonstrate, teach and explain and decode musicat some of the musical experiences planned by Musiconcepts at the Raymond MTV India Music Summit 2019.
Entry to The India Music Summit is ticketed and the past two editions of the Summit saw over 8000 ticketed attendees, with many who travelled all the way to Jaipur for this immersive experience.
Commenting on the Summit, Mentor, Prasoon Joshi, said," Today the India Music Summit does not require an introduction; the word of mouth amongst music lovers is so strong. When something great in music happens it just cascades, similarly the India Music Summit is being sought after, it is becoming a music lover's destination."
He also mentioned that one of the highlights would be his conversation with Asha Bhosle. He said "This year I'm looking forward to my conversation with Ashaji. We have grown up listening to her voice — I feel very fortunate that I will be speaking to
her about her life and her music. We have all heard her sing but rarely have we heard her share her musical journey. "
"Raymond is delighted to present the third edition of the India Music Summit, this is the second year of association with this unique and engaging platform. Raymond's rich legacy of over 9-decades and the fact that we are a homegrown brand is testimony to our constant endeavor to support Indian art in every form. This is a part of our vision to nurture, promote and curate different forms of national art and craft in diverse fields. We are honoured to be associated with a movement that celebrates Indian Art and Culture and provides the most credible global platform to promote Indian Music," Gautam Hari Singhania, Chairman & Managing Director, Raymond Limited.
"Being an iconic brand, I feel it is our responsibility to support such an initiative that brings together the very best of Indian culture and heritage and gives them an opportunity to express themselves. Like our constant efforts towards broadening our horizon by expanding our product portfolio, The India Music Summit too caters to a vast diaspora as it's a confluence of artists and experts from varied genres who are bound by the love for music, thus bringing in the perfect synergy between us. What's more exciting is that it also explores the cultural influence of music across the globe with one new country every year. I believe, it's just the beginning of a revolution that will not just resonate with Indians, but the entire world," says Sanjay Behl, CEO, Raymond Ltd.
Speaking on the association with the summit,Ferzad Palia, Head – Youth, Music & English Entertainment, Viacom18 Media Pvt. Ltd said "We have been supporting the MTV India Music Summit, over the past 3 years and bringing an enthralling experience to music lovers. The event celebrates maestros from various genres, opening new worlds for the rich musical talent in the country. Being a brand that has created iconic properties like MTV Unplugged, Coke Studio and more recently, MTV Hustle, we believe that nurturing new talent as well as promoting established artists across genres, goes a long way in creating newer avenues for the industry. Music is an intangible heritage that brings life to India's multi-faceted culture. Platforms like MTV India Music Summit are most pertinent in placing India in its rightful place on the global music map."
Ratan Kant Sharma, Chairman and Managing Director, Triton Hotels and Resorts Pvt Ltd –Owner -Fairmont Jaipur says, "Fairmont Jaipur is happy to be the venue of choice for the third consecutive time for the largest music festival in the country. Traditional music has always been celebrated at Fairmont Jaipur and through this delightful integration we see a symphonic blend of lifestyle, luxury and culture with our palace property. The three-day summit will be an ideal occasion to raise a toast to our culturally rich country with well-renowned musicians and singers in the past and present. We look forward to driving all music aficionados to the Pink City and offering an impeccable hospitality experience to our guests."
Raymond MTV India Music Summit 2019 #EkSachchaSur by Musiconcepts is proud to have on board a host of sponsors & partners including Vedanta, Volkswagen, McDowells No.1 Soda, Rajasthan Tourism, Maggi, Mawana Sugars, Nescafe Gold, Bikaji and Indian Oil.Our partners include media partner, NDTV and
patron, Patrika Group in addition to Air India, Red FM, Incredible India & Sangeet Natak Akademi.