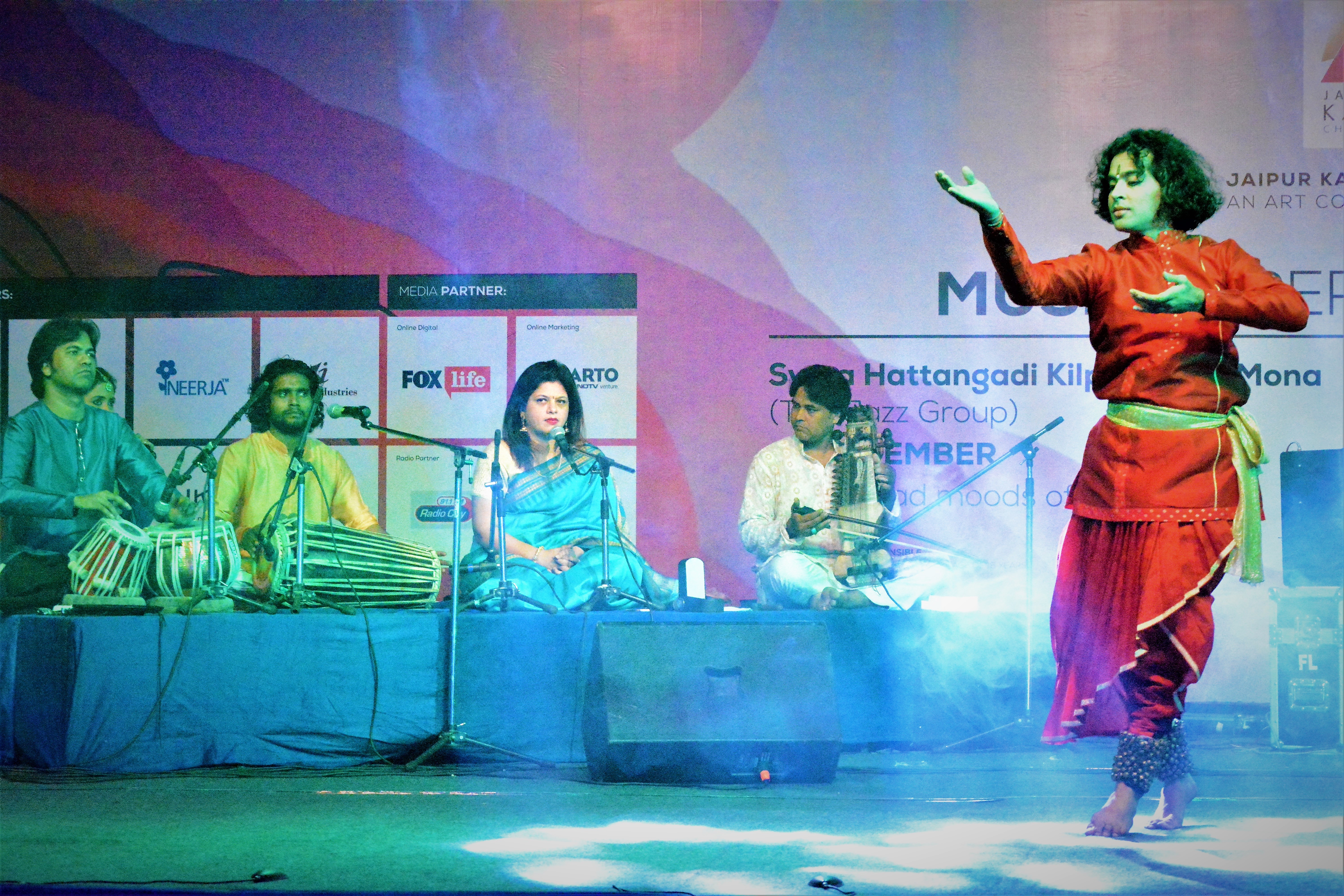 Press Release
After the 10 day residency of India's premier art festival — Jaipur Kala Chaupal — artists and delegates let their hair down at a gala musical night on 1 November at Diggi Palace. Keeping in mind the theme of the Chaupal – 'Confluence, Collaboration and Conversations' — the evening saw fusion music performances along with a scintillating dance presentation.
Hindustani classical singer, Sveta Hattangady Kilpady, recited a fusion on the theme 'Myriad Moods of Water'. She was accompanied by live wire Jazz band from New Delhi 'RigMona' and celebrated Kathak exponent Deepak Aurora. The jazz band belted out a dynamic amalgamation of inspiring folk tunes and electronic pop music. Among their band members were Monalisa Rai on vocals, Sailendra on drums, Rigden Yolmo playing bass and Mingma Lama on guitar.
It is to be noted that Sveta Hattangady Kilpady started training from the age of 3, under the guidance of Pandit Jialal Vasant. She has also taken training under Smt. Manik Bhide – the distinguished artiste and teacher of Jaipur Atrauli Gharana . Deepak Aurora is a fine Kathak dancer and has been trained under the able guidance of Pt. Rajendra Gangani ji of Jaipur Gharana.
About Jaipur Kala Chaupal
Jaipur Kala Chaupal is envisaged as a premier art festival to be held annually in Jaipur, India. It is a unique platform that is designed to integrate traditional arts of India with contemporary art forms that exist internationally. The core purpose of the festival is to align traditional arts/artists in India and give them continuity in the contemporary world. It is also designed to provide a unique opportunity to the established as well as emerging artists from various countries to explore the soul of art in India and be a catalyst for newer and original collaborative artistic expressions.