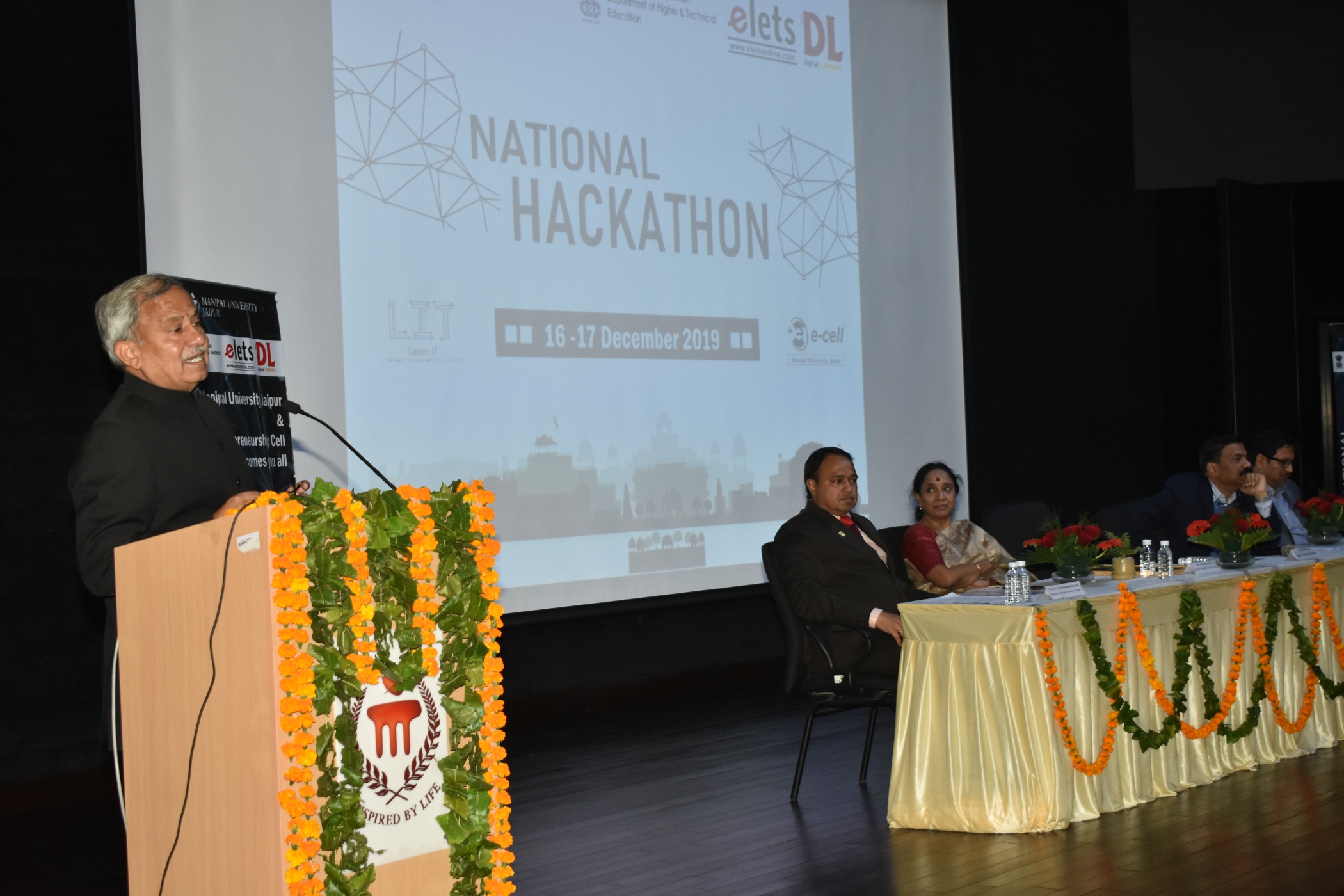 Press Release
The largest offline 'National Hackathon' began atManipal University Jaipur (MUJ) . As many as 524 students and 130 teams from 17 States are participating in the final round of the Hackathon. On the occasion, Rajasthan Chief Minister, Shri Ashok Gehlot interacted with the participants via video conferencing. He said that the progress we have made in science and technology , would not have been possible if not for Pandit Jawahar Lal Nehru's ideology, scientific temperament and farsightedness. Similarly, 20 years back if the Government had not allowed privatisation of the education sector, we would not witness the current growth in the educational environment. However, there is still a long way to go and the Rajasthan Government intends to make further progress in higher education, job placements and much more.
The event is being jointly organized by Manipal University Jaipur, Department of Higher and Technical Education- Govt. of Rajasthan and Elets Technomedia Pvt. Ltd.
The Chief Minister further said that it is a matter of immense satisfaction that Rajasthan Government Colleges have started their own coaching centres. This facility has benefitted 50,000 students. It is a major sign of development in the education sector. He further said that education and healthcare are two areas that should not be developed for the sake of profit it should be a service. For this to happen the society need to think together and come up with solutions.
Minister of Technical Education, Government of Rajasthan Dr. Subhash Garg said that 524 students and 130 teams have been formed to participate in the final round of the Hackathon. The students will be receiving prize money for first prize Rs. 1,00,000; second prize Rs. 75,000 and third prize Rs. 50,000.
In his Welcome Address, President, MUJ, Dr. GK Prabhu said that the current challenge of the education sector is employability. During education there is not much relevance in any educational fields. These issues are being addressed by events like this National Hackathon. It is a part of the bigger celebration of the 3rd Higher Education and HR Conference in Rajasthan. During the Hackathon, the students will find solutions to problems related to healthcare, agriculture, water technology, rural livelihood, road safety and smart city innovations.
Additional Collector, Dr. Ashok Sharma; Secretary, Higher & Technical Education. Ms. Suchi Sharma; Pro President, MUJ, Dr. NN Sharma; Registrar, MUJ, Dr. H. Kamath were also present on the occasion.
It is to be noted that the National Hackathon will help inculcate a culture of product innovation and problem-solving, wherein participants must build a prototype/deploy applications/hardware on a problem statement. The students will also receive mentoring support from mentors from industry and start-ups), throughout the event and undergo two rounds of assessment.