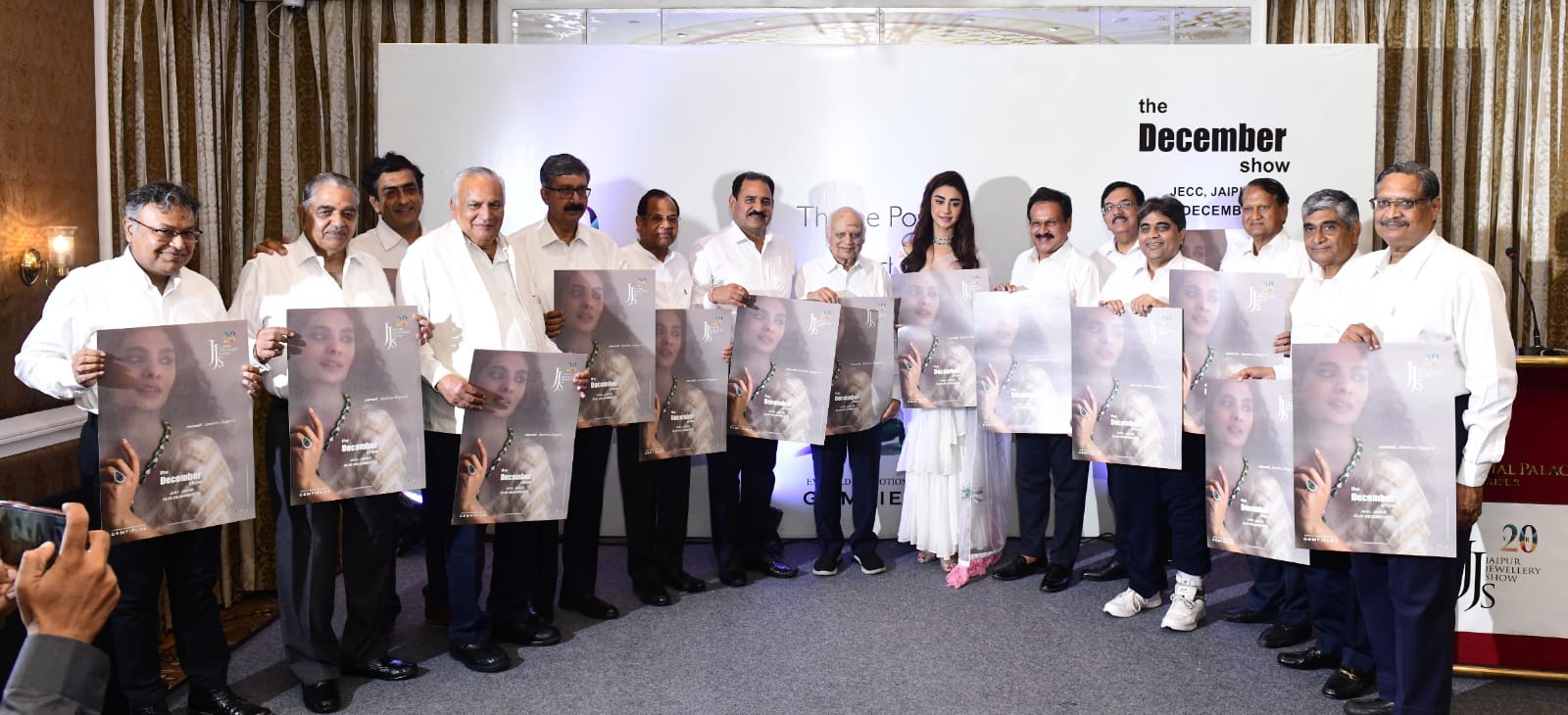 Press Release
The Jaipur Jewellery Show (JJS 22) Theme Poster was launched by the well known model and actress Mahek Chahal at the Hotel Jai Mahal Palace. The theme this year is 'Emerald 's timeless elegance'. On this occasion, the Emerald Promotion Group too was launched. This was in the presence of the Organising Committee of the JJS as well as a number of other well known jewellers. Mahek Chahal said at the event that it is indeed an honour and privilege to be the Brand Ambassador of JJS. She said that she was so happy to be in Jaipur, the city renowned in the world for its absolutely scintillating jewellery and coloured gems. She also said that she looked forward to come again to Jaipur for an exclusive photoshoot and also be present at the well known December show of JJS.
On the occasion, Chairman of the JJS organising committee, Vimal Chand Surana said that we have come a long way when we had just 67 stalls in 2004. Last year we had over 800 stalls.
Honorary Secretary of JJS, Mr. Rajiv Jain said that this year JJS will have a record 900 booths as well as 500 exhibitors. Each year we expect 35,000 – 40,000 visitors as well as international traders, he said. He also informed that this year there will be a Pink Club which will have 50-60 booths for B2B interaction.
Later the 12 members of the Emerald Promotion Group were presented a certificate by the Brand Ambassador, Mahek Chahal. The show was conducted by the JJS Joint Secretary and Spokesperson, Mr. Ajay Kala who said that JJS continues to be number 1 B2C, and number 2 B2B show in the country. The JJS December show will witness new dimensions for increasing the trade.