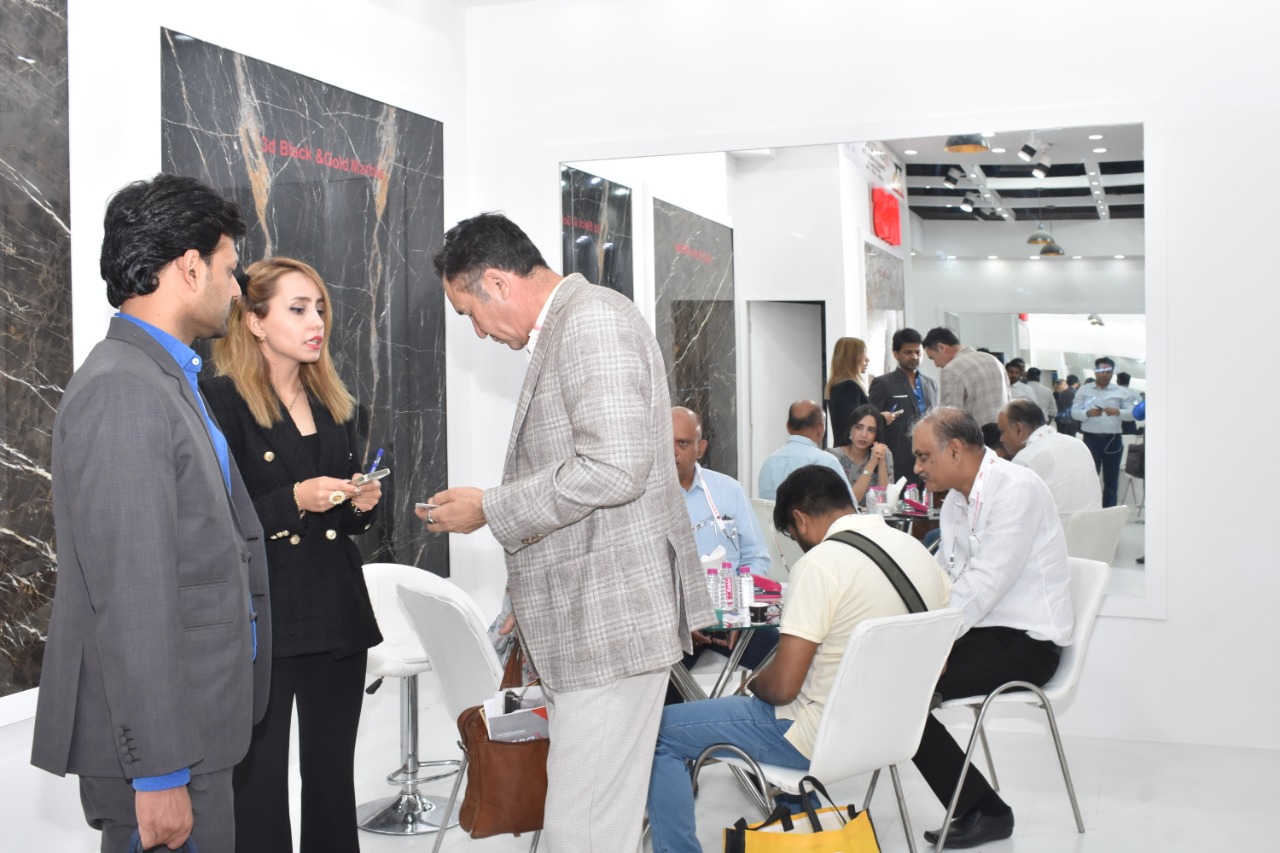 Press Release
The ongoing India Stonemart 2022 is receiving tremendous response from business visitors from India and abroad. International business visitors from as many as 19 countries have participated in B2B meetings.
Furthermore, it has several centres of attraction for both, the members of the trade fraternity as well as visitors. From the display of artisanal products at Shilpgram, stones and marbles from foreign countries to stone processing machinery, there is a lot for members of the industry as well as visitors to see at the expo. Students of architecture and budding architects are also participating with enthusiasm in the 4th Jaipur Architecture Festival happening at the Mart. The 11th edition of India Stonemart is being organised by Rajasthan State Industrial Development & Investment Corporation Ltd. (RIICO), Centre for Development of Stones (CDOS) and Federation of Indian Chambers of Commerce and Industry (FICCI).
Stone artisans and craftsman display their art at Shilpgram

As many as 30 stone artisans and craftsmen from across the country have been allotted a place to display their art at the special zone 'Shilpgram' created by CDOS in association with Rural Non Farm Development Agency (RUDA) Over the years Shilpgram has become one of the major attractions of the Mart. Decorative items made from various stones are on display here. These include sculptures, lattices, 'jharokhas', lamps, pen holders, stone paintings and fountains. Visitors are not only showing interest in seeing them but are also buying them.
Idols of Ganesh and Hanuman made by Pappulal Sharma of Jaipur are on display. These marble idols have been given an ornamental look through expert gold work. Emboss work of marble handicraft is being displayed by Hansraj Prajapat. Planters made by Jaipur-based artist, Sunil Jangid are also being particularly liked. These special creations have been made by giving shape to the natural stone that has come out of the ground. Sunil said that factory waste sandstones are tumbled and shaped, which are completely eco-friendly. Paintings and murals made of natural stone layers are also displayed here. These have been made through mosaic art, in which small pieces of stones are combined and given different shapes.
While decorative items made by Hansraj Prajapat with emboss work are displayed, gemstone paintings by award-winning artist, Sunish Maru are also showcased. These paintings on various subjects have been made from colourful gemstones without using paint, colour and brush. Fountains, Jali, Jharokha and modern art made from sandstone by Ramprasad Saini of Sikandra are also on display. Similarly, Khaleel Ahmed's inlay art is also well-liked, in which attractive designs have been created by adding semi-precious stones through handwork. Through this, the beauty of inlay craft has been realized by Khaleel Ahmed. In this, beautiful table tops and other creations have been prepared by adding semiprecious stones through handwork.
Shilpgram is proving to be a platform for artisans to forge direct business links with buyers and provide them with necessary exposure. Here, they are showcasing their skills and workmanship to the visitors.
Day 2 of Jaipur Architecture Festival

On day 2 of the 2-day Jaipur Architecture Festival being held at the India Stonemart in JECC, the Keynote Address was delivered by Dhaka based architect, Rafiq Azam. He said that water is the protagonist in our landscape. Human life exists in a fine line balance with water, light, and greenery and is lost when there is separation from these fundamental elements. Architects play an important role in restoring this equilibrium, added the speaker. The architect also showcased many of his projects to demonstrate this belief. A short film on a redevelopment project in Dhaka – Rasulbagh Children's Park — carried out by his architectural firm Shatotto was also shown. A vacant plot in the heart of Dhaka was transformed into a full fledged community centre with greenery used as a boundary and a hidden water recovery and filtration system. Giving a word of advice to the young architects and students of architecture, he said that is of paramount importance to keep updating one's knowledge based on the requirements of the future.
Later technical sessions on 'Green Washing V/S True Sustainability', 'Walk the Talk: Saga of Rich Vernacular Architecture with Local Stone' were also held.
Foreign stones, marbles, machinery on display

There are three international country pavilions as well at the 11th India Stonemart. These include those of Turkey, Iran and Portugal. While the Portugal pavilion is showcasing natural limestone in as many as 26 colours, the Turkey country pavilion has natural marbles from Turkey in a variety of textures and colours. There is also a display of Turkish machinery and technology such as Bridge cutting machine, Edge polishing machine, Edge moulding machine, CNC machine, Terazzo processing lines, among others. The Iran Pavilion also has diverse products from Iran such as marble, granite, limestone etc. on display.
The machinery area has on display a number of machines such as hydraulically operated crawler drill, tilting trolley excavation, hard granite cutting machine, excavators, among others.