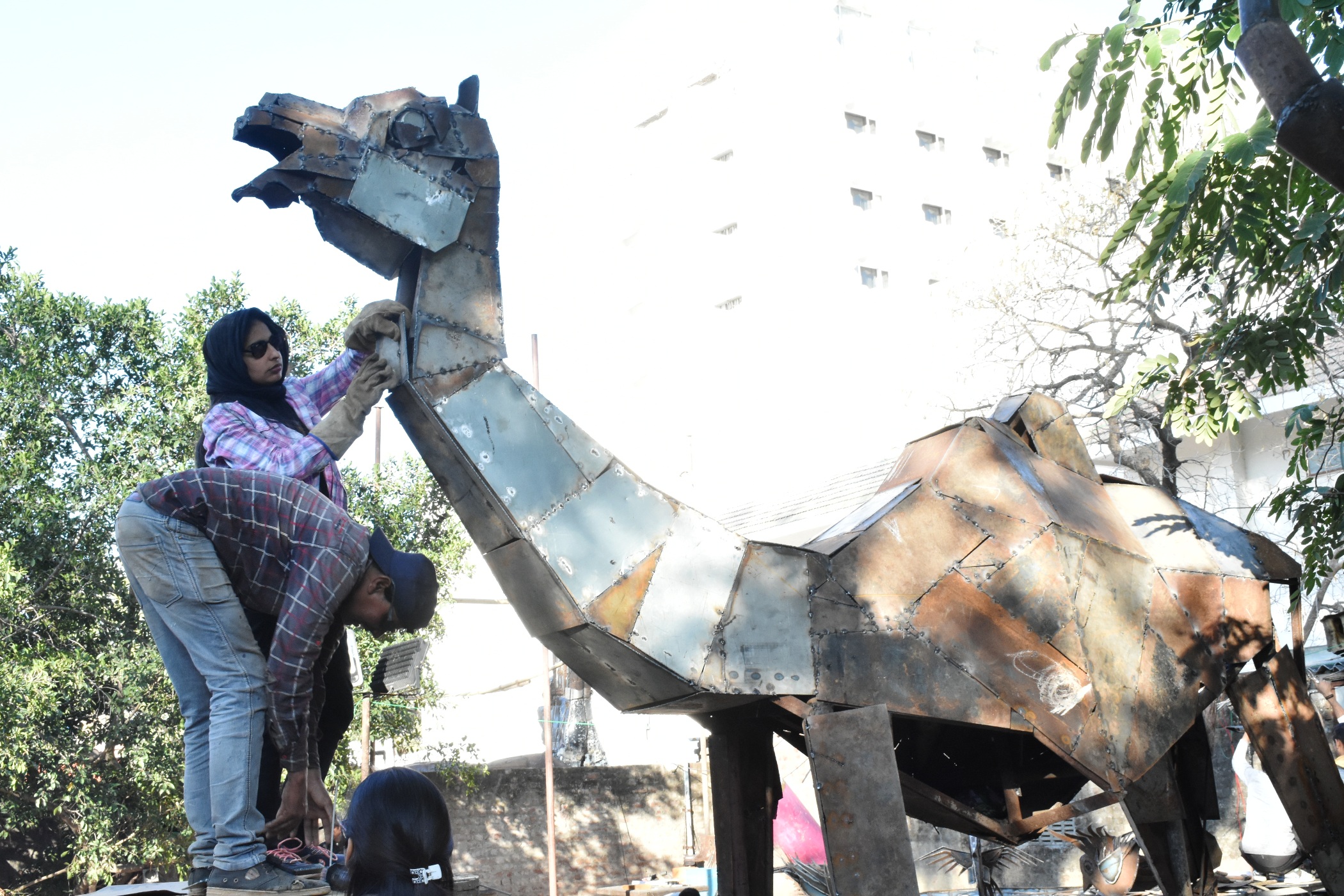 Press Release
In a record-breaking period of 10 days as many as 10 larger than life scrap metal sculptures have been readied by talented artists at Hotel Clarks Amer as a part of the All-India Scrap Metal Art Symposium. The event has been organised by Help In Suffering to commemorate 40 years of 'helping suffering animals and all living things'. Ten artists from around the country created large sculptures of Indian animals and birds to raise funds for the charity through a round-the-year online international auction.
Sunny Shridhar from Surat has created a 12-ft Stallion running atop a Rajasthani fort. The piece weighs 1500 kgs. Ratan Saha from Mumbai crafted a Bull weighing 500 kgs and 6 ft in height. Popular artist from Jaipur Ankit Patel has showcased the power of cat with a sculpture inspired from three of his own cats. Artist, Hansraj Chitrabhoomi from Jaipur has made a Camel standing tall at 14 ft and weighing 1500 kgs.
Similarly, Padmini Sinh Chouhan from Ahmedabad has crafted an Owl which is 14 ft tall and weighs 1000 kgs. Artist-duo, Ritu Singh and Surya Singh from Jaipur have made a Shadow Puppet Dog. Other artists include – Appalaraju Surakala from Chittor who created Elephant, Prafful Singh from Mumbai who created Rhinoceros, Ramandeep Singh from Punjab who created Flycatcher Bird and Yogesh Prajapati from Punjab who created Pig.
"Art has the power to go beyond cultural barriers and be an instrument for empathy. We are attempting to initiate conversations that matter and build an empathetic, creative community to foster ownership of HIS in the city and raise funds locally for us to sustain our efforts for the next 40 years"said Managing Trustee, HIS, Jaipur, Ms. Timmie Kumar while sharing details of the festivities.
Help In Suffering (HIS) is a leading animal welfare charity of India that is responsible for keeping Jaipur rabies free for the last 12 years and controlling the city's street animal population through its Animal Birth Control Programme, which is recognized around the world for the good work it has done for 25 years. The HIS Animal Rescue Programme treats 35-40 cases every day.
As it enters its 4th decade, HIS continues to work tirelessly towards improving services, but owing to the substantial cost of medical equipment, it has been unable to upgrade resources. It is desperately short of some life-saving and diagnostic tools, commonplace in most hospitals but unavailable for animals. However, it forges ahead, undaunted, to provide the best it can.
____________________________
About Help In Suffering: Help In Suffering (HIS) is a registered Indian charitable trust working for the benefit of animals in India. Founded in 1980 by British animal lover Ms Crystal Rodgers to help suffering animals and all living things, the veterinary hospital and shelter was established with limited resources in Jaipur, Rajasthan. HIS provides free, quality, emergency medical and surgical care for domesticated and street animals that are ill or victims of traumatic injuries, abuse, starvation and/or abandonment by their owners. It has many firsts to its credit, including the 25-year-old Animal Birth Control, which has made the city Rabies Free for the last 12 years, and the specialist Camel Rescue Centre in Bassi, near Jaipur, to serve sick, old and injured camels.

The organization is run by a team of extremely dedicated and compassionate staff. It has 35 trained staff members, five rescue ambulances and two mobile clinic vehicles to handle sick and traumatized animals. Animal welfare projects are conducted under the guidance of trained vets. The campus provides peaceful surroundings and a serene, green natural habitat for animals to support quick healing.
HIS Jaipur is associated with Help In Suffering, UK; Federation of Indian Animal Protection Organisations (FIAPO); Animaux-Secours, France; Les Amis Suisses du Refuge de l'Espoir, Switzerland; and Working for Animals, Australia.
=========================================================================================