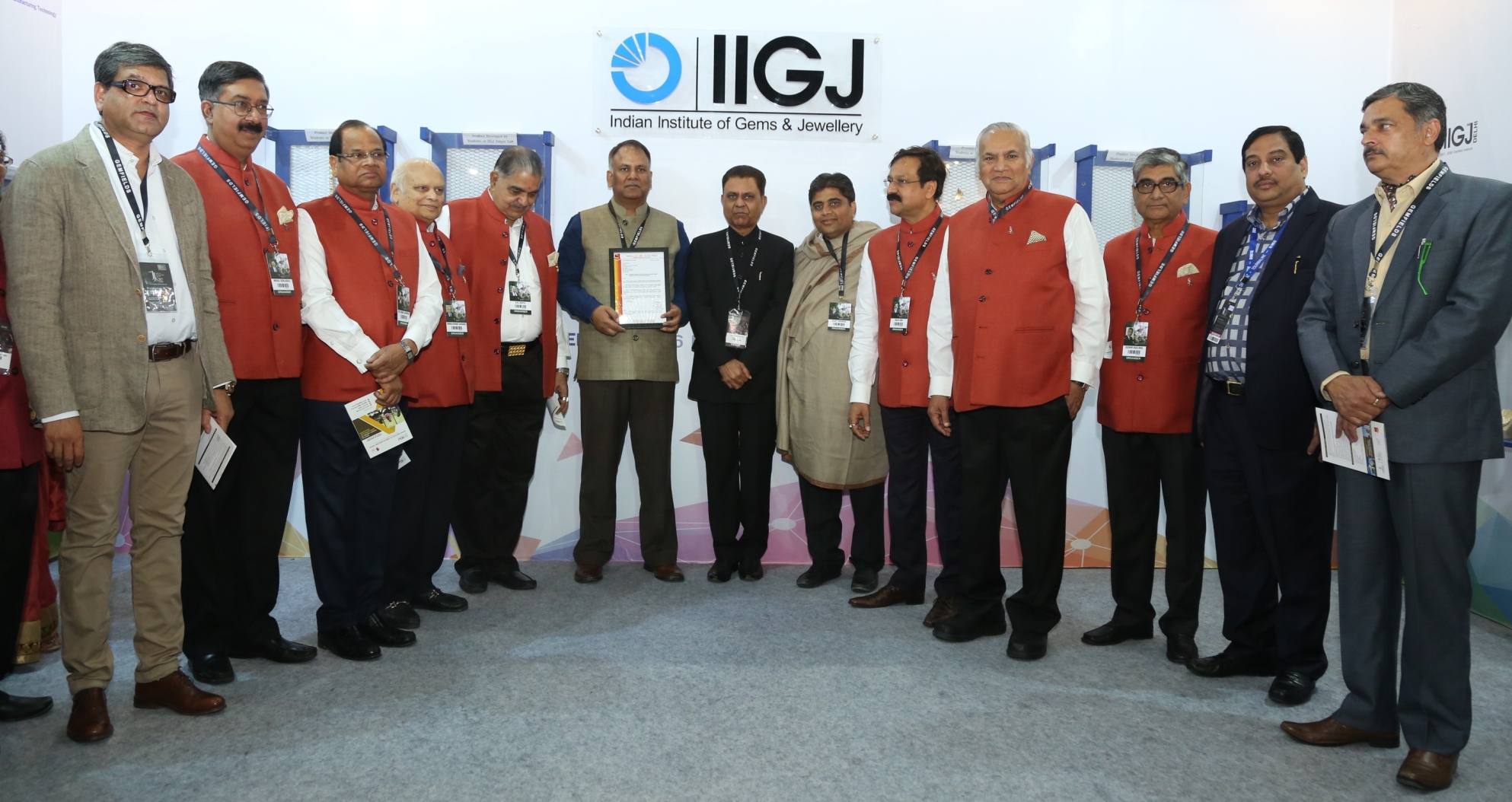 Press Release
Dr. Lalit K. Panwar [IAS- (R)], Vice Chancellor, Rajasthan State Skills University (RISU) presented the provisional affiliation to Mr. Rajiv Jain (Chairman)Indian Institute of Gems and Jewellery Jaipur (IIGJJ) to commence Bachelors And Masters Degree Programs from July 2018 at IIGJJ Jaipur in the presence of eminent Gems and Jewellery trade personalities.
Vice Chancellor Dr. Panwar congratulated all the Directors and team of the institute and shared his vision with all the industry leaders that with this affiliation IIGJJ should march to become the world leader of Gems and Jewellery education. And RISU will nurture and hone the capacity of IIGJJ in all possible ways. Dr. Panwar further stated that soon IIGJJ should start PHD programs for vertical career movement of all the students.
Chairman IIGJJ, Mr. Rajiv Jain expressed his heartfelt gratification for issuing the Provisional Affiliation to the VC and commented that this Affiliation will lay foundation for all future successes of the institute.
Shri. Sudhir Kasliwal, Honorary Secretary IIGJJ considered the Affiliation to be the most important milestone in IIGJJ's history and it will mark the beginning of new era of success and industry service.
Prof. Dhiraj Kumar Principal IIGJJ shared that for the first time in the history of Gems and Jewellery education following 6 programs at Bachelor's and Master's degree level will be commenced from July 2018 under this affiliation at IIGJJ campus. All the Programs are aligned to National Skills Qualification Framework (NSQF).
| | |
| --- | --- |
| Program Name | Duration |
| Bachelor's Degree in Design | 3 Years |
| Bachelor's Degree in Jewellery Production & Manufacturing Technology | 3 Years |
| MBA in Gems and Jewellery Skill based Entrepreneurship | 2 Years |
| Master's Degree in Kundan Meenakari Jewellery Design & Manufacturing | 2 Years |
| Master's Degree in CAD Design | 2 Years |
| Master's in Teachers Training for Gems and Jewellery Sector | 2 Years |
Other eminent trade personalities and IIGJJ Board of Directors who were present during the ceremony were (Mr. Vimal Chand Surana, Mr. Navrattan Kothari, Dr. Nawal Kishore Agarwal, Mr. Nirmal Baradia, Mr. Sunil Jain, Mr. Badrinarayan Gupta, Mr. Mehul Durlabhji, Mr. Ajay Kala, Mr. Alok Kala, Staff and Students of IIGJJ, etc.)
Rajasthan ILD Skills University (RISU) is not a routine University but a 'University with a difference' and the first Skill University by Rajasthan Government to be functional. The university is committed to initiate innovative Skill based job oriented programs which are generally not addressed by other universities due to their policies and framework.
IIGJJ Jaipur is a project of Gems and Jewellery Export Promotion Council, Ministry of Commerce & Industry, and Government of India with support from Government of Rajasthan. It is a pioneer institute for the Gems and Jewellery sector with a strong focus on Design, Technology and Management. It is a Non-Profit organization solely committed to excellence in Education and Training in Gems and Jewellery sector. The philanthropic approach of renowned jewelers of Jaipur along with the Council was instrumental in sponsoring the institute that stands today, as a landmark of elegance & aesthetics. IIGJJ is also awarded as the National 'Centre of Excellence' by Gems and Jewellery Skill council of India. Institute has trained over 9700 students since 2009 in various short and long duration training programs and is a prestigious training partner of NSDC.