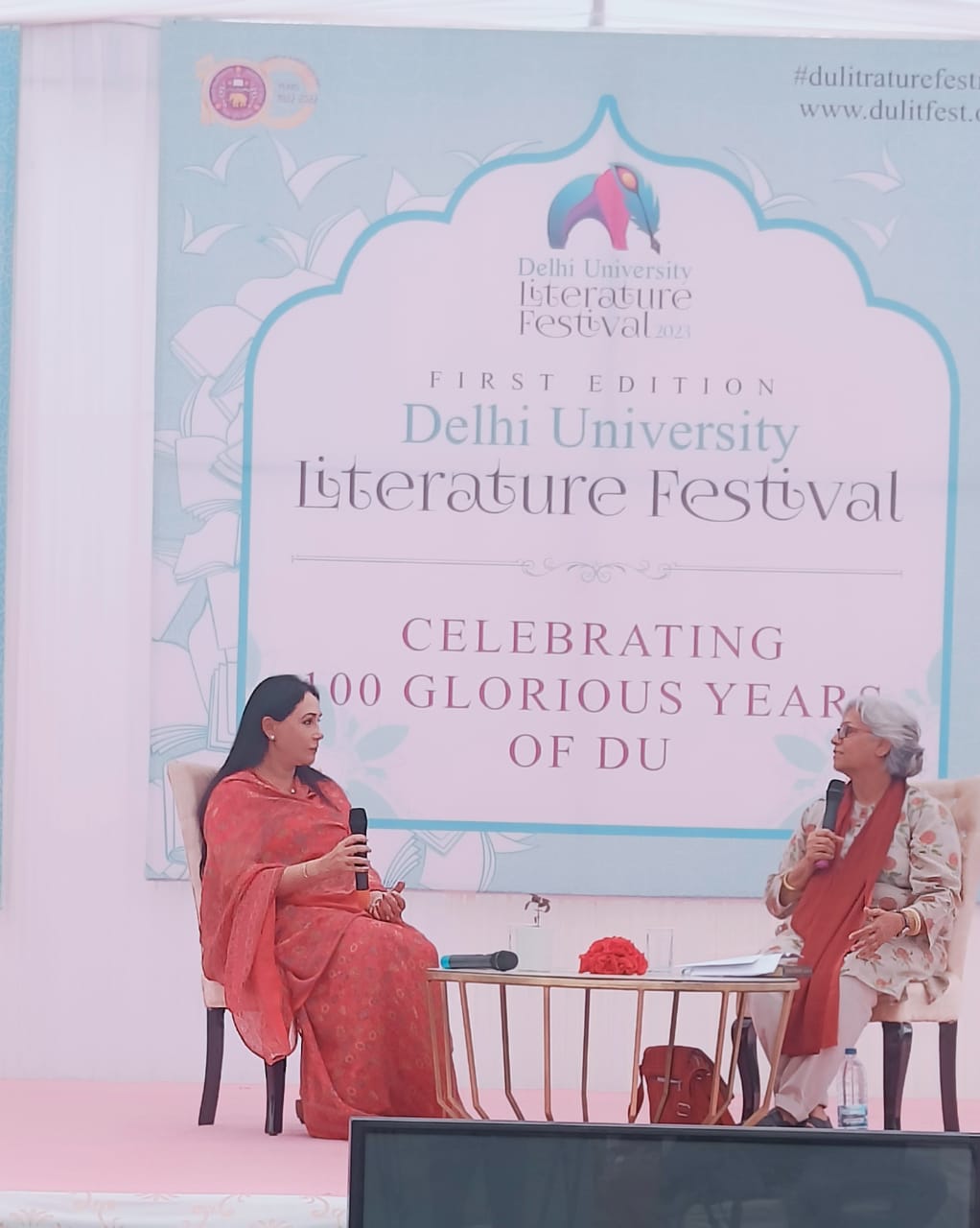 Press Release
Rajmata Gayatri Devi was a role model not only for me but also for many in this country and across the world. Widely Known for her charm and beauty, she was also a beautiful person within. She was passionate about girl education and started schools and sports institutions back in the 1940s, said Rajsamand MP Diya Kumari at DU Lit Fest on Friday.
"She was way ahead of her times, a woman who rode horses, played badminton and tennis, started the golf club and tennis club, and led the change in the lives of girls and women with the full support of my grandfather, Maharaja Sawai Man Singh. I also went to the MGD School started by the Rajmata. There is no denying that she had a strong impression on my growing up years," she said.
She was speaking at the Delhi Literature Festival organized by Delhi University which is celebrating its centenary. She was in conversation with the well-known writer of Jaipur, Dharmendar Kanwar on the late Rajmata Gayatri Devi's memoir, 'A Princess Remembers'
During the conversation, Diya Kumari also spoke about efforts being made to make the Maharaja Sawai Man Singh II Museum one of the premier Palace-Museums of the world. She also said that Princess Diya Kumari Foundation (PDKF), which she has set-up has taken a cue from the late Rajmata, who always encouraged women to take their rightful place in society. PDKF, like her, is upscaling life-skills of rural and urban women and girls, and encouraging self-sustainability.
Rajsamand MP said that the situation for women has progressed for better in many ways, in the last decade under the leadership of PM Mr. Narendra Modi. There's a shift to women- centric and women led development. However, she said that politics has been a male dominated field. In today's time there are only 82 women parliamentarians in the Lok Sabha. There needs to be a strong support system for women to enter politics as it is a very challenging space.
Diya Kumari pointed out that President Dropadi Murmu has set an example for all women out there who aspire to enter politics. Some important portfolios are handled by women ministers-like Nirmala Sitharaman. She expressed her confidence that the Indian women have a bright future in politics and she hoped that India becomes a gender-balanced political leadership.
Diya Kumari congratulated Delhi University for starting the Literature Festival.