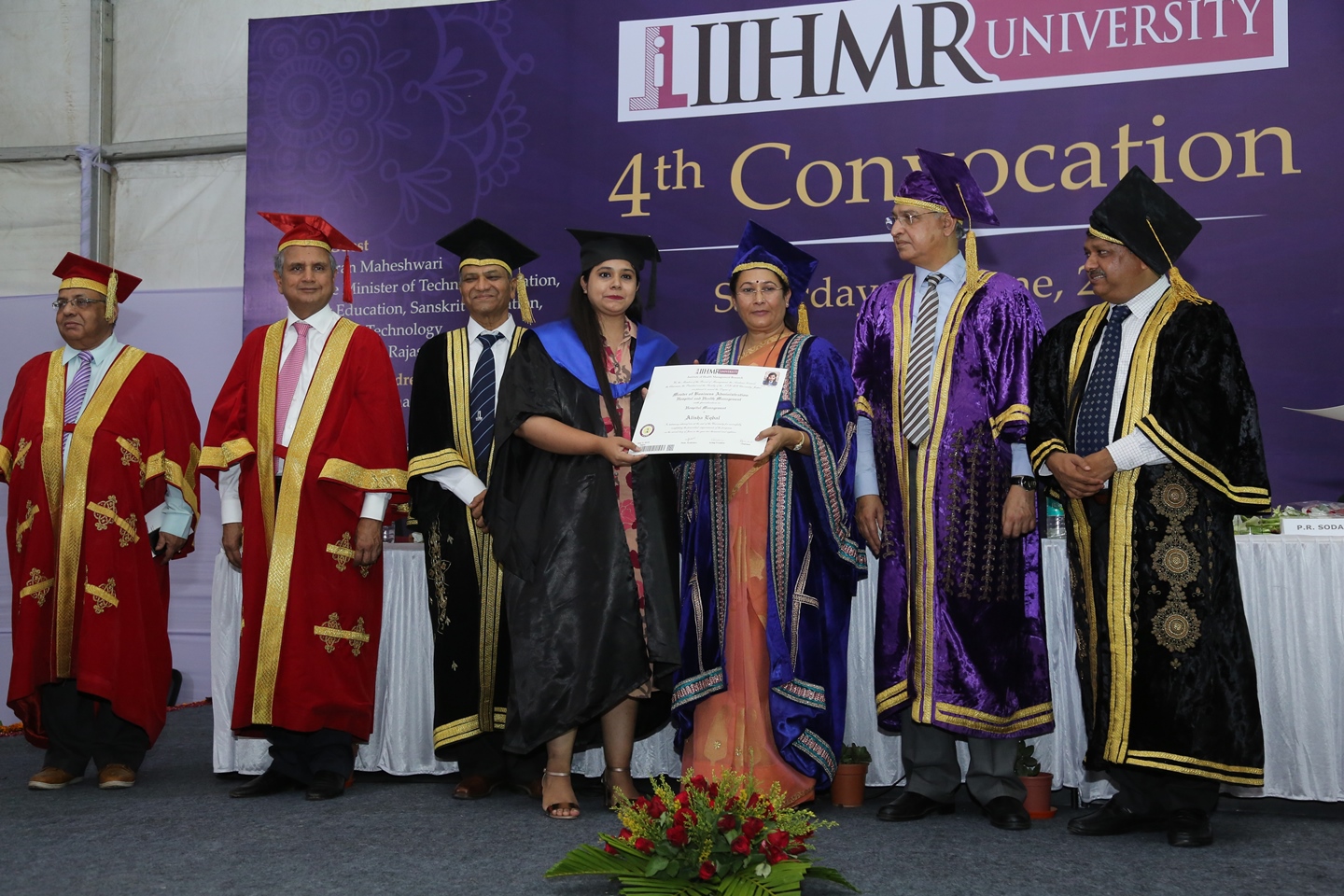 Press Release
"51% GIRLS ARE OPTING FOR COLLEGE EDUCATION IN RAJASTHAN"

– Ms. Kiran Maheshwari
Minister of Higher Education, Government of Rajasthan
Rajasthan Government has taken a major leap in ensuring premium quality education for girls in the State. The State which was earlier known for its poor female literacy rate, today has almost 51% of girls opting for college education in Rajasthan. This was informed by Minister of Technical Education, Higher Education, Sanskrit Education, Science & Technology, Government of Rajasthan, Ms. Kiran Maheshwari. She was addressing the 'Fourth Convocation of IIHMR University' in Jaipur today. Ms. Maheshwari also congratulated IIHMR-U for its continued efforts in expanding into research and connecting with the society and its members.
Outlining the major initiatives undertaken by the Rajasthan Government to promote and enhance the quality of higher education in the State, Ms. Maheshwari said that colleges are now giving more importance to e-classrooms. Out of 250 colleges, 125 colleges are now equipped with e-classrooms. Other than this, library automation now allows students to access a whopping 97,000 e-books and 60,000 e-journals from even remotest areas. In order to promote innovative projects by students, 7 Incubation Centres have been set up at the Divisional Headquarters. A Central Placement Cell has been set up to facilitate job opportunities for students of Government colleges.
Secretary General, Association of Indian Universities, Prof. Furqan Qamar in his convocation address said that India has the largest single system of higher education with nearly 900 Universities, around 40,000 colleges and 11,669 stand-alone higher educational institutions. Similarly, in terms of enrolments, India is the second largest system of higher education with the number of students enrolled already exceeding Rs. 3.57 Crores. Therefore, it is of utmost importance that the Central and State Governments enhance the public investment in higher education.
Founder Trustee, IIHMR-U, Dr. Ashok Agarwal said that India is spending merely 1% of the GDP in the healthcare sectors. Whereas, most developed countries are spending 10% of their GDP in healthcare. There is a major difference which needs to be bridged. The Government needs to expand the health sector budget in order to manage the huge demand. The health infrastructure of the country needs to be strongly built in both the private and public sector. IIHMR-U is already making concerted efforts towards fulfilling this gap by offering a wide variety of innovative courses in healthcare.
Chairman, IIHMR-U, Dr. SD Gupta said that it is important to be optimistic and derive happiness by helping others. Creating a roadmap for yourself and continuously learning and updating your knowledge will help in enhancing personal as well as professional development.
Acting President, IIHMR-U, Dr. P.R. Sodani during the welcome address said that IIHMR –U aims to generate new knowledge and research in the health and development sector. It is the only University in India which is engaged in training, teaching, capacity building and research. The University is also engaged in over 10,000 international and national research projects.
Earlier the programme began with the traditional ceremony in which the University dignitaries marched together wearing traditional academic dresses. This was followed by lighting of the lamp and Saraswati Vandana. As many as 200 students were conferred with their degrees in Hospital & Health Management, Rural Management, Pharmaceutical Management and Master in Public Health.  The gold medal was received by Ms. Aditi Chopra (Hospital Management); Mr. Navjot Kaur Arora (Pharmaceutical Management); Ms. Shaily Jain (Rural Management and Mr. Santosh (Master in Public Health).
On the occasion, the welcome address was delivered by Dean, Academics, IIHMR-U, Dr. Ashok Kaushik. Also present on the occasion was Registrar, IIHMR-U, Dr. Gautam Mukherjee and members of the staff.