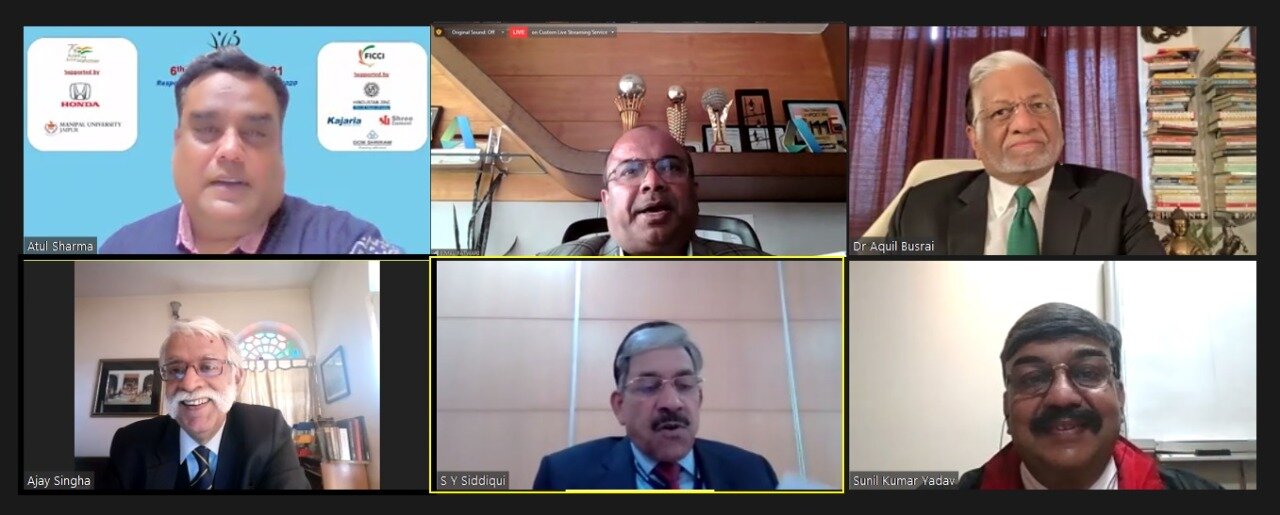 Press Release\
Press Release
6th HR Summit organized by FICCI Rajasthan State CouncilThemed on 'Respond, Recover, Thrive: Vision 2030'

With the objective of discussing the latest HR strategies and changing role of HR in the wake of the new normal, the 6th HR Summit was organized by FICCI Rajasthan State Council on a virtual platform. The theme of the summit was 'Respond, Recover, Thrive: Vision 2030'. The Keynote Address on the occasion was delivered by Executive Advisor, Maruti Suzuki India Ltd, Mr. S Y Siddiqui. In his address, Mr. Siddiqui highlighted four global megatrends — Purpose over Process; Re-skilling; Continual Transformation and Collectively Deleting the Past. He said that these trends also define leadership and its character, content and intent. 

Throwing light on the transformation seen in leadership in the past few years, Mr. Siddiqui pointed out that one can witness a rise in compassionate leadership with a special focus on empathy as well as the mental and physical well-being of employees. Furthermore, there is also an increasing trend of 'Purposeful Leadership', which is marked by a shared goal with the employees, and Distributed Leadership wherein there is decentralization of authority and empowerment of the team at various levels. 

In his special address, CEO, Pinnacle Infotech, Mr. Bimal Patwari said that for a long time the HR Department was characterized as the "Personnel Department". However, in the past few decades, there has been a shift and today employees are treated as valuable resources of an organization. This has transformed the role of HR and they are more focussed on facilitating a work-life balance for employees. 
Highlighting the mindset of today's youth, Mr. Patwari said that they are not just concerned with making money. They also focus on aspects like personality development, knowledge building, career growth, well-being, among others. Owing to the Covid-19 pandemic, an increasing trend of flexibility in working in terms of 'Work from Home' and Remote Working can also be seen, added Mr. Patwari. 

To set the context of the discussion, CEO, Aquil Busrai Consulting, Mr. Aquil Busrai delivered the Theme Address. He said that now Technology-Managerial Skill will play a bigger role than ever and as a result, younger people will be seen in positions of leadership. There will also be a reconstitution of manpower and women will also increasingly be seen in positions of responsibility and accountability, owing to the flexible working regime seen in Covid-19. The HR Department will have to play an active role in shaping the company's business and growth, added Mr. Busrai.
Earlier in his Welcome Address, Chairman, FICCI Rajasthan Sub-committee on HR, Skills & Education and Advisor, Honda Car India Ltd, Mr. Sunil Kumar Yadav said that to thrive in the constantly ever-changing business environment, organisations need to acclimatize to changing and competitive surroundings. Therefore, Human Resources demand a thoughtful approach in terms of strategy, leadership and enhanced capabilities to influence the overall business performance and stakeholders. 
The Vote of Thanks on the occasion was proposed by Advisor, FICCI Rajasthan State Council, Mr. Ajay Singha. 

Plenary Sessions
The virtual conference also had two knowledgeable plenary sessions addressed by industry leaders . The first session was focused on the 'Evolving role of HR in contemporary world : Vision 2030'. It focused on ideas such as balancing engagement and innovation among teams, HR strategies for anticipated crisis and new normal, employee engagement and mental health, among others. The session saw the participation of Chief Human Resource Officer, Hindustan Zinc Ltd, Mr. Mr Ajay Kumar Singhroha; Advisor – HR (Global Business), JK Tyres & Industries Limited, Dr Vijay Deshpande and Vice President & Head HR – Global Delivery, Infosys, Mr. Santosh Panpaliya. The session was chaired by President, Bhartiya Skill Development University, Dr Achintya Choudhury.
The second plenary session was on 'Reinventing Talent Strategies for future Workforce'. It focused on themes like Digital, data and disruptions: Predicting the next HR-led approach for business; Skilling, re-skilling and multi-skilling; Architecting the Future of Work landscape and Rejuvenate HR: Decoding the New Ecosystem. The panellists of the session were President, Manipal University Jaipur, Dr GK Prabhu, President & CHRO, DCM Shriram, Mr Sandeep Girotra and Vice President & Head – Corporate HR, Genus Power Infrastructure Ltd, Mr Arjya Kumar Mishra. The session was chaired by Vice-Chancellor, Jaipur National University, Dr R L Raina.