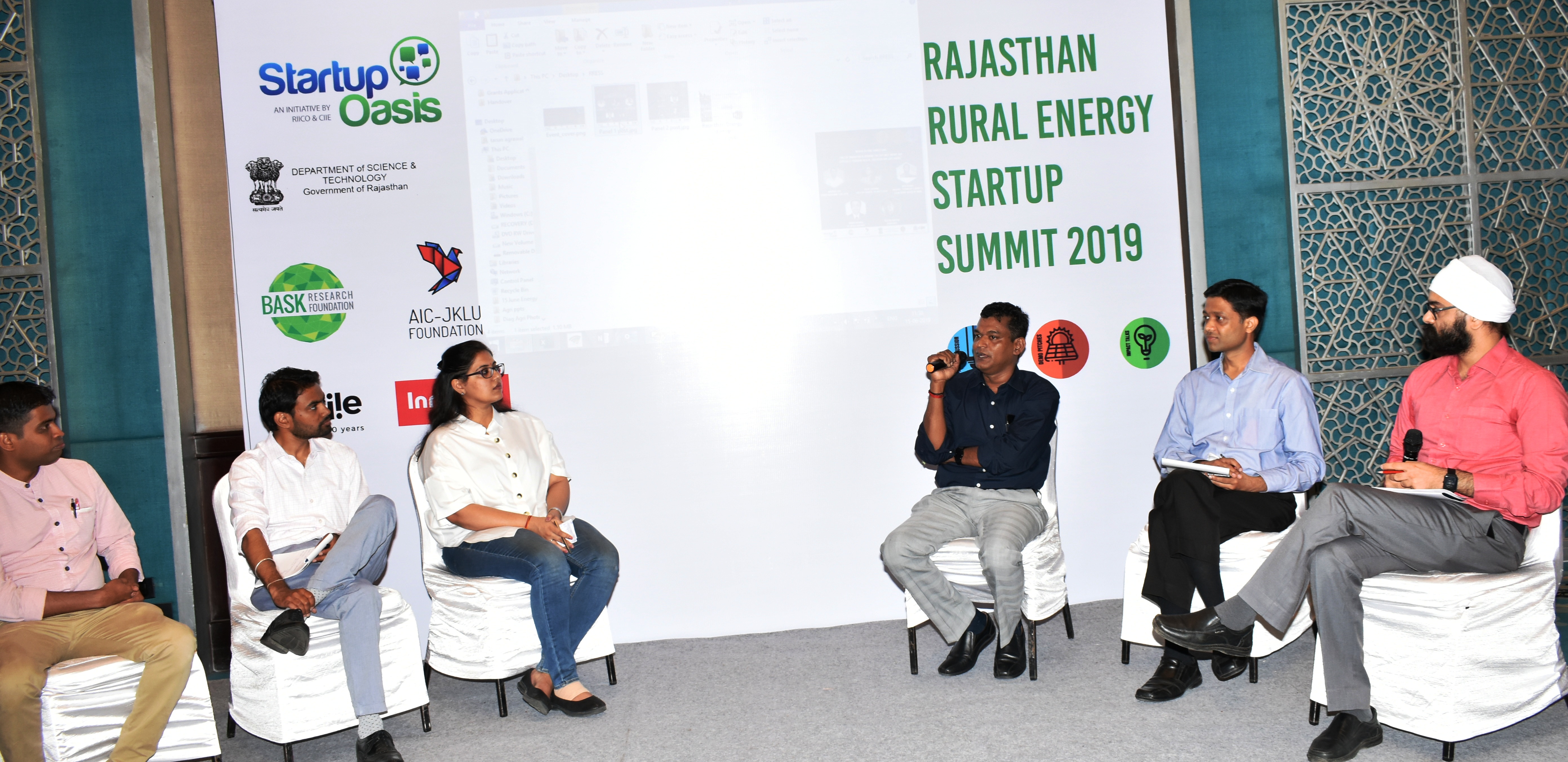 While electrification of households in rural areas is the primary need of the hour, it is also imperative to diversify rural energy. Increase in productivity, energy efficiency, reducing and recycling waste, refrigeration, cold storage and transportation, among others should also be focused on. This was stated by  Director, Department of Science and Technology, Government of Rajasthan, Mr. V Saravana Kumar while delivering the Keynote Address at the Rajasthan Rural Energy Startup Summit . The day long summit was organized by Jaipur based incubation center Startup Oasis with the support of  Department of Science and Technology, Government of Rajasthan.
Mr. Kumar further said that startups should focus on Hybrid and Micro power generation as well as distribution. One needs to move beyond solar energy and utilize wind energy as well as energy through by products of agriculture such as soyabean husk, which is lying waste in large numbers in the Baran area of Rajasthan. While addressing a panel discussion at the Summit, Mr. Kumar also laid emphasis on the need for a certification and standardization for products of start ups.
Earlier in his introductory address, the CEO of Startup Oasis, Mr. Chintan Bakshi said  that the objective of the Summit is to foster innovation in the energy sector in Rajasthan. He further informed that the summit is the culmination of a 3 month accelerator programme with Department of Science and Technology wherein 5 startups were mentored and their operational as well as financial plans were developed.  
Representatives of the program partners – Bask Research Foundation and Atal Incubation Centre, JKL University were also on present on the occasion.
PANEL DISCUSSION
A panel discussion themed on 'Moving Beyond Connections: Role of Innovation in Bridging the Last Mile Energy Gap' was also held. In the discussion moderated by Mr. Simran Grover of Bask Research Foundation, Mr. Abhishek Jain of CEEW said that significant progress has been made in making electricity infrastructure available in rural households which earlier used to depend on kerosene for electricity. However, challenges like getting electricity in these connections as well as electrification of remaining households in rural areas still lie ahead.
Mr. Nitin Akade of Clean Energy Access Network threw light on innovation that addresses critical energy needs and cited examples of energy efficient dryers, semi automatic textile machinery, sugarcane juicers, among others. He also pointed out the lack of consumer awareness, skilled workforce, financing channels and innovational labs as hindrances.  
Ms. Palak Agarwal of Battighar narrated the story of her venture which works primarily on developing technological innovations for enhancing livelihoods and promoting them through local entrepreneurs to bridge socio-economic gap. 
Mr. Vibhor Dhanuka of Infuse Ventures highlighted the three broad categories of investors for startups – Angel Investors, Venture Capital/Impact Funds and lastly, Corporates. Outlining the picture of investors in India, he said that till now there were not many Venture Funds investing in the space of energy. However, now they are emerging as investors in this area. While the Government is supporting incubators and running flagship programmes, the role of banks is only limited to debt funding. 
Later there were also  panel discussions on 'Re-thinking Financial Inclusion and Innovation' and 'Experience Sharing by Startups'. The Startups also pitched in front of investors to raise Seed Funding and also get connected to experts and corporates for business development and value addition.  The Summit concluded with an Open House for all the ecosystem players supporting the startups.