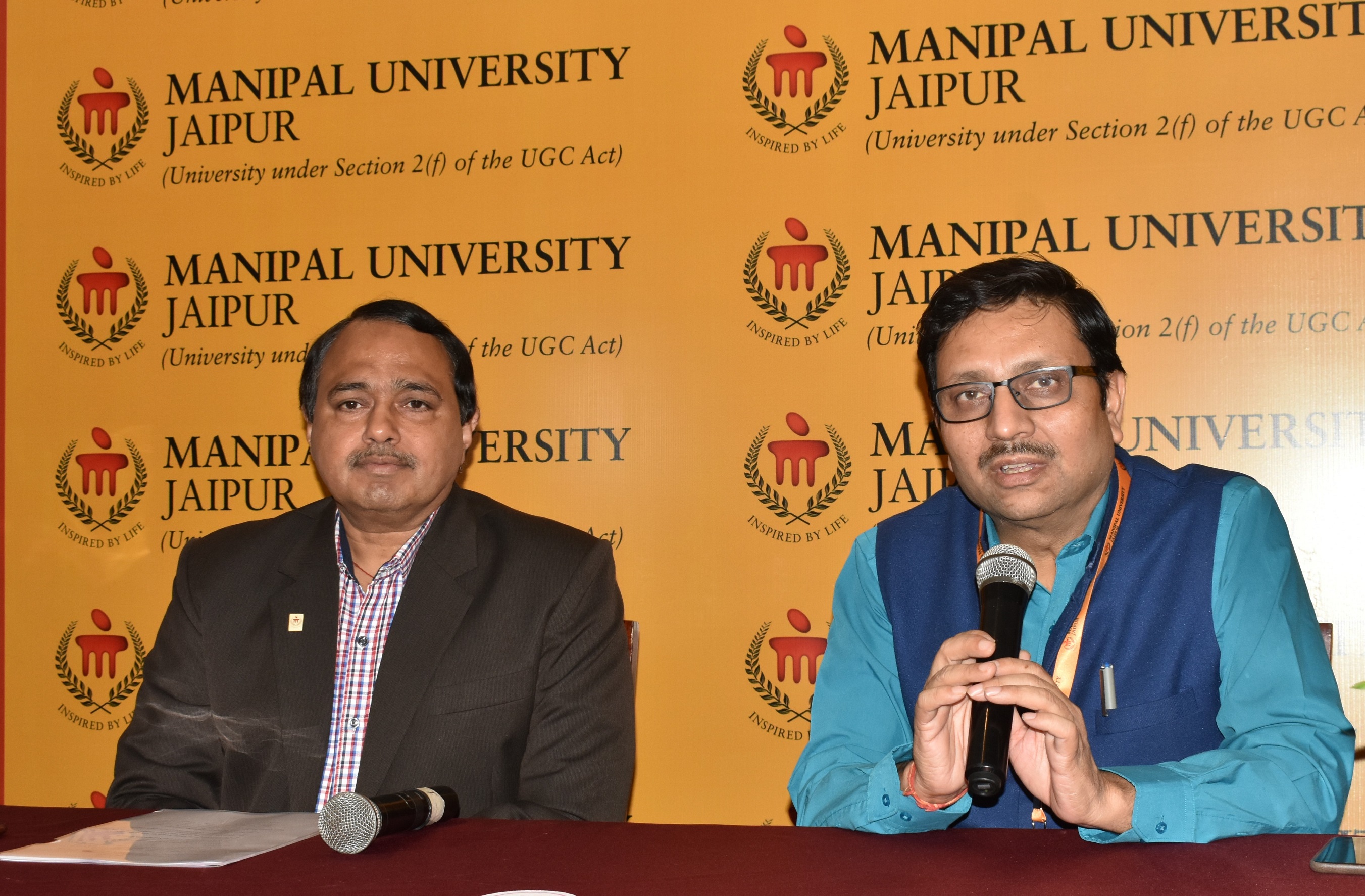 Press Release
As many as 1784 students have met the criteria for being awarded a degree in the academic year 2018-19 and will receive degree certificates at the 6th Convocation of Manipal University Jaipur (MUJ) on 8, 9 and 10 November. The ceremony will be held from 4 pm to 7 pm at the Dr. Ramdas Pai Amphitheatre of the University. Out of the 1784 students, 1642 are of the Undergraduate Category, 115 belong to the Postgraduate Category and 27 have completed their PhD. This was informed by Pro President, MUJ, Dr. NN Sharma at a Press Conference in Jaipur.

Dr. Sharma further informed that on day 1 of the convocation (8 November) the Chief Guest will be Pro Chancellor, MAHE, Manipal, Dr. HS Ballal. On day 2 (9 November), CEO & MD, Partea Medical, Bangalore, Ms. Meena Ganesh will be the Chief Guest and on the concluding day (10 November), Vice Chairman, UGC, New Delhi, Dr. Bhushan Patwardhan will be the Chief Guest. The Chairperson of MUJ, Dr. K Ramnarayan and President, MUJ, Mr. GK Prabhu will also preside on all the days of the convocation.
The Registrar, MUJ, Dr. HR Kamath said that over the course of 3 days, various medal awards will also be given to students. These include the Chairperson's Gold Medal Award for Overall Excellence, President's Gold Medal Award for Excellence in Research, Dr K Kasturirangan Gold Medal Award for Entrepreneurship and Leadership Qualities, Under Innovation Category, President's Gold Medal Award for Extra Curricular Category. As many as 40 Gold Medals for Academic Toppers of respective programmes will also be given away on the occasion.
About Manipal University Jaipur
Manipal University Jaipur (MUJ) was launched in 2011 on an invitation from the Government of Rajasthan, as a self-financed State University. The multi-disciplinary university offers career-oriented courses at all levels, i.e., UG, PG and doctoral and across diverse streams, including Engineering, Architecture, Planning, Fashion Design, Management, etc. MUJ boasts of best-in-class infrastructure, including state-of-the-art research facilities and a modern, digital library.