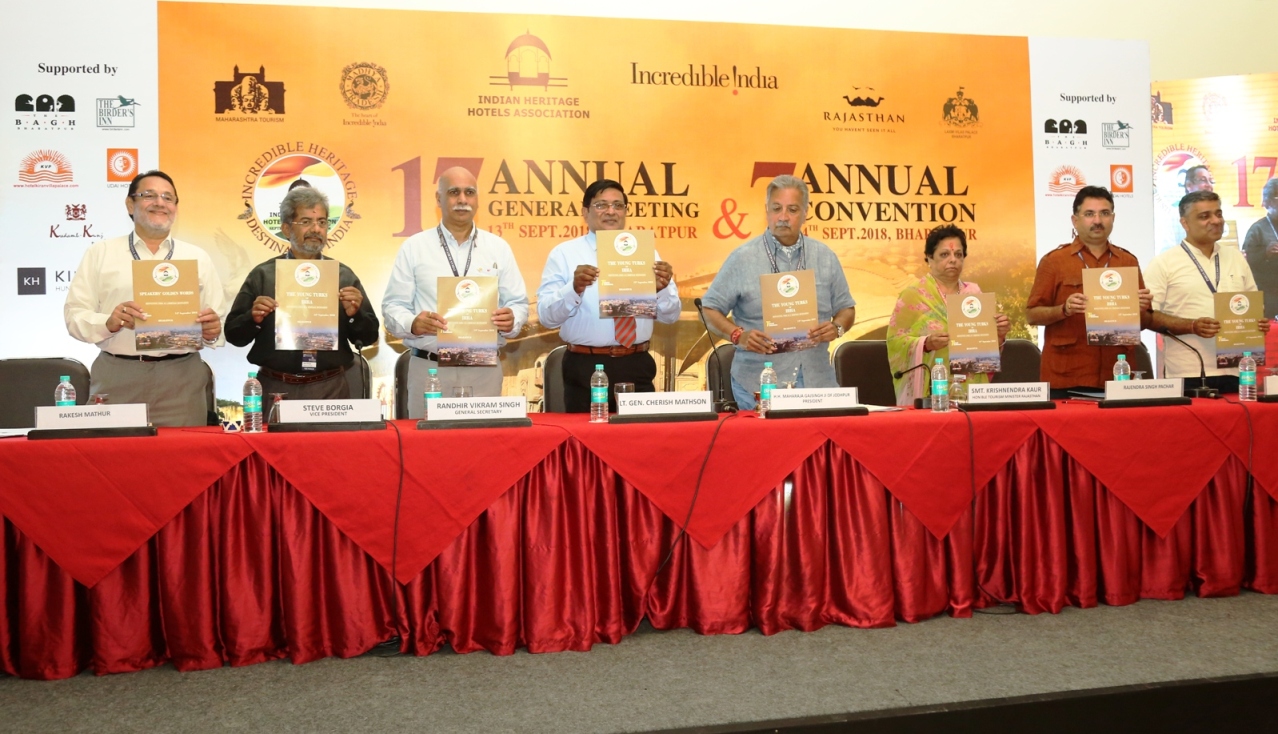 Press Release
"BATTLEFIELD TOURISM HAS IMMENSE POTENTIAL IN RAJASTHAN"
–  Lt. General Cherish Mathson
Army Commander, Southwestern Command
Rajasthan's history is replete with battles which form an integral part of the State heritage and culture. Historical battles attract the interest of the general public owing to their tremendous emotional pull due to displays of bravery and valour. There is a huge bank of people ready to respond positively to battlefield tourism if the right infrastructure to facilitate the same can be developed. This was informed by -Lt. General Cherish Mathson, Army Commander, Southwestern Command. He was addressing a session on 'Battlefield Tourism' at the 7th Annual Convention of the Indian Heritage Hotels Association (IHHA) held at Laxmi Vilas Palace in Bharatpur on Thursday.
Highlighting the required areas to be developed to begin battlefield tourism in the State, Lt. General Mathson said that Battlefield tourism needs to be recognised as a sub-genre or a sub-category of tourism. Battlefield areas need to be made accessible to people and infrastructure such as hotels, transportation, among others need to be established. This unique form of tourism can be started off as a pilot project in Rajasthan proportional to the response. Other than this, a body of educated tourist guides also needs to be created. These guides should be well-versed with the nuances of the various wars and be multilingual to serve as a knowledge source for the tourists.
General also highlighted the war museum of Jaisalmer which attracts a large number of tourists – on particular days even more than the Fort of Jaisalmer. He suggested that battlefields like Longawala can be developed into important centres of tourism. He also touched upon the importance of Haldighati, Chittorgarh and Jodhpur which have witnessed bloody battles showing amazing valour and courage.
Also on the occasion, a newsletter –'The Young Turks of IHHA' was released by all the dignitaries.
Discussion with Next Generation – Heritage Owners
An interesting discussion with the "Next Generation" heritage owners was also held on the occasion. The discussion revolved around what they would do to take their hotels to the next level. Ideas like human resource management, a training institute to for skilling, use of technology and social media to pitch the USP of the hotel to the consumers, how to tackle competition with 'Air BnBs' and growth of the community along with the development of the infrastructure of the hotel, among others were discussed.  One of the panellists, Mr. Lakshyaraj Singh of Mewar presented a different point of view to this topic. He said that the present era belongs to everyone and not any particular generation and one should not be limited to the idea of "Gen Next". Other participants in the discussion were Gaurav Sharma, Abhimanyu Singh Alsisar, Chandni Steve, Sonavi, Shakti Singh and Kanika.
Exhibition
An exhibition featuring various hospitality and industry related products was inaugurated by Tourism Minister of Rajasthan, Smt. Krishnendra Kaur. The exhibition displayed products like hotel toiletries, bedding & linen, air cooling systems, commercial cooking equipment, etc.