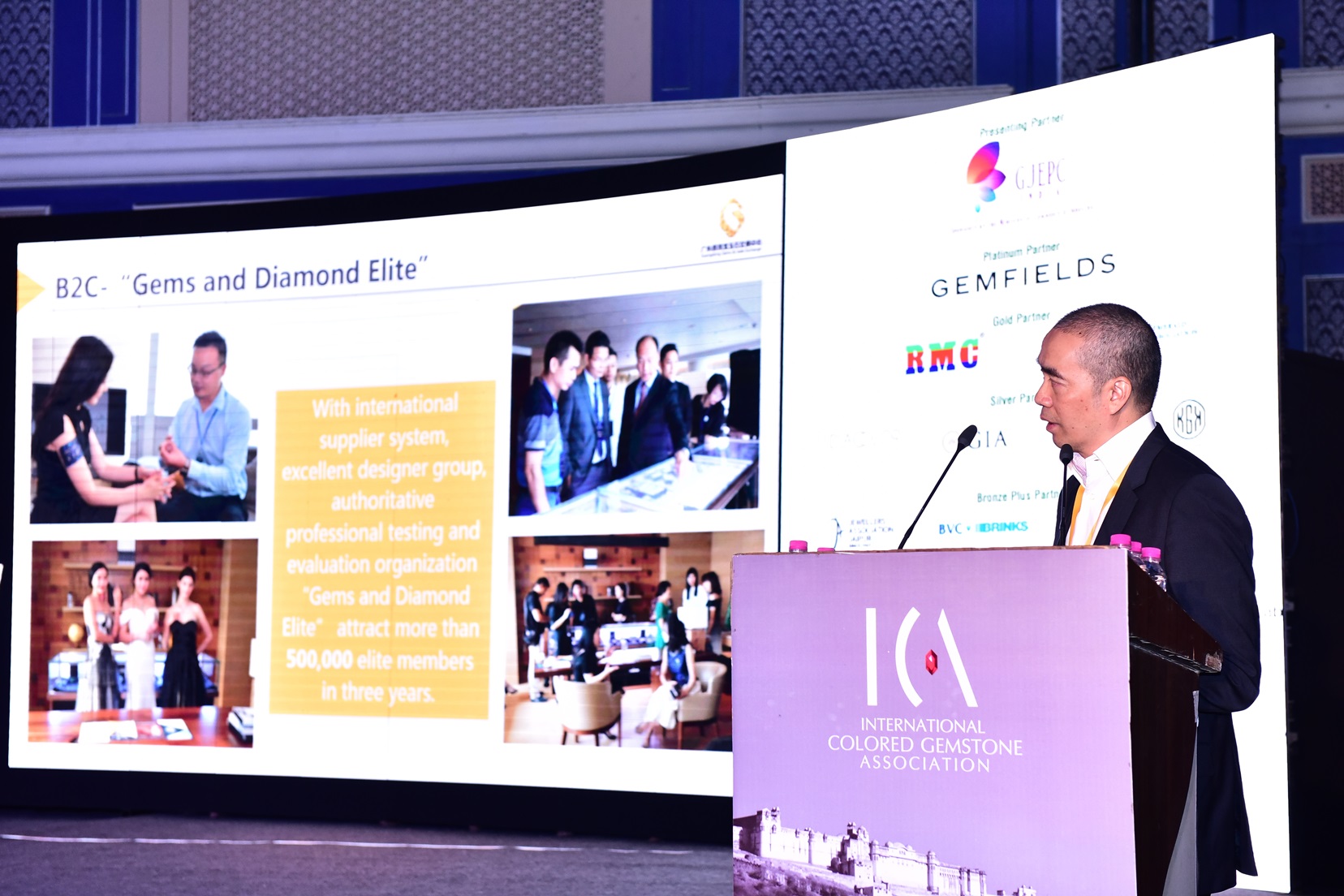 As a part of the ongoing 'International Colored Gemstone Association Congress 2017' (ICA) a session on 'New Trends in China Colored Gemstones' was held in Jaipur today. The session was held by President of Guangdong Gem & Jade Exchange (GDGJE), Mr. Zhi Wei Li.
New Trends of China Coloured Gemstones (Zhi Wei Li)
Giving an insight into the current consumption trend of colored gemstones in China, Mr. Li said that the country has total annual sales of $80 billion per year and $10 billion per year for colored gemstones. China is also the 2nd largest in jewelry trade market in the world. The country is also high in public awareness and has a high purchase rate. The price of each gemstone category has also risen continually throughout the years.
Speaking about his brand GDGJE, Mr. Li said that he wishes to create 'One Belt One Road' policy for the Guangdong-Hong Kong-Macao-Big Bay Area. GDGJE also hopes to enable structural reforms, trade facilitation and structure other development strategies. A new comprehensive exchange platform with preferential policies specifically designed for the development of coloured gemstones and a more convenient custom clearance would benefit the industry greatly. He emphasized on the need to craft an open, inclusive policy and build a mutually inclusive selection of scientific standards to facilitate new developments in the coloured gemstones market.
Mr. Li visualized that the gems and jewellery industry of China would reach $25 billion per year by next year. The country is well on its way to become the world's largest gemstone consumption country.
As a special attraction of the biennial event, two Jaipur experts from the gems and jewellery industry discussed topics like, mass production of gems, history of gems and jewellery in the Indian sub-continent.
Mass Production of Gemstones (Nirmal Bardiya)
Speaking on the topic of 'Mass Production of Gemstones', Indian Jeweler, Mr. Nirmal Bardiya spoke about how technology has streamlined each process of gemstone from mining to cutting & polishing. Mining machinery has witness major technological advancements which has helped in availability of not only a higher volume of stones but also a wider variety. Assortment of stones with perfect colour is now easier to procure, he said.
He also explained how technology has impacted each process of gemstone manufacturing namely, rough gemstone planning, making preform, giving finishing shape and size, drilling hole in gemstone, among others. Mass production has assured the jewelers high accuracy, precise polishing, development of new shapes and better-quality control.  This method of production has also made it easier to produce fashion jewellery as jewelers now have more choices for designs. He went on to say that, the future of the Gems & Jewellery industry will be determined by mass production.
History of Gems and Jewellery in the Indian Sub-Continent (Sudhir Kasliwal)
Renowned jeweler, Mr. Sudhir Kasliwal of The Gem Palace, Jaipur spoke about the legacy of jewellery in the Indian sub-continent. He highlighted the uses of jewellery from the early ages of the Indus Valley civilization. Jewellery has multifaceted uses which has always been a part of India's socio-cultural menu. Every woman irrespective of status has worn jewellery, which has been a symbol of personal wealth, social status and prestige. Besides the women, king and nobles have worn jewellery as a reiteration of their material power and exquisite taste. Indian gods and goddesses have also been adorned with jewellery as an expression of devotion by the devotees, he said.
He further added that, with the influx of European influence in the jewellery industry by renowned jewelers like Cartier, setting, placement and design of pieces began to change. Cartier began creating pieces for the royal family who became regular patrons of his designs and transformed their earlier gold jewellery into modern designs.