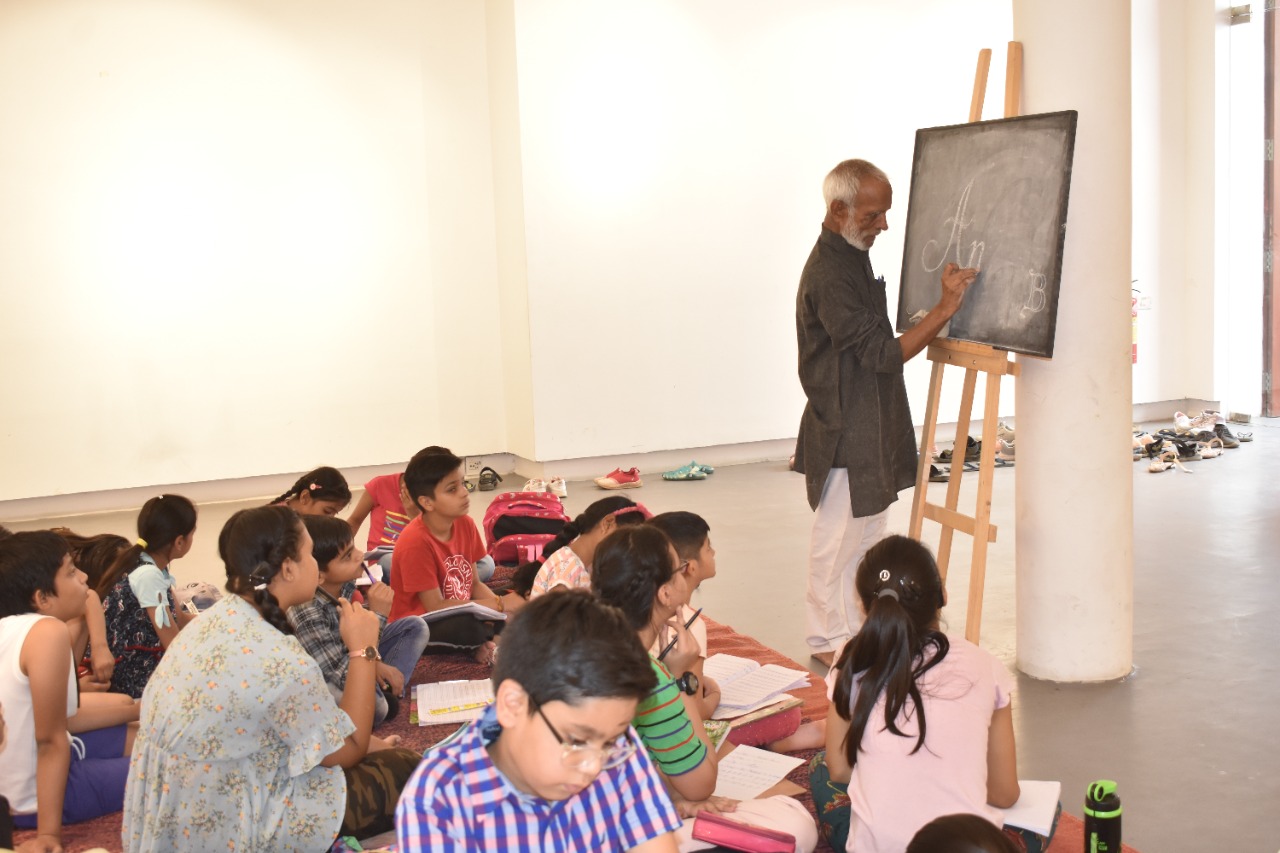 Children of different age groups are learning the nuances of various arts with great joy and enthusiasm in the ongoing 'Junior Summer Programme' at Jawahar Kala Kendra (JKK). They are being trained in calligraphy, caricature and watercolour painting in the visual arts workshops. The 20-day visual arts workshops are being organized at the JKK campus from 4 pm to 6 pm.
A calligraphy workshop is being organized at JKK's Surekh Art Gallery. Children are being taught the nuances of calligraphy by senior calligraphy artistes, Shri Harishankar Balothia and Rashmi Taparia. At the beginning of the workshop, the children were taught the basics of calligraphy. Apart from this, special attention is being given to teaching the children cursive writing, handwriting as well as how to make a word attractive. During the workshop, children will also be taught about different fonts. About 32 children are participating in this workshop.
Similarly, a caricature workshop is being organized for children in JKK's Book Club. Renowned cartoonist, Sudhir Goswami is teaching the basics of freehand cartooning and caricature to children in this workshop. In this, the children are being taught how to draw different shapes and features of faces like eyes, nose, lips, ears, etc. After this, they will also be taught about the anatomy, movement, expressions and motion emotions of a cartoon. The instructor told the children that it is very important to keep practising to attain perfection in caricature.
Similarly, in JKK's Sudarshan Gallery, children are being trained in watercolour painting. Instructors Himmat Gayari and Subhash Mawar are teaching the children the basics of watercolour and colour mixing. During the workshop, children are being explained in detail about basic colours, primary and secondary colours, as well as colour wheels. This will help the children choose the right colours and use them in different ways to create beautiful paintings. The instructor said that at the end of the workshop, the paintings prepared by the children will be displayed in an exhibition.