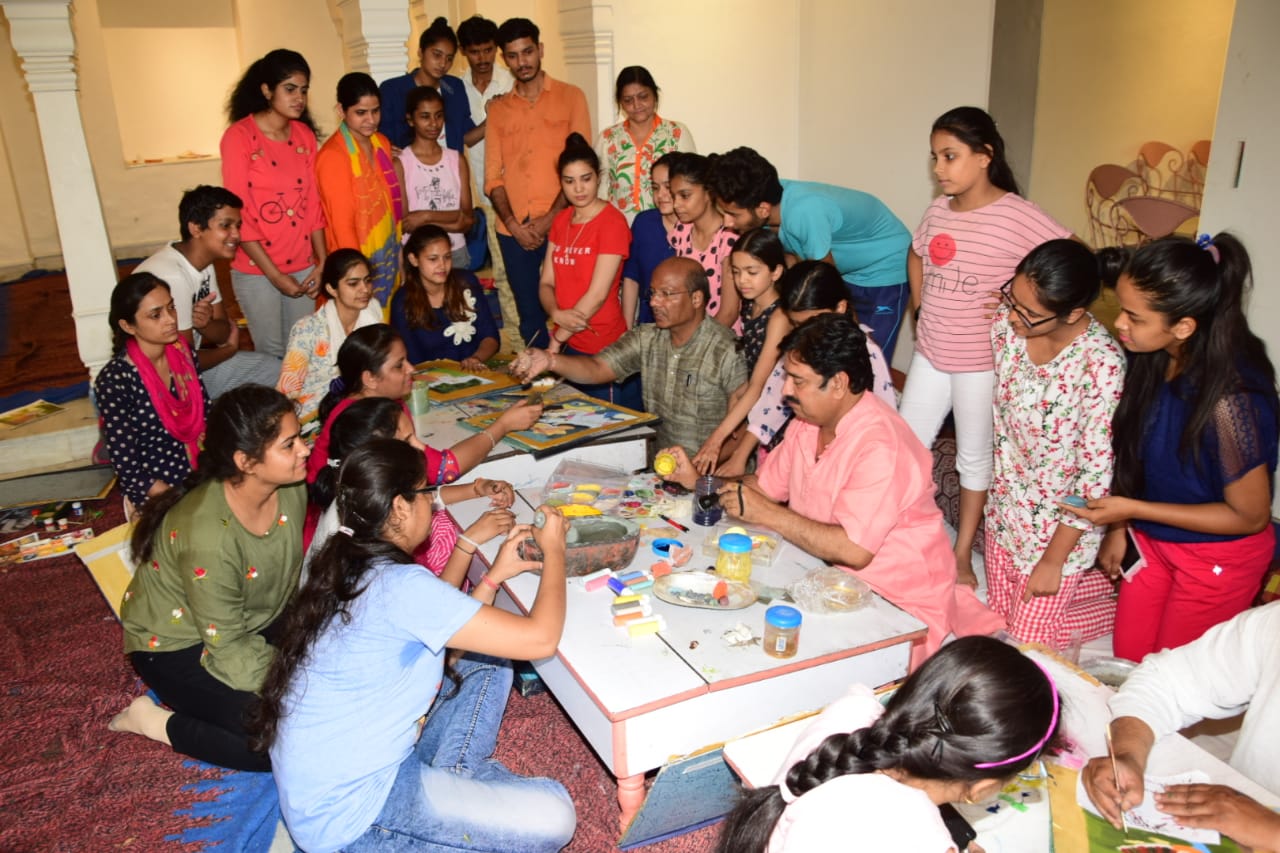 Press Release
Like every year, students are learning miniature painting at the ongoing 21 day 'Sankratik Virasat Prashikshan Shivir' at the City Palace. As many as 100 students are a part of this workshop. Children as well as home makers have joined the workshop. Miniature painting styles of Jaipur gharana, Kangra gharana and Kishangarh gharana are being taught in the workshop.
 The workshop for miniature art is being conducted by the National Awardee brother duo artist Mr. Shayamu Ramdev and Mr. Ramu Ramdev along with Mr. Babulal Marothia, Mr. Laxminarayan Kumawat, Mr. Badrinarayan and Mr. Hemant Ramdev.
 Children are being told about natural minerals, metals and flora by the Vedic Painter Mr. Ramdev. He informed the children about ancient times when colours were made by grinding stones. Making colour using gold leaf was also taught to the children. They were also informed about the extinct colour 'gaugoli'. Colours like hinglu, neel, hadtaal, harabhatta, firoza, lapis, khadiya, kajal, gaugoli were used in ancient times.
 'Wasli', a handmade paper is being used for these paintings. Students have made the paintings of 'Radhe Krishna' and 'Bani Thani,' among others.
Mr. Hemant Ramdev shared that each style of miniature art has signature designs and depiction which are different from other styles in their presentation of human faces, anatomy and scenery. He further added that nature and flora is painted differently in Jaipur and Bundi styles whereas Kangra style mostly includes the depiction of Ragini dance performances.
It is to be noted that this camp is being organized under the joint collaboration of MSMS II Museum, Rangrit Art School and Saraswati Kala Kendra.