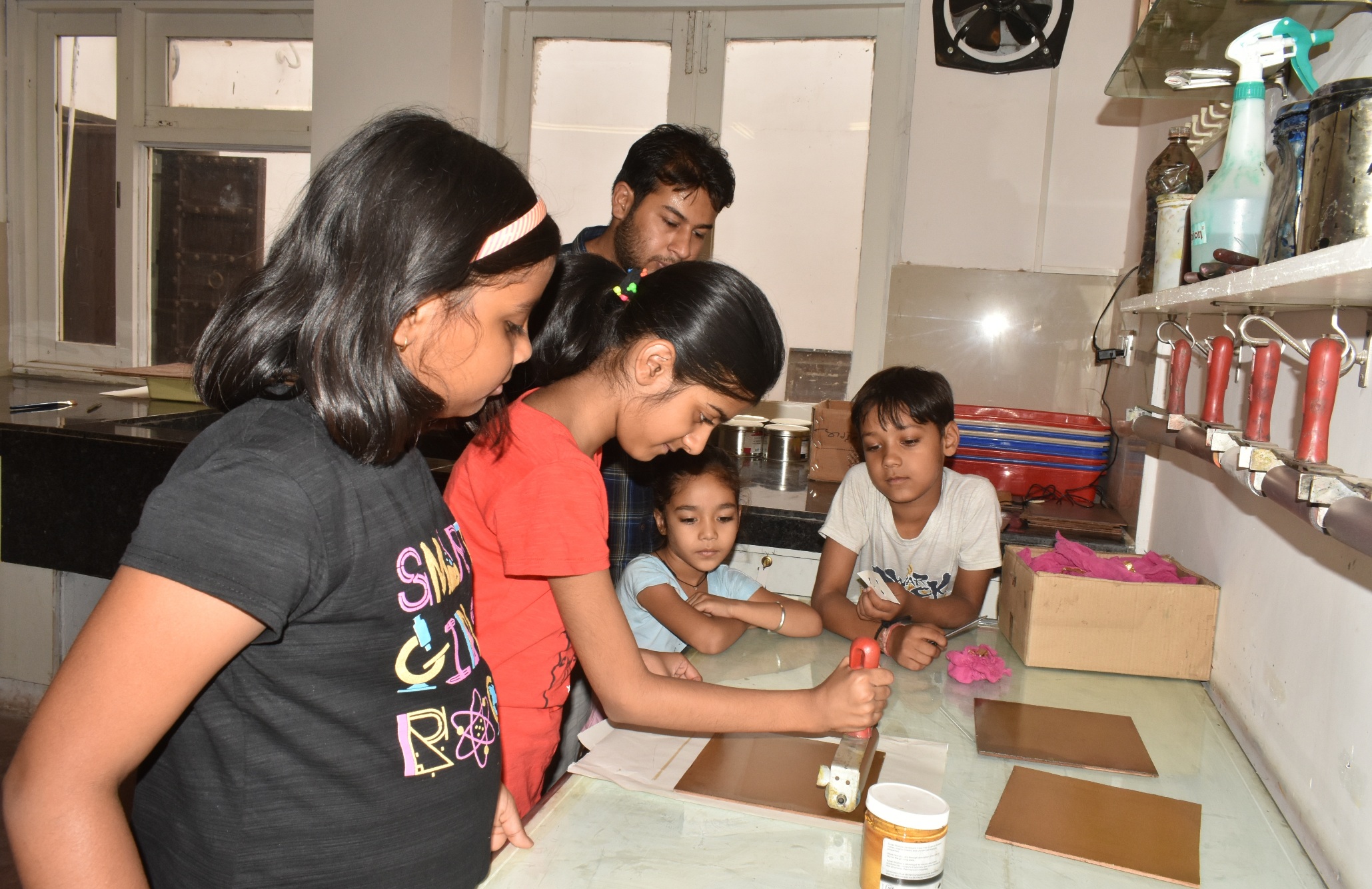 Press Release 
As a part of the Junior Summer Programme at Jawahar Kala Kendra children are learning various artistic skills in workshops like Portraiture, Cartooning and Monoprint. The creativity of the children is being enhanced in these workshops which have been curated keeping in mind the interests of the children.
Brush and Paint Portraiture Workshop:
The resource person for the Brush and Paint Portraiture Workshop, Ms. Apara Purohit said that the children are being first  taught about the basic structure of faces because as such there is no formula to understand the measurement of a face. The children will be given lessons on how to understand face structure and dimension. The workshop began with the basic shapes of the face like round and oval. Information on the various features of the face, proportion, depth, volume, among others will be given. Later, knowledge about colour will also be given.
Cartoon and Caricature Making Workshop 'Lines – Underlined':
The resource person for the Cartoon and Caricature Workshop ' Lines – Underlined', Mr. Sudhir Goswami said that firstly, basic information of free hand cartoon making was given. Then they were taught about the eyes, ears, nose, hairstyles etc of cartoons.  He further said that if children express their thoughts through cartoons, it is more impressive.  The workshop will also enlighten the children about how cartoon movies are made.  In the workshop, knowledge about the anatomy, size, emotion and motion of the cartoon along with the material and equipment required for cartoon making will also be given.
Mono Print Workshop:
In the Monoprint Workshop which is being held at the Print Studio 1 of JKK, children are learning how to print 2D objects with the help of Paper Cut. Additionally, they are also being taught cloth printing. The children are first made to prepare Mono Surface with the use of Wood Sheet and Hand Roller.  The Paper Cut of the 2D object is then kept on this Mono Surface  and it is printed on papersheet with the help of pressure machine. The workshop resource person, Mr. Chandra Prakash Jain said that the children will also learn Woodcut and Linocut Printing. Furthermore, they will also be taught how to use all these methods of printing together .
It is to be noted that in the Junior Summer Programme of JKK, Theatre, Folk Dance, Kathak, Percussion, Film Making, Story Telling, Photography, Piano and Visual Storytelling, among others is also being taught.