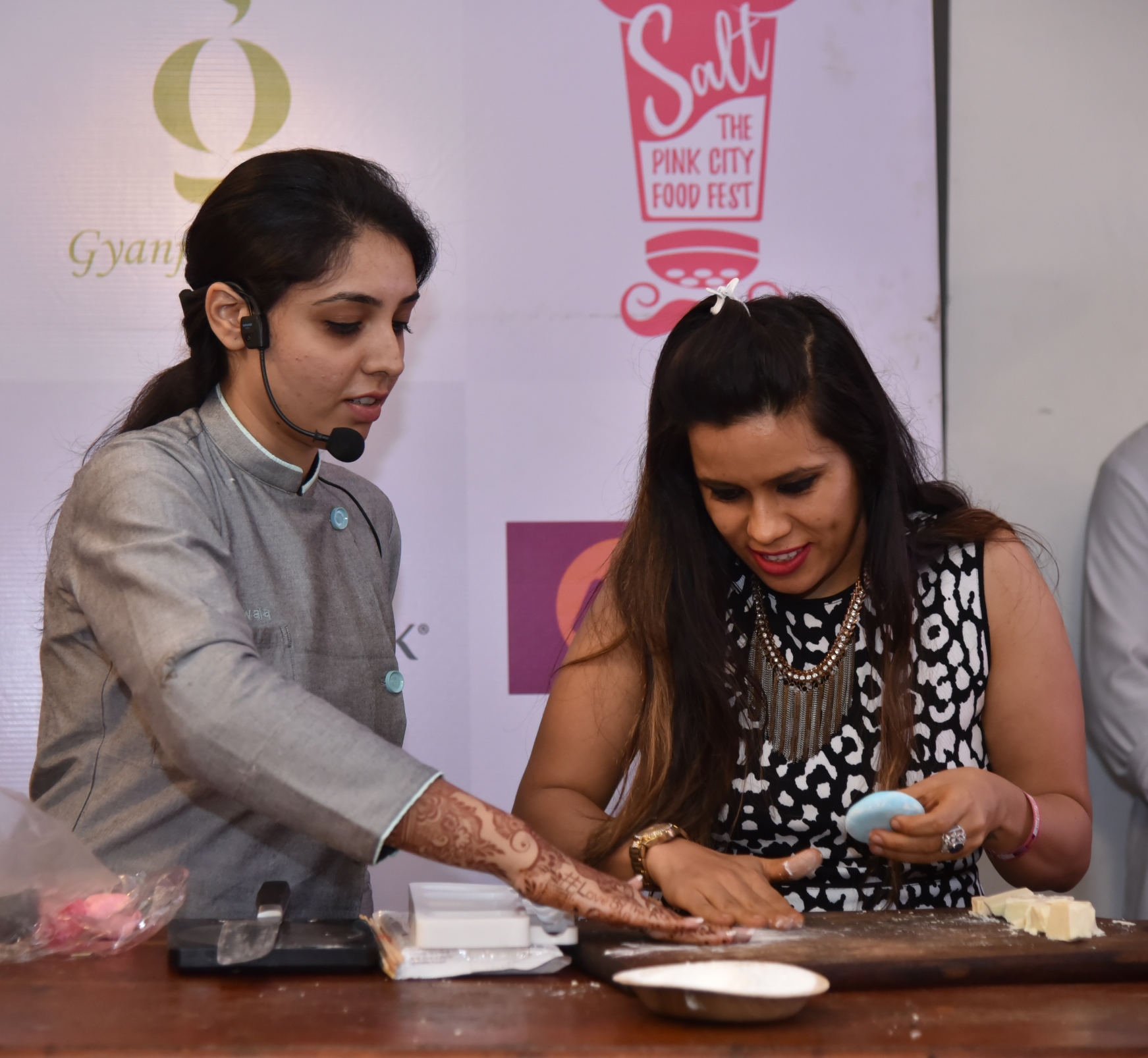 Press Release
"A GOOD CHEF KNOWS HOW TO LEARN FROM THEIR MISTAKES"
– Celebrity Chef, Pooja Dhingra
Good chefs can look at a recipe and alter the ingredients accordingly. One needs to play around with ingredients and not be afraid to make mistakes. This is how one can learn what works best in the kitchen. This was stated by celebrity chef, Ms. Pooja Dhingra. She was addressing a recipe workshop on 'Nutella Squares and Milk Chocolate and Sea Salt Truffles'. The workshop was being held on the concluding day of the 2-day 'Salt Food Festival' at Hotel Clarks Amer. The festival was organized by Ms. Divolka Jain in association with Gyanjee caterers.
The 2-day mega food festival witnessed over 3000 visitors who came to attend a variety of workshops by celebrity chefs as well as sample a variety of delicacies from India and abroad.
Food Styling Workshop
The day began with a 'Food Styling Workshop' by well-known food stylist, Ms. Deeba Rajpal. Emphasising on the need to study photographs, Ms. Rajpal said that social bookmarking websites like Pinterest can be used as a source of inspiration to style better photographs. However, these images should be used as reference to find elements one likes and not copied. Other elements like light, colour palette, composition, orientation, angles, shots, accents, layers, among others should be kept in mind when styling photographs for pleasure or business.
Recipe Workshops
Professional baker, Ms. Ketki Barfiwala taught how to make 'Cakesicles'. Under her expert guidance the audience learned how to make cake sponges as well as fondant accents like flowers, emojis and cherry blossoms. Defining 'Cakesicles' Ms. Barfiwala said that these are cake balls in the shape of popsicles that are creations especially for kids. The cakesicles were prepared on the 'Beach Theme' at the workshop. This was followed by a workshop on 'Laal Maas' by chef, Mita Kapur. Following the age-old recipe of the Rajput Royal Thikana of Devgarh, she taught the audience how to make the well-known Rajasthani dish. During the class she also discussed various other variations of the recipe.
Later in the evening there was live entertainment by renowned band, Indian Ocean which performed contemporary fusion music with jazz-laced rhythms. Silent Disco witnessed a second night on popular demand where visitors danced to popular English and Hindi songs wearing headphones.