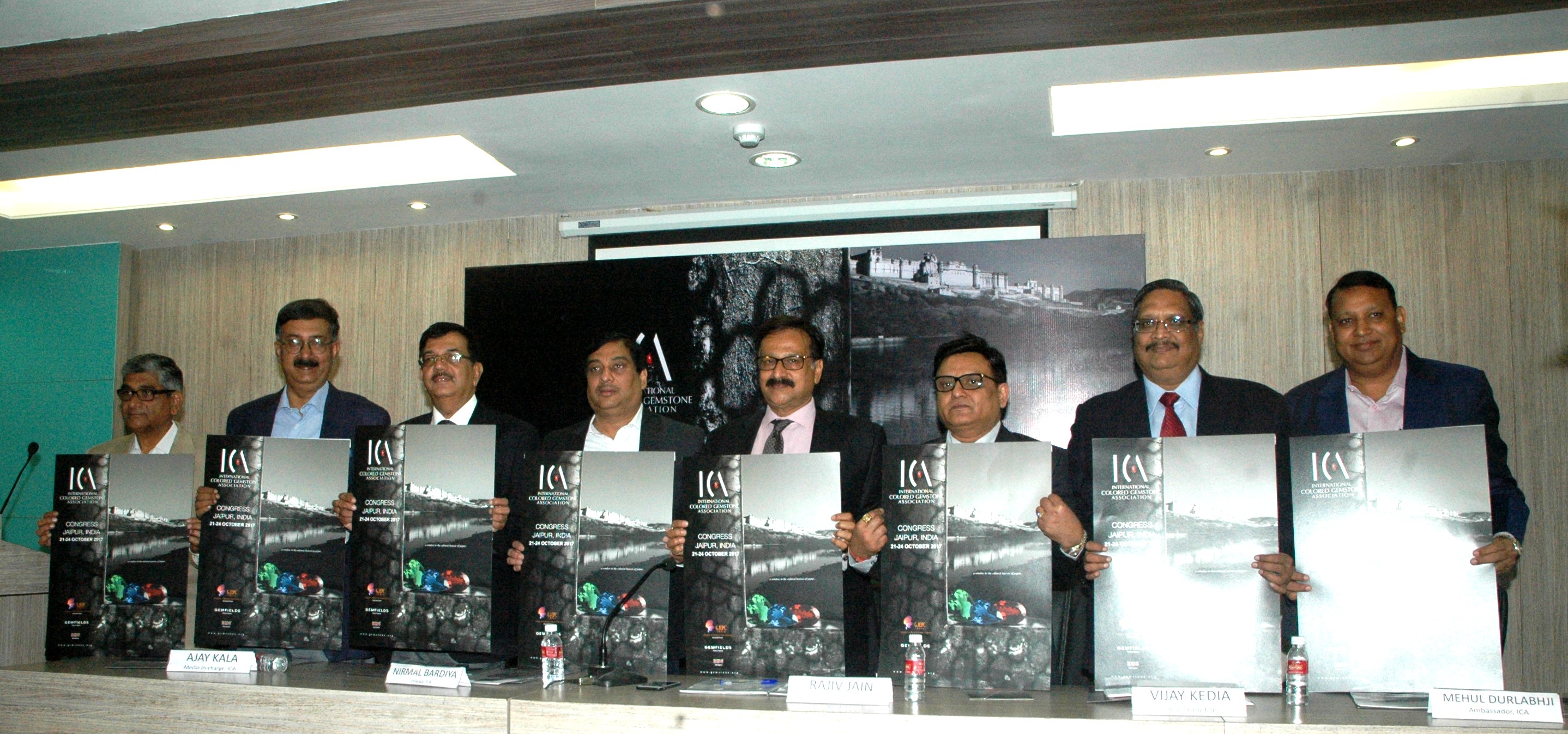 Press Release
·         4 Day ICA Congress at Hotel Fairmont in Jaipur
·         Over 275 global members from 25 countries
·         Knowledge Sharing and Networking Sessions
·         Poster Competition Awards to be announced
The International Colored Gemstone Association (ICA) Congress 2017 will be held in Jaipur from 21 to 24 October at Hotel Fairmont.  The biennial event will witness participation of over 275 members from 25 countries which includes around 75 Indian jewellers too. This was informed today by the Chairman of the ICA Congress Steering Committee, Mr. Rajiv Jain at a media briefing.
Mr. Jain further informed this Congress will feature presentations by leaders and experts in the Gem Industry and world class brands and designers, as well as a series of special events that promise to make this a truly valuable and unique experience. As many as 35 speakers from India and abroad will be participating in sessions pertaining to Gemstone Mining, Gemstone Manufacturing, Marketing, Design & Trends, Ethics, Blogging, Laboratory, among others. This is a global event which has business sessions, speaker sessions and an exhibition. In fact, there are 3 speakers from Jaipur. They are: Mr. Sudhir Kasliwal (History of Gem and Jewellery Manufacturing In Jaipur); Mr. Nirmal Bardiya (Mass Production of Gemstones); and Mr. Jain himself (Transformation of Manufacturing in Cambay).
The prestigious event is a congregation of industry leaders in the gem and jewellery field. It also serves as an opportune meeting platform for the members and non-members both internationally and locally to garner knowledge and expertise on new trends.
Mr. Mehul Durlabhji proposed the Vote of Thanks and Media Coordinator for the event Mr. Ajay Kala welcomed the media. Also on the dais were members of the Steering Committee Mr. Nirmal Birdiya, Mr. Vijay Kedia.
It is to be recalled that the International Colored Gemstone Association (ICA) is a non-profit organization, which is the worldwide body specifically created to benefit the global colored gemstone industry. ICA was founded in 1984 and is now comprised of over 600 gemstone dealers, cutters, miners and retailers from 47 countries who are devoted to advancing and promoting the knowledge and appreciation of colored gemstones. ICA's global network works to develop a common language for promotion and consistent business standards necessary to improve international communication and trade of colored gemstones.