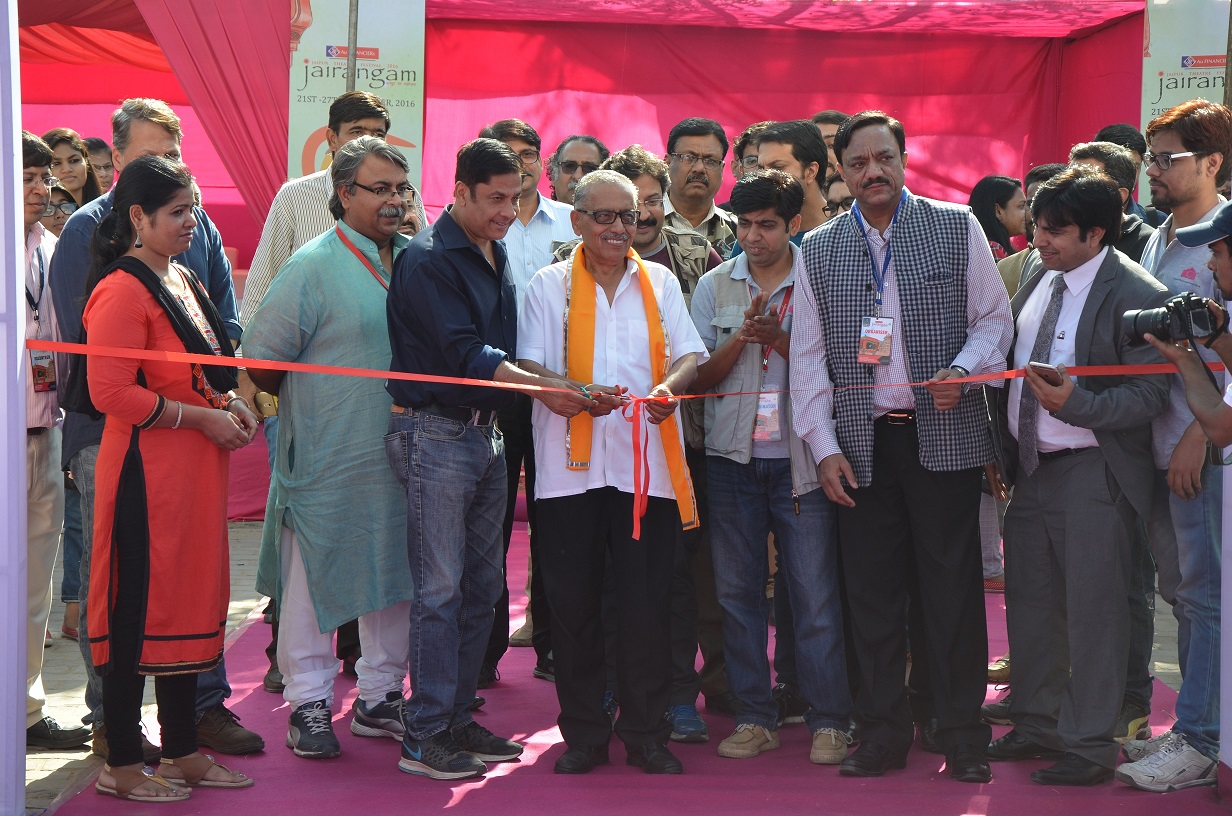 Press Release (photographs attached, more photos to follow)
Play 'Hamlet in Hamlet out', 'Bechari Amrita' and 'Lal Ded' staged
Khusboo-e-Rajasthan Photo Exhibition inaugurated
Jaipur, 21 November: The 5th edition of the week long Annual Theatre festival of Pink City 'Au-Jairangam' began today at Jawahar Kala Kendra. The festival kicked off with the comedy play 'Bechari Amrita' directed by Saurabh Srivastava'. This was followed by staging of a theatrical production by students of Maharaja Sawai Man Singh Vidyalaya, The Chief Guest on the occasion was Rani Vidya Devi ji and renowned actor and Brand Ambassador, Au-Jairangam, Irrfan Khan.
A photo exhibition 'Khushboo-eRajasthan' was also inaugurated at JKK today by renowned cinematographer and photographer from Mumbai, Mr. Sanjay F Gupta and Mr. Jagdish Katil. The 100 best pictures of the online photography competition – 'Khushboo-e-Rajasthan' based on the theme 'Colors of Life' are on display here.
The inter school nukkad natak competition also began today at Jawahar Kala Kandra. Students of four schools – Maharani Gayatri Devi Girls' School, Indo Bharat International School, Warren Academy and Defence Public school participated in the competition. They presented nukkad natak on themes like terrorism, education, technology, among others. The judges for the nukkad natak competition were theatre artistes — Mr. Suresh Sharma, Mr. Kishan Singh and Ms. Anju Sharda.
The artistes of Rang Mastaney group also presented a street play at JKK against women's issues such as eve teasing, rape, acid attack etc.
Later 'Lal Ded' directed by Mita Vasishtha was staged at the Maharana Pratap Auditorium.
About the Plays:
The play 'Bechari Amrita' is a Hindi adaptation of the renowned English comic play 'Blithe Spirit'. It was staged at the Rangayan Auditorium of JKK. The story of the play revolves around a writer, Sanjeev Chaudhary, who lives in Kasauli, invites a tantric, Madhu Malti, to his house to conduct a séance. The séance is conducted in the hope that Saurabh gets some inspiration for his next novel. However, the seance backfires when he is haunted by the ghost of his first wife, Amrita who died seven years ago. Amrita then attempts to disrupt his second marriage with wife, Ritu, who cannot see or hear the ghost. Directed by Saurabh Srivastava, the other characters involved in the play were the household help Pushpa, played by Chaarvi Puri, and couple-friends of Sanjeev and Ritu, Mrs and Mr Gupta, enacted by Nishtha Puri and Shashi Karan.
The play 'Hamlet in Hamlet Out' directed by Pranab Mukherjee is a tribute to 450 and 400 years of William Shakespeare's birth and death commemoration respectively. It was staged at the Krishnayan Auditorium of JKK. A theatrical production by the students of Maharaja Sawai Man Singh Vidyalaya, it looks at an internal monologue that goes inside Hamlet's mind. The purpose of the piece is to peep into a director's mindscape as he rehearses the play. Not to make Hamlet, a storyboard character or a dramatic treatment. And more importantly to decode the goings on in the world from a South Asian pair of eyes and not make the bard a construct of the claustrophobic diction-delivery-costume axis. This piece is a quilt stitched from a performer's point-of-view, largely looking at the Hamlet that lurks inside us.
The play 'Lal Ded' was a theatrical collage of poems, songs, thoughts and philosophy of the medieval poetess Lal Ded from Kashmir. Revered and loved for 700 hundred years, right upto the present day. The play was directed by Mits Vasishtha and staged at Maharan Pratap Auditorium. The poetry and life of the poetess have found a resonance amongst people from other parts of India. Her poems or 'vaakhs' were short, pithy and they resonated secular values transcending the narrow confines of caste and religion that had crippled India in those times. Everything about Lal Ded includes her life, her 'vaakhs', challenged dogmas and ossified perceptions.