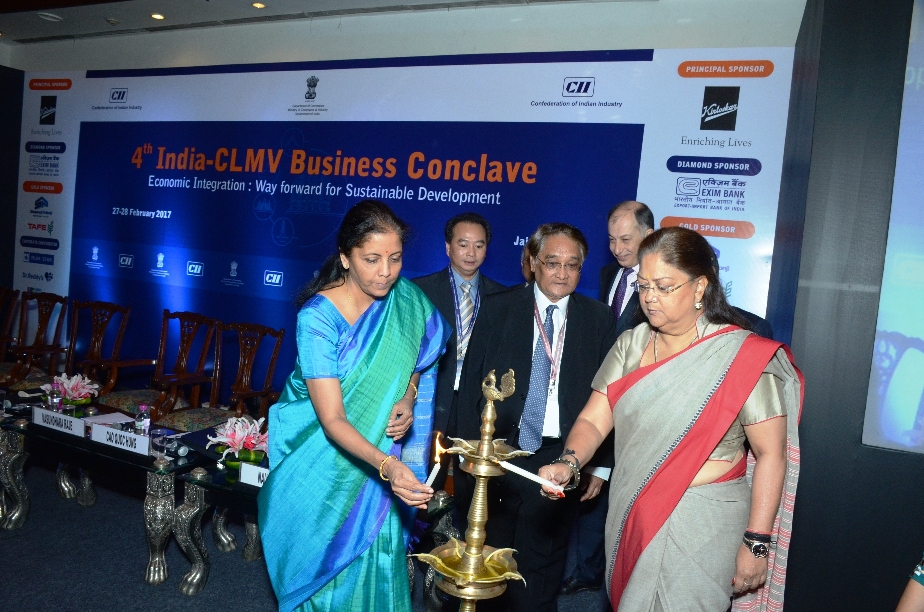 Press Release 
4th India – CLMV Business Conclave begins in Jaipur, Rajasthan
Jaipur, 27 February: Ms Nirmala Sitharaman, Minister of State (IC) for Commerce and Industry, said that Prime Minister Mr Narendra Modi's 'Act East' policy seeks to revive age-old ties with Cambodia, Lao PDR, Myanmar and Vietnam (CLMV), developed since the Chola and Pandyan dynasties so that the two sides could work to strengthen each other's trade and investment.
The Minister was speaking at 4th India-CLMV Business Conclave, organised by Confederation of Indian Industry (CII) in cooperation with the Department of Commerce, Government of India in Jaipur, Rajasthan.
The Minister invited both Governments and business communities of the least-developed ASEAN nations collectively known as CLMV to actively partner in India's 'Make in India' program. She pledged that India would participate with the CLMV countries in the region's manufacturing growth.
Ms Sitharaman expressed hope that India and the CLMV countries could deepen each other's manufacturing capabilities, learn from each other's experiences and create a stronger regional platform for trade and commerce. She stated that the themes for deliberations at the Conclave have been carefully selected to further the India-CLMV economic and business engagements.
Ms Sitharaman noted that India's trade with the CLMV countries has grown ten times from $1.5 billion to more than $10 billion in the last 10 years and expressed hope that India would be able to partner with the region in more trade initiatives to develop a strong India-CLMV vertical within the ASEAN market.
She said that there is "immense potential" for Indian investments in the CMLV countries and in participation in sectors like agriculture and allied sectors, healthcare sector, renewable energy and above all in skill development. To catalyse investment in these and other sectors, the Department of Commerce has set up the Project Development Fundwith an outlay of Rs. 100 crores. This will be implemented by the Exim Bank of India.
Ms Vasundhara Raje, Chief Minister of Rajasthan, who delivered a special address at the Conclave, said that she welcomed investments from the CLMV countries with "open arms" and pointed to the shared "history, culture and even food".
She highlighted how taking an event like this Conclave to other states like Rajasthanwill further catalyse trade and investment between the two sides.
The Chief Minister emphasised upon gems and jewellery, tourism, amongst others, as areas where Rajasthan and the participating countries would find immense and immediate synergies.
Mr Chhuon Dara, Secretary of State, Ministry of Commerce, Kingdom of Cambodia, said that CLMV-India partnership was critical for sustainable development and stimulating the growth of jobs in the region. The Minister said that 'Make in India' does not go against Indian investments in Cambodia, and the CLMV region, as India will gain access to "cheaper supply chains" and "increase the competitiveness of Indian products".
Cambodia aims to become a high income country by 2050, the Cambodian Minister said, pointing out that increased regional connectivity, lowering the transaction cost of trade and skill development were imperatives if the India-CLMV trade and tourism were to really reach their potential. Saying that Cambodia is "an open market", he invited strong investments from India.
Mr Cao Quoc Hung, Vice Minister of Industry and Trade, Socialist Republic of Vietnam said that Prime Minister Narendra Modi's visit to his country "marked a milestone" in the bilateral relations. India has emerged as one of the top 10 trading partners of Vietnam. The Minister said that "bilateral relations have been institutionalised". India has invested in more than 130 projects in Vietnam worth $724 million, he stated.
For India-CMLV trade to grow, it was critical that connectivity infrastructure be developed on a war footing and the intra-regional trade regimes be liberalised. He said that he looked forward to the setting up of a $100 million India Investment Fund for the CLMV region.
Dr Than Myint, Union Minister of Commerce, Republic of the Union of Myanmar, said that his country's strategic location made it "the bridge" that connected India and the ASEAN region and said that the India-CLMV partnership was a 'win-win for both parties". He also said that Myanmar had an "extremely favourable investment climate" and welcomed investments from India.
Dr Naushad Forbes, President, CII, who spoke on the occasion pointed out that the need of the hour was to strengthen connectivity by road and air; "strengthen the infrastructure of collaboration" and leverage the "complementarity of interests" between the CLMV countries and India.
Mr Chandrajit Banerjee, Director-General, CII, who moderated the session said that it was heartening to see that three ministers and over 100 delegates from the CLMV countries were attending the Conclave. He said that CII is setting up a separate business council on CLMV region under its International Division and the thrust areas are: agriculture, green business, SME sector and skill development.
Mr Banerjee also announced that CII plans to open permanent offices in Vietnam and Myanmar. He said the present Conclave deliberations would concentrate on manufacturing, agriculture and fisheries, sustainable development and renewable energy.