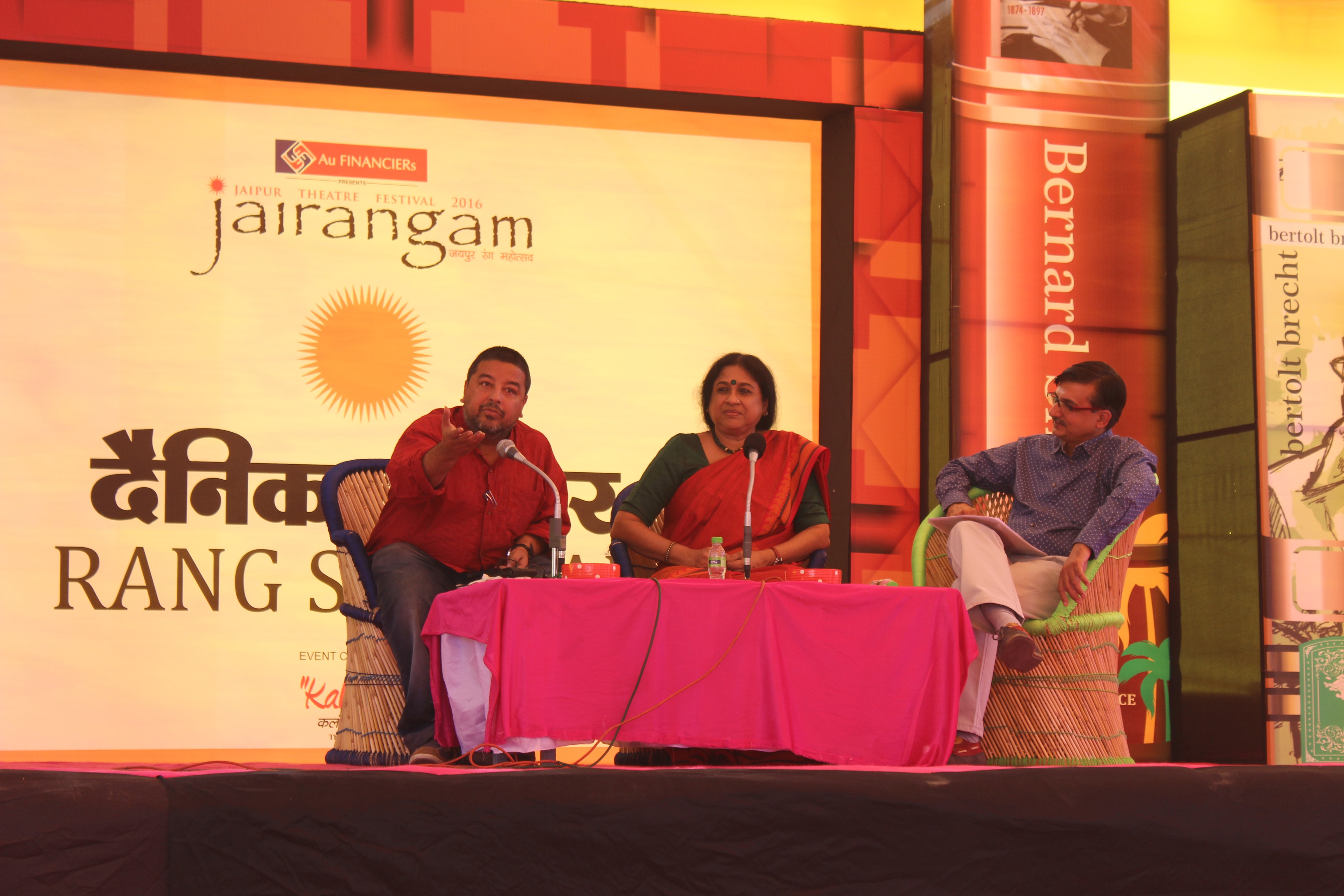 Press Release
Jaipur, 23 November: The third day of the weeklong annual theater festival of Pink City – Au-Jairangam – witnessed the staging of the five plays in mainstream theatre. The play staged at Jawahar Kala Kendra were Jaana Tha Roshanpura directed by Virendra Saxena, Chitthiyan directed by Raghav Tiwari and Ela Didi directed by Subhendu Bhandari. Ishq Aaha directed by Gagan Dev Riar and Sukant Goel and Raavan Ki Ramayan directed by Atul Satya Koushik were staged at Maharana Pratap Auditorium and Birla Auditorium respectively.
As a part of the Outreach Programme for Children, a special play directed by Makarand Deshpande – 'Imli Papita Tarbooj' was staged at the Tagore Public School, Vaishali Nagar for around 1500 students of Maharani Gayatri Devi Girls' School and Bharatiya Vidya Bhavan Vidyashram School.
A panel discussion on 'Theatre Criticism and Appreciation' was also held at the Rang Samwad series at Jawahar Kala Kendra. Veteran journalist Gowri Ramnarayan and Theater Actor and Director, Pranab Mukherjee shared their insight in the session. Throwing light on the diminishing trend of reviewing of plays, Gowri Ramnarayan said that reviews of plays are much more important than previews as the former is a unique and first hand account of theatre. Since newspapers now have limited space for art, culture and literature, she advised the youth to take up blogging. However, she also cautioned them to write 'responsibly' and to avoid just spilling the synopsis of the play.
Elaborating this point further, Pranab Mukherjee said that reading is necessary before writing. He gave three tips on the basics of reviewing a theatrical production – reading the playwright and not just the play; paying attention to the socio-political milieu of the playwright which makes the play a mix of both autobiography and fiction and lastly taking a particular aspect of the play as a central hook and building the review around it.
In the Inter School Nukkad Natak competition students of Vidyasthali, Maharaja Sawai Man Sigh Vidyalaya, Sawai Bhawani Singh School, Happy School and Learning Aspirations, and Disha school participated. They presented nukkad natak on various topics like cyber crime, terrorism, Swacch Bharat, among others.
A live art demonstration of 'Phad' painting also took place at the Art Stroke at Jawahar Kala Kendra's Shilpgram by Vijay Joshi.
About the plays
'Imli PapitaTarbuz' directed by Makrand Deshpande, is a play in Hindi for children and parents about the bonding between cousins! Sunny and Ririe are excited to leave for Disneyland but an emergency in the family brings their cousins home from Konkan to Mumbai, the three cousins ImliPapitaTarbuz are not welcome by Sunny and Ririe! Humorous and emotional series of incidences takes place,which forms a bond between them for the rest of life.
The play 'Chittiyan' directed by Raghav Tiwari, revolves around the relationship between the father and son. The story is of 70-80s when the medium of communication was letter. This play depicts the state of mind of a father who's waiting for his son's letter. It also relates with today's situation as people are forgetting the true meaning of relations and losing emotional value. This play is an effort to bring out the emotional side.
The solo play 'Ela Didi', directed by Subhendu Bhandari, revolves around a girl called Mukti who has a talent of telling stories. She is burdened with expectations and constantly compared to Ela didi. Ela is a pretty, educated, intelligent one known as Ela didi of Mukti. Mukti grows up hearing of comparison all the time with Ela. The unachieved desires of parents come upon the children like Mukti and they tried hard to be so from the childhood, making it their motto of life. Every child have a philosopher, Mukti had her own elder brother 'Dada'. He also suffered like Mukti. Mukti never realised her brother's philosophy. Their aim is to be a photocopy of Ela didi. She wants to be Ela didi –the neighbour, Ela didi-the singer, Ela didi-the heroine or at least Ela didi.
'Jaana Tha Roshan Pura', directed by Virendra Saxena-Ishwar Prasad Awasthi, has the performance of  veteran actor Virendra Saxena. He plays a retired IAS officer who lives with his son-in law, Chandan Srivastava. The reason behind their living together is Panja, who is Awasthi's daughter and Chandan's wife. Panja died of Cancer and she took promise from both of them that they will live together for a year after her death without letting each other know about the promise.  The story is set on the last day of that year of living together. Both of them have different personalities and how they have lived together is very interestingly displayed.
Ishwar Prasad and Chandan would fight but would laugh and cry together as well.  But both people are waiting for getting parted as they cannot bear each other. As Chandan is about to leave, he says that like Panja he wanted to go to Roshanpura but reached 74 Bungalow.  Ishwar Prasad was his 74 Bungalow and unknowing he found a friend in his father-in-law.  The play ends on a happy note where both of them agree on the note of living together further. Directed by Virendra Saxena, the play tells that the flavour of life lies in accepting what has happened and enjoying it rather than complaining of what we didn't get.
The play 'Ishq Aaha', directed by Gagan Dev Riar and Sukant Goel, takes one on a journey back and forth through time, unravelling some of the greatest love stories of Punjab and re-imagining them like never before. Perhaps, in these motifs, each all of us will discover the shades of our own love and longing. Inspired by – Heer-Ranjha (Waris Shah and Damodar), Sassi Punnu (Hashim Shah), SoniMahiwal (Fazal Shah and Hafiz Barkhurdar), MirzaSahiban (Peelu and Hafiz Barkhurdar).
'Raavan Ki Ramayan', directed by Atul Satya Koushik, narrates the story of a legendary actor Puneet Issar in the role of Raavan. The play is a re-look at the history from the point of view of those who lost and never got a chance to tell their side of story. A virtuous king of a prosperous kingdom is outraged at the ravaged modesty of his sister and sets out for a dignified revenge. But he falls for the defiance and audacity of an abducted woman and ultimately throws his kingdom into a great war against the will of many of his ministers, wife including his eldest son. The war within him poses him against the questions of his wife, sons, gods and ancestors and war outside ultimately becomes the eternal war of Sur and Asur with high stakes from history on both sides. What unfolds is an epic hitherto unheard.