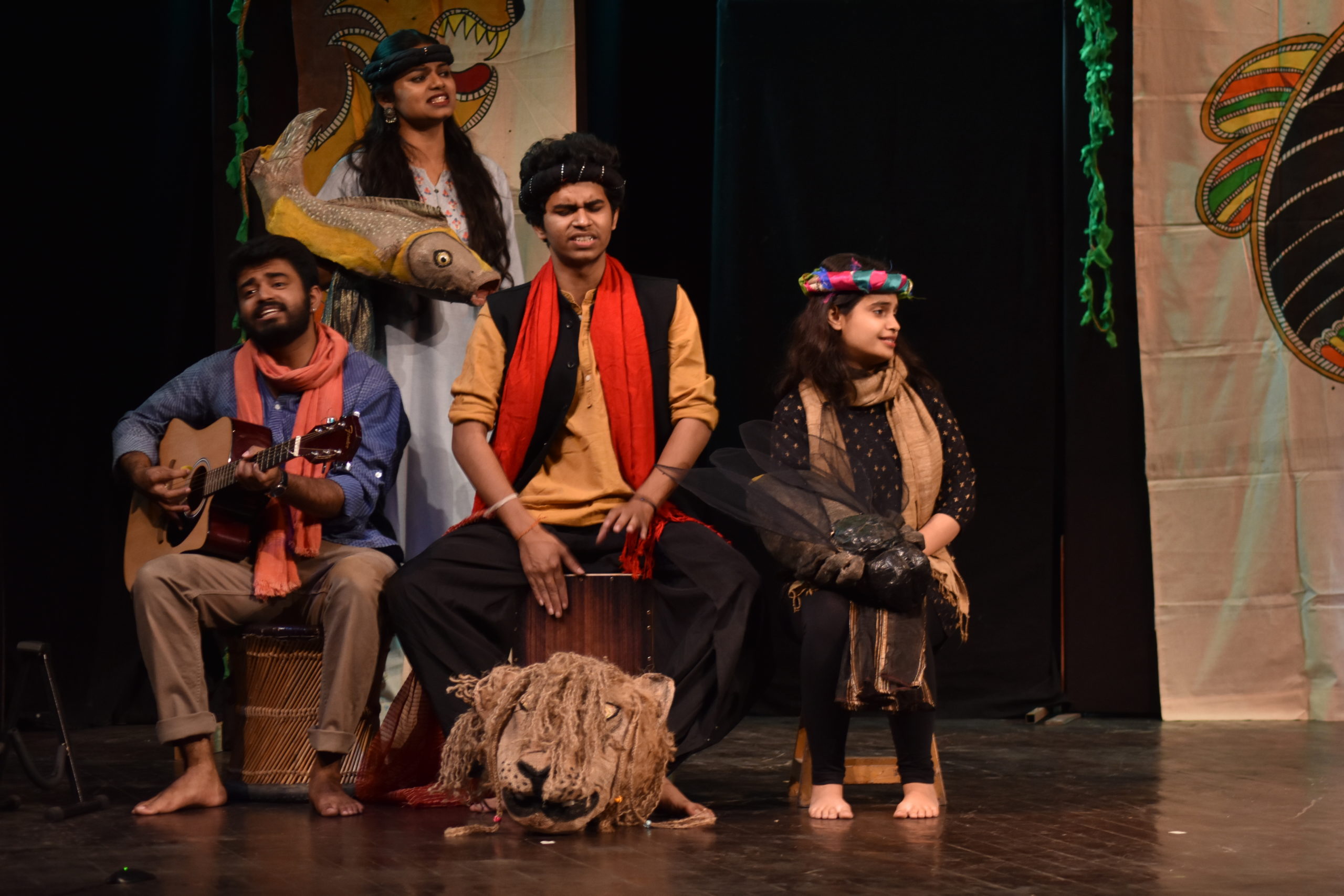 Press Release

On the third day of the performing arts festival, 'Rasrangam' organized by Jawahar Kala Kendra (JKK), the audience was enthralled by a creative display of a play based on hidden talents and specialities as well as a fusion musical performance. The festival will be on till 13 March and will present classical music, instrumental, classical dance and theatre performances.

Nepathya Mei Shakuntala
The play, 'Nepathya Mein Shakuntala' under the direction of Manoj Nair was staged in Rangayan. It was presented by Shadow Culture and Social Welfare Society, Bhopal. The plot of the play was based on the idea that every human being has a very good and high image of oneself. They also have very high expectations in life which may not always get fulfilled. In an attempt to attain better things for tomorrow, best is forgotten. One such depressed individual is portrayed by a character in this play. Within the play, the protagonist plays a small role in a play. Four other characters Deer, Honeybee, Fish and Lion helped King Dushyant and Shakuntala meet. These mute characters helped the artist come out of his depression uniquely and reminded him of his hidden capability, speciality and talents.
The cast members of the play included – Alaiy Khan, Smita Nair, Abhi Shrivastava, Naini T Jawansh, Anushree Jain, Milind Dabhade, Adarsh Thassu, Anant Rajoriya, Harshita Singh Jadon and Sonu Chaturvedi. The light design was done by Harsh Vardhan Singh Rajput and costumes by Smita Nair and Rashmi Acharya. The property was designed by Harshwardhan Kadwe and music was provided by Deva, Atul Archwal and Summit.
The Project Triveni
This was followed by the fusion musical performance, 'The Project Triveni' by Mohit Gangani & Group. This project was a fusion assembly that gathered the strains of Hindustani classical merged with Indian, western and middle-eastern sounds (with the rhythms of Kathak in the background). The artistes shared their repertoire in various percussion instruments by combining western and middle-eastern with Indian classical (like Tabla, Pakhawaj, Cajon, Darbuka, etc.) and Kathak's intricate and rhythmic footwork. With a group of percussionists and soulful Indian classical voices, this performance presented fusion music based on Indian classical music combined with three Indian classical dance forms — Kathak, Bharatanatyam, and Odissi.
Mohit Gangani was the curator, music composer and Tabla player of the performance. The dancers included – Sanjeet Gangani (Kathak), Vrinda Chadha (Odissi), Radhika Kathal (Bharatanatyam), Simran Bhagtani (Kathak), Arohi Athavale (Kathak), Teena Das (Kathak), Ruchika Arora (Kathak). The performance was accompanied by Vijay Parihar (Vocal & Harmonium), Ashish Gangani (Pakhavaj), Nishit Gangani (Tabla), Manohar Balachandran (Mridangam), Aditya Gangani (Chojn & Darbuka), Ashmit Dev (Keyboard), Mudassir Khan (Sarangi) and Ravinder Rajput (Flute). The light and sound was done by Yogesh Dhawan.