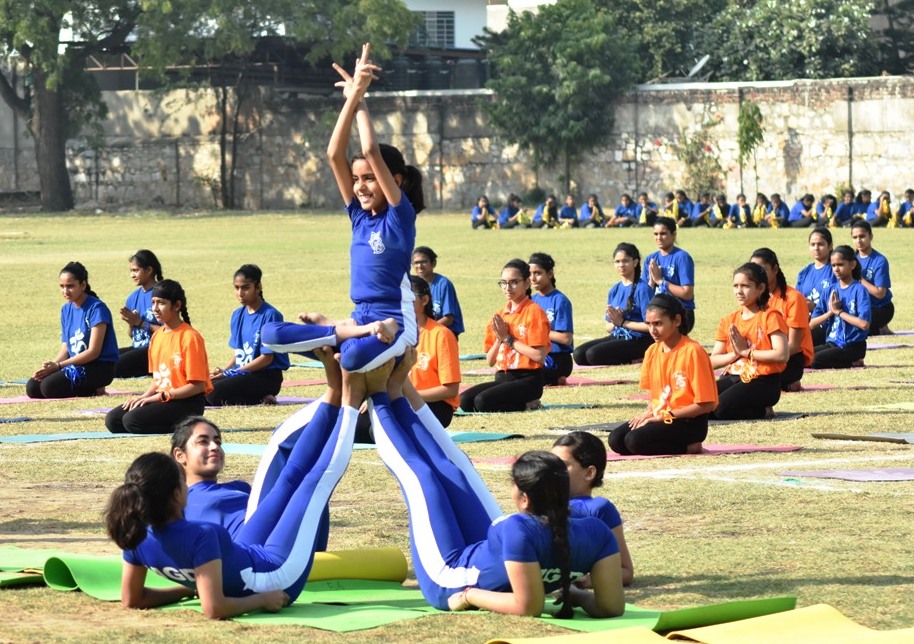 Press Release
The 3 – day Annual Inter House Athletic Meet of the Maharani Gayatri Devi Girls' School (MGD) began on Monday with a plethora of sports activities. Students from classes 6 to 12 participated in the event. The Chief Guest on the occasion was renowned hockey player and Olympian, Mr. Sujit Kumar. The Principal, Mrs. Archana S. Mankotia delivered the welcome address. The Administrator, Col. Surendra Singh Sangwan was also present on the occasion.
The programme commenced with the inspection of the NCC troupe and school band by the Chief Guest, Mr. Sujit Kumar. He was accorded a traditional welcome. This was followed by the unfurling of the school flag and house flags by the Chief Guest and the House Masters.  The chief guest shared his words of wisdom with the students, encouraging them to be dedicated towards their ambitions and not to be afraid to aim higher.
The Torch of Life', was recited by the Head Girl, Kanika Fauzdar, then the chief guest declared the meet open. It was followed by an Olympic oath administered by the Games and Sports Captain, Nikita Rajawat and Sportsmen prayer by the Head Girl, Kanika Fauzdar.
The event witnessed a smart marching contingent consisting of over 500 students from all the houses with a troupe of NCC cadets and school brass band playing 'Saare jaha se Accha Hindustan Hamara'. The NCC cadet troupe was led by Sergeant Vasundhara Rajawat while the marching squad was led by the school Head Girl, Kanika Fauzdar.
The day closed with colourful participation of young students in Yoga and Aerobics followed by a vote of thanks delivered by the Games and Sports Captain, Rittvee Garg.
Over the next two days, various competitions 'Long Jump, Javelin Throw, Discuss Throw, Hurdles Race, Teachers Race, among others, will be held. The event will conclude on 12 December with a closing ceremony.