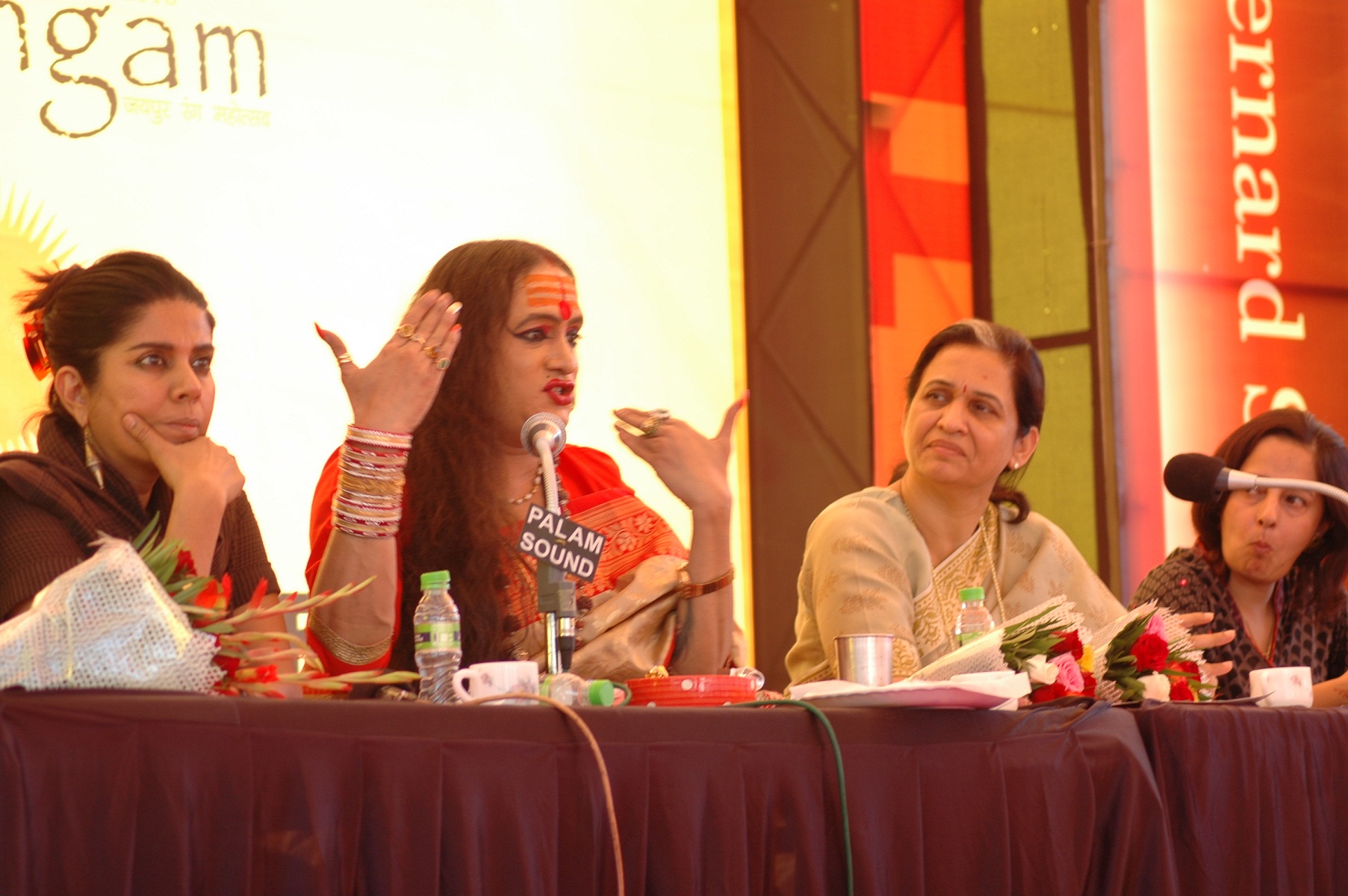 Press Release
Jaipur, 22 November: The second day of the week long theatre festival — Au-Jairangamcommenced with the staging of two plays at Jawahar Kala Kendra (JKK) — solo play Paul Gomra directed by Santanu Mallick and a historical play 'Aala Afsar' directed by  Mukesh Verma.
Along with mainstream theatre, various other activities such as live painting, painting exhibition, nukkad natak competition, panel discussion as well as photography exhibition was also held.
For all art lovers, there is a National Art Camp as well at Au-Jairangam where 40 paintings and sculptures of artistes are on display. Live painting is also being done by some national artistes. Three workshops – charcoal painting (21-22 November), 'Phad' painting (23-24 November) and clay modeling as well as portrait making (25-26 November) will be held at the Art Camp at JKK.
Students Outreach Programme coordinators, Ms. Vibha Sharma and Rosy Saxena informed that today students of Dayanand Public School, Central Academy as well as special children of the Jaipur based NGO Umang presented nukkad natak on various themes like child abuse, child labour and women empowerment, among others.
A major highlight of the second day of the theatre festival was celebrity actor and brand ambassador, Au-Jairangam, Irrfan Khan's conversation with journalist Prerna Sahani. Irrfan Khan said that in times to come Bollywood cinema will be overshadowed by Hollywood cinema as the latter lays more emphasis on story while the former is more about fantasy and celebrity actors. He further said that theater is necessary for self introspection and the challenges that he faced in becoming an actor have polished him.
In a panel discussion ('Rang Samwad'), activist Laxmi Narayan Tripathi, theatre actor & director Mita Vashishtha, educationist Krishna Bhati and author Komal Ahuja discussed the issues and challenges faced by the transgender community. They talked about how they are excluded from the mainstream society and the education system. The lack of sensitivity towards the transgender society in both society and literature was also highlighted. It was also pointed out in the discussion that performing arts, especially theatre, being a creative space is an apt place for the transgender community.
Also on display at Jawahar Kala Kendra are the best 100 photographs of the online photography competition of Au-Jairangam – 'Khushboo-e-Rajasthan' based on the theme 'Colours of Life'.
Later the plays 'Don't Dress For Dinner' directed by Kanchan Ujjal and 'Bade Miya Deewane' directed by Imran Rasheed were staged at Maharana Pratap Auditorium and Birla Auditorium respectively.
About the plays
'Paul Gomra' is the story of a Hindi poet who works at a newspaper in New Delhi. Born as Ram Gopal Saksenaa, the protagonist changes his name to Paul Gomra as his original name seems "backward, narrow minded and lower class" in the changing times of globalization. Thus he takes the "Pal" out of Ram Gopal and made it "Paul" and the remaining "Ram Go" turned into "Gomra". Since all the people around him begin to travel in cars, he also buys a scooter. The scooter, however, seems to be of no use as he does not know how to ride it.
'Aala Afsar' is an old history. During the reign of emperor Aurangzeb, attempts were made to carry forward this art and later the efforts proved to be fruitful as well. Since then, this singing oriented art reached new heights. The singing of the gimmick is mainly based on 'Doha', 'Chaubela', Baheratveel', Laavni', 'Gazal', 'Qawwali' and rhymes. From rags to kings, these dramatical performances have been appreciated by all sections.
'Talwar' Directed by Rajendra Singh Payal, is the story of a Barber and Thakur, who make fool out of others and cheat people. They have a sword ('talwar') worth Rs. 400. They try to fool a wealthy merchant (Seth) in the village by telling him that they have an antique sword of worth Rs. 15,000. They plead the merchant to give them Rs. 5,000 in advance as they are in urgent requirement for the money and will release the sword afterwards. The wealthy merchant is worried of why the barber and thakur haven't come to release the sword yet.
'Don't Dress for Dinner' All Bernard wanted was a romantic weekend with his mistree while his wife, Jacqueline was away. Is that too much to ask? His best friend, Robert suddenly comes to town and since he seems like the perfect alibi, Bernard invites him to stay. However, unbeknownst to Bernard, Jacqueline and Robert are having an affair. Once she finds out the Robert is coming, she decides to stay. So begins the intricate dance of deception. But wait, it gets better. Suzanne is the mistress, while Suzette. Is the cook, but they are both called Suzy, in the midst of confusion of lovers, husband, wives, mistress and the cook will there be a happy ending.
The play 'Bade Miyan Deewane' is essentially about a rich eccentric octogenarian who is used to living a luxurious and flamboyant life and is swept off his feet by a beautiful young girl in his neighborhood, who incidentally is also the love interest of his son. Meer Sahab falls for the young daughter of his neighbor Sheikh Inaayatullah, his son, Tabish, is also in love with the same girl (Surayia) and wants to marry her. Sheikh Sahab on the other hand wants to get Suraiya married to a dynamic man, charming young writer, Shaukat, who is an acquaintance of both Meer Sahab. Shaukat is a genuine well wisher of Meer Sahab who wants him to stop splurging his wealth on his tawaif (Heer &Gulab) and return to his good old days. Meer Sahab wants Shaukat to convince Sheikh that he is a great prospect for his daughter and at the same time, Sheikh wants Shaukat to counter Mir Sahab's advances and teach him a lesson. As a result, Shaukat is embroiled in an unwanted sticky situation and all this leads to major confusion, misunderstanding, jealousy and an utterly hilarious series of events.